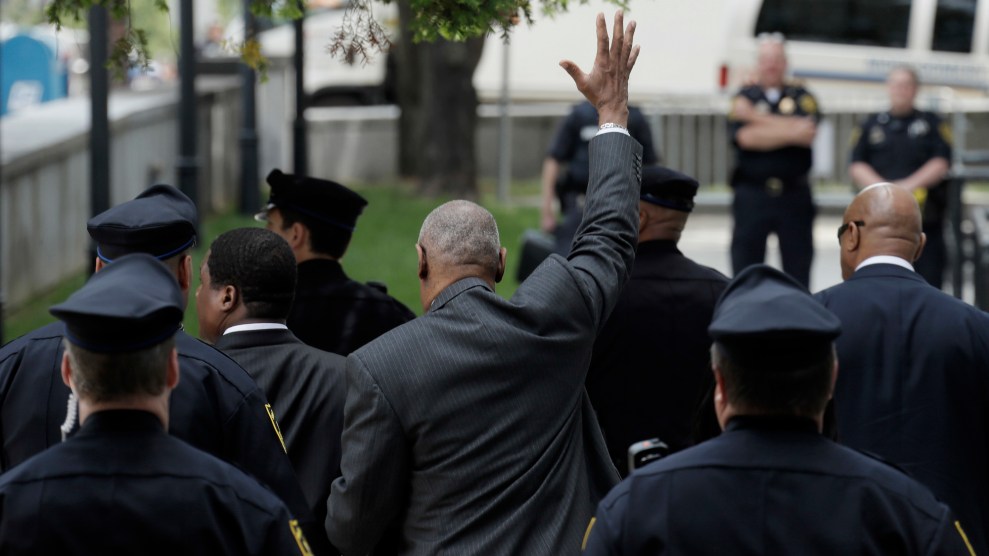 Fight disinformation:
Sign up
for the free
Mother Jones Daily
newsletter and follow the news that matters.
A Pennsylvania judge on Tuesday ordered comedian Bill Cosby to stand trial for allegations that he sexually assaulted Andrea Constand in 2004—ending a five-month battle by Cosby's lawyers to have the case dismissed.
More than 40 women have come forward with similar allegations, but Constand was the first to make her story public, and her case is the only one so far to advance to a criminal trial. Cosby denies all the allegations.
If convicted, the 87-year-old Cosby could face a maximum sentence of 10 years, according to CNN.
During a preliminary hearing in Montgomery County on Tuesday morning, the judge determined that there was enough evidence for Cosby to stand trial for multiple counts of aggravated indecent assault.
Cosby's next court date has been set for July 20.
Constand did not appear in court on Tuesday. Instead, a former detective gave testimony based on a statement she provided to law enforcement in 2005. A criminal complaint filed last December describes multiple incidents, the first occurring when Cosby allegedly invited Constand to his home for dinner and then allegedly fondled her, causing her to get up and leave. A later encounter allegedly took place on January 22, 2005, also at Cosby's home, according to the December complaint. There, Cosby allegedly offered Constand wine and three blue pills "to relax":
Within about twenty to thirty minutes of ingesting the pills, water, and wine, she began experiencing blurred vision and difficulty speaking…Despite her impaired physical and mental condition, the victim was aware that Cosby was fondling her breasts, put his hands into her pants, and penetrated her vagina with his fingers. Cosby also took the victim's right hand and placed it onto his erect penis. The victim told investigators that she did not consent to any of these acts, and was unable to move or speak during the assault. She described her condition as "frozen" and "paralyzed."
At the time Constand filed her initial report, former Montgomery County district attorney Bruce Castor declined to file charges due to "insufficient credible and admissible evidence." Constand then brought a civil suit, which Cosby settled. But when parts of his sworn deposition from that case were unsealed by a federal judge last year, prosecutors decided to press charges.
On Tuesday, Cosby listened from the defense table as Castor explained why he had declined to press charges more than a decade ago, according to CNN. "What I think, and what is provable in a courtroom, is two different things," Castor said. "What I think is that Andrea Constand was inappropriately touched by Mr. Cosby."