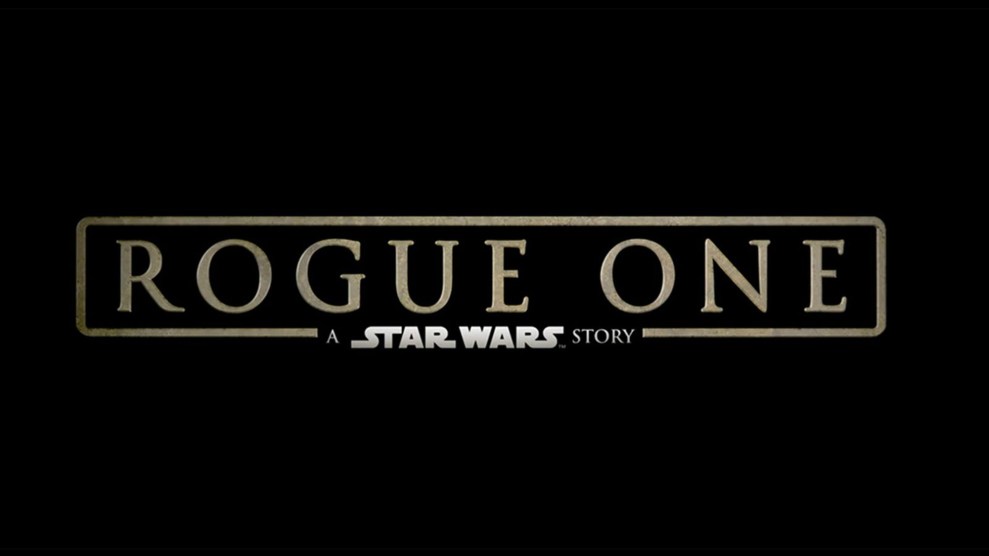 Fight disinformation:
Sign up
for the free
Mother Jones Daily
newsletter and follow the news that matters.
About a year ago Star Wars: The Force Awakens came out and Mother Jones' Edwin Rios and Ben Dreyfuss had a chat certifying that it was, in fact, wonderful. Today, we are back again to discuss the latest entry in the universe, Rogue One: A Star Wars Story. There are a lot of spoilers in this.
Ben Dreyfuss: Eddie! We're doing this again. It's becoming a tradition. We talk about the Star Wars films Friday after having seen late Thursday night showings. Maybe next year we'll have the foresight to see an advance press screening.
Edwin Rios: Alright, let's jump right in, because this new Star Wars flick was…something. Where do we begin?
BD: OK, Rogue One! So it's set like right before A New Hope and some people are going to steal the plans for the Death Star so that Luke and friends can destroy it. And we start on some planet where Hannibal Lecter from the NBC show Hannibal is farming with his wife and daughter and an evil general comes to fetch him because Hannibal is the only person smart enough to build the evil general's evil Death Star but Hannibal really doesn't want to because Hannibal has a soul so to convince him to come they kill Hannibal's wife, like you do, and his daughter runs away and then Hannibal goes "OK, OK, I'll build the Death Star" and some many years later the daughter is in prison and the rebels, they need her, because of reasons, and…and…I am so bored even describing this movie.
ER: It doesn't make sense why the rebels would capture the daughter of the guy who knows how to build the Death Star. To lure him out?
BD: Also, like why was she even in jail? Why didn't Hannibal rescue her? Did they bother to explain any of that?
ER: No. I mean, it's implied that he's been holed up with a group of researchers on that one planet finalizing the plans for the Death Star. But that comes later. My question: Why didn't Forest Whitaker just stick around and help Jyn.
BD: Oh shit that was Forest Whitaker? I thought it might have been but he had a bunch of space makeup on. (I also have clearly not done any research for this chat).
ER: Yeah, man. I thought he was pretty good, given how poor the writing was.
BD: Yeah, he was good. I think all the actors were actually pretty good. The girl, who's the star, and also Diego Luna who is a Rebel fighter and also her bae.
ER: Ha, right. One of the movie's issues: I didn't feel emotionally invested in the characters. At all. The actors were stuck with a script that A.O. Scott called "surprisingly hackish." They didn't get the chance to connect with the audience. Like, Riz Ahmed (The Night Of) barely said anything of substance. He handed the message to Whitaker and was like, "Believe me!" Also, I guess he came up with the movie's title…
BD: That moment was weird, but I actually didn't mind it. But yeah him the guy from Nightcrawler. He was fine, too. But he had nothing to do but fly the plane and come up with the title of the film and die.
ER: And for most of the film, the droid and Captain Cassian (Diego Luna) flew the ship from planet to planet. So many planets. So Riz's moment of greatness arose at the end of the film, like everyone else.
BD: So anyway, Diego Luna and Hannibal's daughter and the guy from Nightcrawler and a blind man all team up to steal the plans to the Death Star and they spend a very long time sort of like not finding those plans and then in the last hour of the film do in fact find them in a big climactic battle scene.
ER: As far as Star Wars battle scenes go, that was pretty epic.
BD: Totally agree. There was this minor Twitter outrage about a Vox headline that said like "Rogue One is the first Star Wars movie to acknowledge that the whole franchise is about war." And people were like, "ha ha WAR is in the title, Vox!" But I sort of get the writer's point. Rogue One is a war film, and not a space opera.
ER: It's no Saving Private Ryan. But at the heart of Rogue One is the side story we tend to forget about in the rest of the Star Wars series. A ragtag group of rebels have to find a way to upend the Empire. It was refreshing to see that, but the execution overall wasn't great.
BD: I cannot stress how much I disliked the first half of this movie. It was so boring. I didn't give a shit at all and on a scene level it wasn't engaging.
ER: There were moments when I would get drawn to the characters, like when Felicity Jones has to watch the message from her father. But then she gave that cliché speech in front of the rest of the rebels, and I was like, shaking my head.
BD: OK, but all of that said: I did really enjoy the second half of the film. It was a very well done war movie, when they stopped talking about dumb bullshit and just got on with it.
ER: Definitely. Really, when Darth Vader showed up, I was thinking, "I can get back into this." But the CGI recreations of that important imperial general guy and the very last one (I won't spoil it) threw me off.
BD: Right, but also, what was with Darth Vader's voice? I know they can't have James Earl Jones do the same one again but this one felt like a weird slightly off imitation.
ER: I thought it was still James?
BD: Oh maybe it was but it still sounded different to me? But maybe I just am remembering his voice differently. Let's talk about the droid.
ER: He was the only likeable character in that movie.
BD: I hated that droid in the beginning. He was making all those dumb remarks and I was like "why don't they just shoot the droid?" Also because in The Force Awakens the ball robot is the best part. That ball stole the show. But then in the end of this one the droid had grown on me.
ER: His final scene was the moment I knew we'd be in for something surprising. What did you think about the fact that [SPOILER] everyone died?
BD: So I was trying to remember the line in A New Hope that sets this story up where someone is like "a band of brave people stole the Death Star plans" and I kept wondering if the line actually was "a band of brave people gave their lives stealing the Death Star plans" so the whole time I was like they are probably going to die.
ER: See, I couldn't remember either if there was a reference in A New Hope. But it was a fitting end to a cast of lousy characters that died valiantly to protect the rest of the Rebel Alliance. Like, once K-2SO fell, I was thinking, "It's time for everyone else to die." But if you took the execution from the last battle scene and spread it throughout the movie, you'd have a pretty epic part of the Star Wars universe.
BD: So you're a Star Wars fan. I'm not a huge fan. I really loved The Force Awakens but the others I thought were dumb. But did this movie not being great put you off future one-off Star Wars Universe side stories?
ER: That's a good question, and I had been thinking about that last night. It made me question how good the Han Solo story is going to be. Say what you want about The Force Awakens, it set the standard for what a modern-day Star Wars film should be—packed with action, filled with emotion, and fueled by nostalgia. Rogue One felt like it was trying really hard to be part of that universe, but fell flat. It's a story that needed to be told, but it wasn't told well.
BD: Right, except for the second half battle. The second half was so much better than the first half that it made me believe that they can get these stories right. They just didn't this time.
ER: No offense to the director and writers, but please change the director and writers next time.
BD: Hahaha. The director, whatever his name is, made that movie about the monster, whatever it was called. The monster who lives in the ocean. From Japan. And it like is made by nuclear bombs? And then attacks Hawaii?
ER: Godzilla.
BD: Godzilla! Yeah! Godzilla!
ER: We can't not talk about some of the choice lines in this movie. Like, when Darth Vader made a pun about choking when choking that imperial dude. I seriously wish I could remember it.
BD: "I hope you don't choke on your aspirations."
ER: OMFG. I threw my head in my hands, shook my head, and whispered, "Nooooo." I felt like I was watching an episode of Bob's Burgers. (which I love.)
BD: Haha. I mean I think that the original movies had a lot of terrible lines as well. But I totally agree that that was terrible. Also the prequels! Remember when Anakin and Natalie Portman were like "we will make love in the field for freedom!" or something.
ER: Absolutely. No question. But, Ben, "Rebellions are built on hope."
BD: Haha. I think that that clunker of a line is something that we can apply to this film universe. A lot of hope! This one didn't make good on that hope though.
ER: I honestly thought K-2SO summed it up best with his quip: "I find that answer vague and unconvincing." I found this movie, for the most part, vague and unconvincing. Like, would I watch again? Maybe once it comes up on the Apple TV queue.
BD: I'll watch the last half again, but not the first half. But vague and unconvincing it definitely was.
ER: One more thing: How the heck did that hammer-headed ship destroy TWO imperial ships??
BD: Yeah I mean that whole thing was so hilariously stupid lol. But in conclusion we agree: not a great movie, but we'll be back next year to watch the next Star Wars film.
ER: Shout-out to our colleague and fellow Star Wars fan, Pat Caldwell, who couldn't make it to this chat. We asked him what he thought. What did he say?
BD: "Just know that it is the best movie ever and you are both WRONG…(actually, it is not that great, but solid popcorn viewing)." So, dear reader, we were going to have a fan who liked the movie in here for balance but even he admitted it was not very good and backed out at the last second.
ER: See you next year.