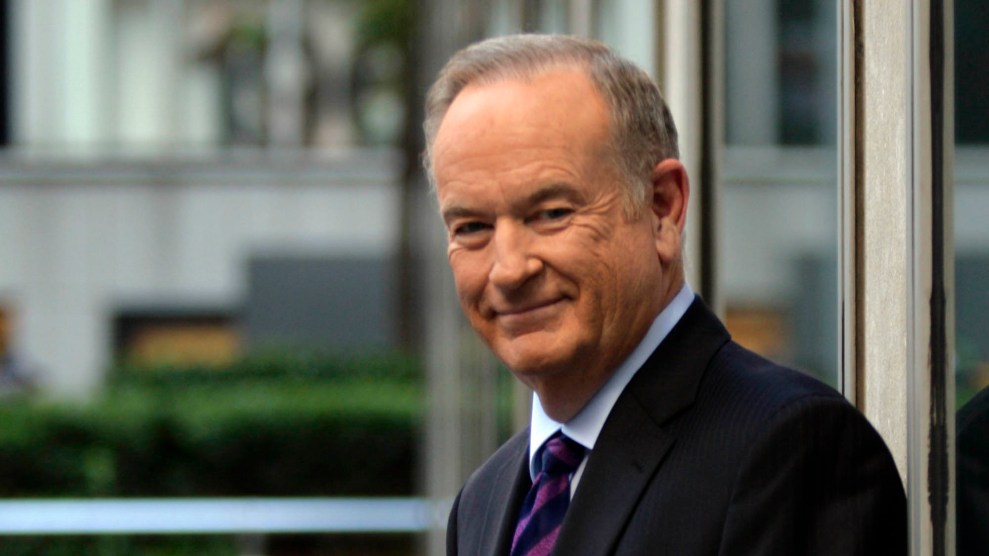 Fight disinformation:
Sign up
for the free
Mother Jones Daily
newsletter and follow the news that matters.
Mired deep in a sexual harassment scandal and advertiser boycott, Bill O'Reilly, host of Fox News' cash cow The O'Reilly Factor, announced on Tuesday night that he is going on vacation. While a Fox News spokesperson said O'Reilly will return on April 24, the Daily Intelligencer reports that several Fox News staffers doubt that he'll be back.
O'Reilly's announcement comes only 11 days after a New York Times investigation revealed that O'Reilly and Fox News have collectively paid $13 million to settle a series of sexual harassment disputes against the host, in which women complained of "verbal abuse, lewd comments, unwanted advances and phone calls in which it sounded as if Mr. O'Reilly was masturbating, according to documents and interviews." As of this writing, 82 advertisers have publicly withdrawn from his show, representing an estimated $37-$42 million loss, says Angelo Carusone, president of the progressive nonprofit Media Matters.
Bill O'Reilly's trouble with advertisers is in part due to a campaign jointly run by Carusone, Think Progress' Editor-in-Chief Judd Legum, and the anonymous Twitter account Sleeping Giants, which gained a huge following shortly after Trump's election by launching a campaign to dissuade companies from advertising on Breitbart News.
"We had so much success at that point getting advertisers to come down from Breitbart that when the Bill O'Reilly article came out, there was definitely a huge amount of support," says a spokesperson from Sleeping Giants. "This is an anti-bigotry campaign. There are advertisers involved. So it made a lot of sense to us as far as the mission was concerned."
This campaign was started to combat bigotry. Do revelations about Bill O'Reilly warrant a Sleeping Giants action?

What do you think, fam?

— Sleeping Giants (@slpng_giants) April 4, 2017
Legum and Carusone, who had orchestrated a similar campaign to oust Glenn Beck from Fox News in 2009, quickly reached out to help. "We've got Judd and Angelo reaching out personally [to advertisers], and we've been hitting them on Twitter, which is a much more public forum," says the Sleeping Giants spokesperson. "We're kind of letting them know from every angle."
Carusone appeared on MSNBC on Monday to give an update on the O'Reilly boycott, where he said his estimates suggest the campaign has driven away enough advertisers to cripple the show, even if the host returns to his post. "His program will never recover," Carusone said.
.@GoAngelo: Fox News' harassment investigation is a disgusting sham https://t.co/KZEQyLTd1R pic.twitter.com/f1L8vww4Sf

— Media Matters (@mmfa) April 11, 2017
Because O'Reilly is a television show hosting a relatively small number of advertisers, in some ways it is an easier target than Sleep Giants' first mission, a website that is served by a warren of online advertising networks and brokers. "There's not an endless wellspring of advertisers [on O'Reilly's show] like there is on Breitbart," says the Sleeping Giants' spokesperson. "We don't have to reach out to a hundred advertisers a day. There's only so many of them."
As the Daily Intelligencer reported, two highly placed Fox News sources say James Murdoch, CEO of Fox News' parent company, 21st Century Fox, wants to boot O'Reilly out, whereas his father, Rupert, and his older brother, Lachlan, are more inclined to let him stay.
Sleeping Giants' spokesperson says they'll keep up their campaign until Fox issues a statement, apology, or takes other constructive action: "We're supposed to be here. We're going to be around."
Dear @foxnews,

Bill O'Reilly might be going on vacation, but we're most definitely not.

Yours Truly,
SG

— Sleeping Giants (@slpng_giants) April 12, 2017