We asked a range of authors and creative types to name books that bring solace or understanding in this age of rancor. More than two dozen responded. Here are picks from the best-selling author Peggy Orenstein, a contributing writer for the New York Times Magazine who has tackled everything from Disney's princess-industrial complex to the sexuality of young women in the Instagram age.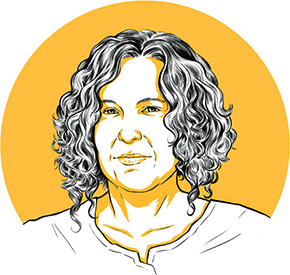 Latest book: Girls & Sex
Also known for: Cinderella Ate My Daughter
Reading recommendations: Reading (and writing) about women's lives has always been both a passion and a political act for me, and that impulse has only intensified since the election. I'm reading two books in tandem right now, each about a woman's identity (and particularly her sexuality) roaring back after years of sublimation—voluntary, often joyful sublimation—to others' needs. Claire Dederer's erotically charged memoir, Love and Trouble, which comes out in May, grabbed me by the throat. At midlife, as the carefully crafted domestic idyll begins to crack, she's forced to reckon with her "chaotic past" as a "disastrous pirate slut of a girl." Sylvia Brownrigg's new novel, Pages for Her, coming in July, rejoins the bisexual protagonist of her earlier novel Pages for You. Like Dederer, she had a picaresque girlhood but is now tucked away, married (to a man), a mother. She, too, realizes that it's been years since she's been able to write, always a sign in an author that something is badly amiss. Then, unexpectedly, an old love reemerges. Both books are about women reclaiming authenticity at midlife and pushing back against convention, against being put—or putting themselves—second or third or fifth in their own lives. The curious thing is, in both cases, the women are bohemian and professionally successful; so where did those expectations come from? How did they fall into the trap?
The answer may be found in another book, Maggie Nelson's memoir about motherhood, The Argonauts. Nelson asks how pregnancy can be "so profoundly strange and wild and transformative" while also coming to "symbolize or enact the ultimate conformity." As a critic and one of the sharpest minds ever to walk this planet, Nelson questions everything before ultimately (like Dederer's and Brownrigg's heroines) setting sail again, moving forward, stronger, on her own personal Argo.
Finally, I'm reading My Favorite Thing Is Monsters, Emil Ferris' graphic novel about a 10-year-old Mexican-Irish-Cherokee girl growing up in 1960s Chicago, a social outcast who tries to solve the murder of her Holocaust-survivor neighbor. The radical politics of her present spiral with the fascism and kink of the Third Reich: The novel tackles race, gender, and what it means to be "monstrous" in big and small ways. It could not be more relevant to today's climate.
Illustration by Allegra Lockstadt
_______
The complete series: Daniel Alarcón, Kwame Alexander, Margaret Atwood, W. Kamau Bell, Ana Castillo, Jeff Chang, T Cooper, Michael Eric Dyson, Dave Eggers, Reza Farazmand, William Gibson, Mohsin Hamid, Piper Kerman, Phil Klay, Alex Kotlowitz, Bill McKibben, Rabbi Jack Moline, Siddhartha Mukherjee, Peggy Orenstein, Wendy C. Ortiz, Darryl Pinckney, Joe Romm, Karen Russell, George Saunders, Tracy K. Smith, Ayelet Waldman, Jesmyn Ward, and Gene Luen Yang.