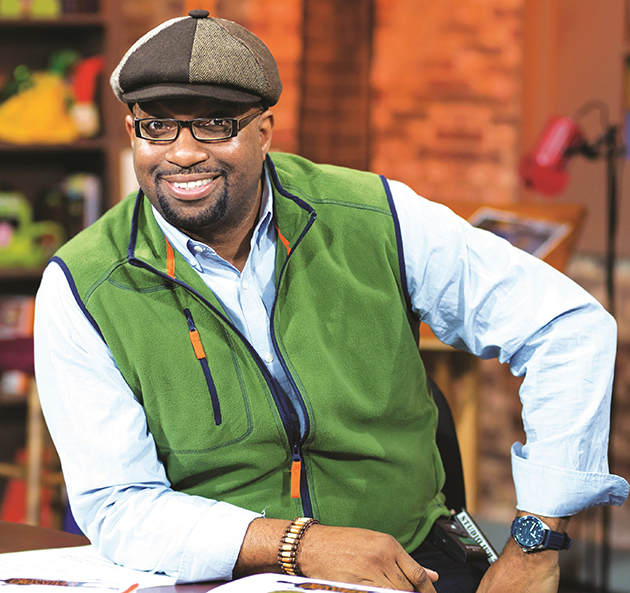 We asked a range of authors and creative types to name books that bring solace or understanding in this age of rancor. More than two dozen responded. Here are the thoughts of Kwame Alexander, whose novel-in-verse The Crossover won the 2015 Newbery Medal, the highest honor in young people's literature.
Latest book: Swing
Also known for: The Crossover
Recommended reading: Literature is instant access to humanity. It's the one art form that allows us to walk in someone else's shoes for a while and experience lives we might not otherwise understand. It also allows us to find mirrors of ourselves, of our best selves, in times when we feel alone and unsure of the world. And right now the world feels a little crazy. Books are these worlds within a world—safe places to tramp in anxious times and return gently to our own living world, more aware, more fulfilled and hopefully more inspired and courageous. And that is why Mary Rand Hess and I set out to write books like Solo, taking readers on a character's life-changing journey for the sake of the experience, for the sake of humanity. This is rock and roll and redemption, baby! These are the journeys that run deep, and the ships we take come early and often. We can take as many ships as we like, as often as we like. We only need to choose the right ones.
There are so many incredible books that speak to our times, stories that take place in the past, present, and future. Stories that connect us to our ancestors or people who lived like our ancestors, or to the people who paved the way for our world today—stories like The Underground Railroad, All The Light We Cannot See, Freedom Over Me, March. Stories for adults, teens, and children. Stories that grab hold of us and show us all the pain and beauty that races through and weaves between covers—books like Speak, Pax, Brown Girl Dreaming, Radiant Child, Bridge to Terabithia, As Brave as You, The Chronicles of Narnia, The Tale of Despereaux. Selected Poetry of Nikki Giovanni (and Langston Hughes and Pablo Neruda). The Crossover and The Playbook (you know I had to mention those, right?) and so many more. Books that will stick with us, comfort us, and strengthen us, long after we've read them. Books that will connect us to each other.
P.S. Read Rumi!
_______
The complete series: Daniel Alarcón, Kwame Alexander, Margaret Atwood, W. Kamau Bell, Ana Castillo, Jeff Chang, T Cooper, Michael Eric Dyson, Dave Eggers, Reza Farazmand, William Gibson, Mohsin Hamid, Piper Kerman, Phil Klay, Alex Kotlowitz, Bill McKibben, Rabbi Jack Moline, Siddhartha Mukherjee, Peggy Orenstein, Wendy C. Ortiz, Darryl Pinckney, Joe Romm, Karen Russell, George Saunders, Tracy K. Smith, Ayelet Waldman, Jesmyn Ward, and Gene Luen Yang.