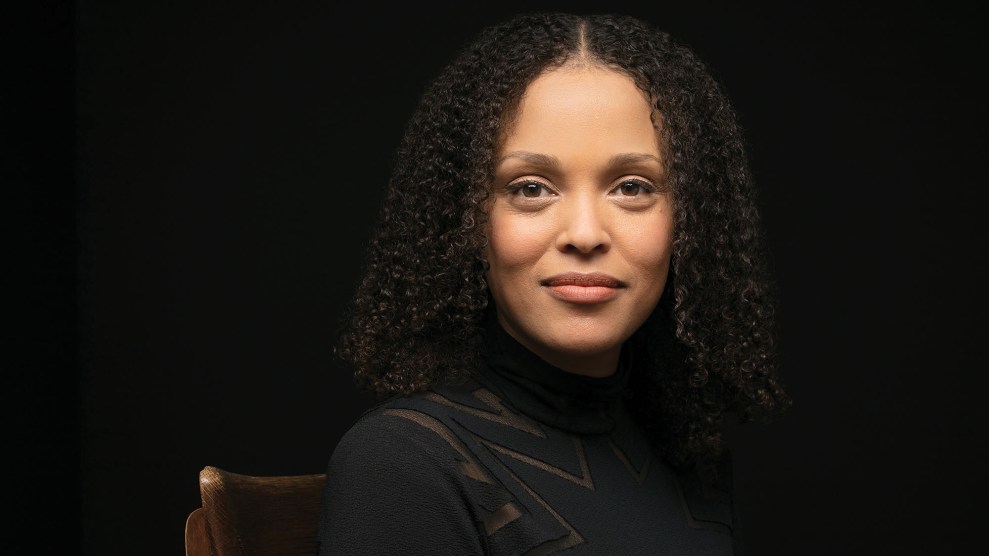 Fight disinformation:
Sign up
for the free
Mother Jones Daily
newsletter and follow the news that matters.
In Jesmyn Ward's Sing, Unburied, Sing, out September 5, the National Book Award-winning novelist conjures a tale that shimmers with revenants yet remains firmly planted in earthly realities: addiction, incarceration, and racism. When drug-addled Leonie takes her mixed-race kids on a journey to pick up their white father from prison, an encounter with a cop and visits from a dead brother remind her of the challenges mounting for her 13-year-old son, Jojo. "I blink," Leonie imagines, "and I see a bullet cleaving the soft butter of him."
In all her work, Ward has dramatized the tragedies of hardscrabble life on the Mississippi coast. After being caught in Hurricane Katrina's floods, she penned her breakout Salvage the Bones, a fictional account of a family cornered by the tempest. Her 2013 memoir, Men We Reaped, examined the loss of her younger brother to a drunk driver and the accident's connection to the premature deaths of other black men in her life.
Ward recently took a sabbatical from New Orleans' Tulane University and moved back to DeLisle, the small Mississippi town where she was raised. It was the best place, she realized, for her to get "beyond the daily struggle to assert your humanity"—and just live.
Mother Jones: You've written about how Salvage the Bones drew from your childhood. I'm curious where the family in Sing, Unburied, Sing came from.
Jesmyn Ward: The relationship that Jojo has with his grandfather in some ways might mirror some aspects of the relationship with my maternal grandmother, who I lived with, who also told me stories when I was growing up that helped me make sense of the world. My people are still poor. They're still working class. All of the characters that I write about are inspired by the community that I'm from.
MJ: I'm curious about your choice to make your family mixed-race. As far as I can tell, your other books deal mostly with black characters.
JW: One of the things that is so striking to me about the South, especially living here now as an adult, is that I see a lot more mixed-race couples than I saw when I was growing up in the 1980s and the 1990s. I feel like living across the color lines has become something that's more expected. But at the same time, interracial relationships are really difficult because the personal is political in ways that I don't think people bargain on. They have the sort of relationship that is existing against all the pressures of history.
MJ: Did you have a certain audience in mind?
JW: I was more invested in just telling the story of characters who captivated me. But I hope that one of the readers that it reaches would be a kid like Jojo, a kid who maybe doesn't have the support network he needs and who is feeling out things on his own. I think back to Salvage and that was my hope too, then—teens who may have grown up in tough situations—because books really saved my life and gave me a life. I hope to pay that forward.
MJ: In this book, you evoke ghosts as portals to things that happened in the past
JW: I find myself coming across these characters all the time. I was reading The Half Has Never Been Told, a book about how slavery fueled the economy of the early United States. Slaves picked as much cotton as they did because they were basically tortured. There was a story about an enslaved woman whose baby was like a month old—the women had to leave their infants at the side of the field. She could hear her baby crying so she kept getting distracted. The overseer saw this and kept admonishing her to work. She kept getting distracted, and he killed the baby. I think he drowned the baby.
MJ: Oh God.
JW: As soon as I read it, I thought, "I have to write about her."
MJ: In a previous interview, you mentioned the T-shirts black people in the South create to memorialize their dead—"almost like they're made into saints." I wondered whether that partly inspired the new book.
JW: Yes, I was thinking about Mike Brown, Philando Castile, Trayvon—we have this trail of black bodies littering history. Some of the ghosts are wearing hoodies.
MJ: You wrote Men We Reaped before the Black Lives Matter movement really took hold. In a sense the movement seems like a larger cry for some of the same themes you focused on in that memoir.
JW: It feels like a validation. When I wrote this personal account of loss and grief and of black lives being devalued over generations, it was very difficult because I didn't yet have the language. I felt like a crazy person. I am grateful to the activists and women who created the Black Lives Matter movement because I feel like they let me know I wasn't crazy.
MJ: Methamphetamine is coursing through a lot of Sing, Unburied, Sing. But there's a stereotype that meth is a poor white person's drug. Are you seeing it hitting black and white equally in rural Mississippi?
JW: Yes, it's equal opportunity now. The crack epidemic hit pretty hard where I'm from. There's so many people in my mother's generation who are still addicted to crack. Damn near all the people I know of who used to smoke crack are now smoking meth. It's like that drug came in and replaced the previous drug that had ravaged the community.
MJ: That's awful. You've also written about racism as a force underpinning so many of the tragedies in the black communities—violence, drugs, the feeling of being trapped. What have you found to be a powerful healing force?
JW: Just the love that family members have for each other, that friends have—the kind of love people have in their strong romantic relationships. People ask me all the time, "Why did I move home?" As well as I can articulate it, that's why. I moved home because I love the community that I come from. So that makes that struggle worth it.
MJ: What else have you been writing during your two year break from teaching at Tulane?
JW: I should have begun writing my next book. I have not yet. You know I had a baby, a son in October?
MJ: Congratulations.
JW: I think my next book is going to be set in New Orleans during the height of the domestic slave trade. I think I have my two main characters. I've known who they are for a while, I just—a seven-month-old is not conducive to sitting down at a desk and hearing voices.