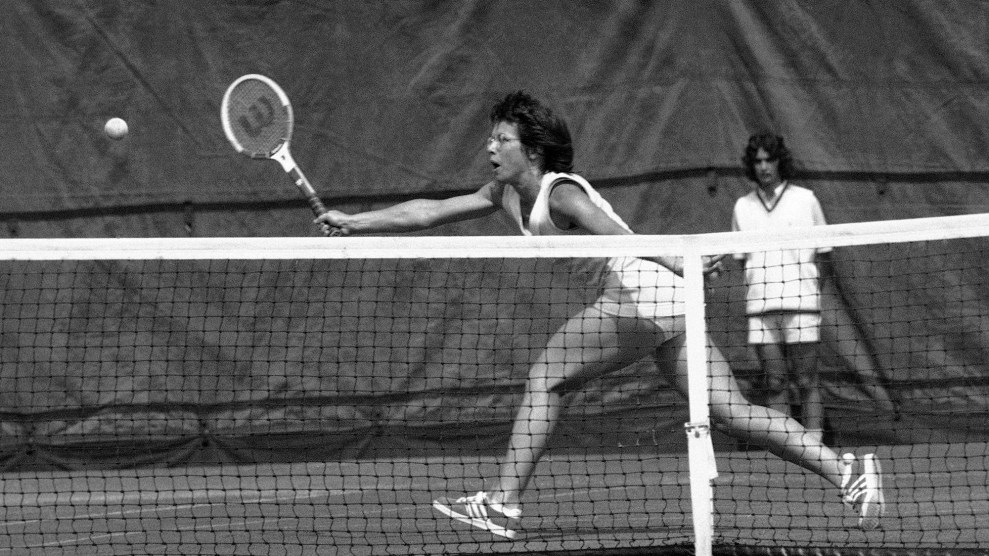 Fight disinformation:
Sign up
for the free
Mother Jones Daily
newsletter and follow the news that matters.
More than four decades ago, tennis star Billie Jean King faced off against gambler Bobby Riggs at the Astrodome in front of millions of viewers. The stakes for the so-called "Battle of the Sexes," set to be brought to the big screen on September 22, were higher than the Vegas odds. A loss against Bobby Riggs, King later said, would have "set us back 50 years." But you know what happened—King emerged victorious.
It may have been the United States' most widely publicized battle of the genders, but King wasn't the first American woman to outmatch a male athlete. Here's a brief history of female competitors smoking men on the field:
1875: Annie Oakley soundly beats her future husband, Frank Butler, at the ripe old age of 15 in a Thanksgiving sharpshooting competition held in Cincinnati, Ohio. Women at the time were not known for their marksmanship, but Oakley became legendary for tricks such as her ability to knock the cigarette from her husband's lips without ever grazing him.
1926: Gertrude Ederle is the first woman to swim the English Channel, at 19 years old, beating the times set by the five men who preceded her by more than two hours—despite swimming 14 additional miles when a storm knocked her off course.
1936: Founded by C.M. "Ole" Olson and named as an ode to his wife's salon business, the All-American Red Heads emerge on the national professional basketball circuit for the next five decades, criss-crossing the country and competing exclusively against local men's teams. Like the Harlem Globetrotters, they joked around with their competitors and played in up to 220 games each year. But one of their owners, Orwell Moore, didn't want them tied to social causes, once telling Sports Illustrated: "We're no part of Women's Lib, and if any of the girls were to get involved in it—well, they better not let me know about it." The team disbands in 1986, and in 2012, becomes the first women's pro basketball team to be enshrined in the Naismith Memorial Basketball Hall of Fame.
1939: After an Escambia High School football coach hears Luverne "Toad" Wise Albert and her friends grumbling on the sidelines about funding for boys' athletics in Atmore, Alabama, he challenges them to kick the ball for him. Albert shines, despite never having kicked a football before, and she earns herself a place on the team for two seasons. (In her second season, she reportedly makes 75 percent of her field goal attempts.) She is believed to be the first female high school football player. During the 2014-2015 school year, more than 1,500 girls participate in high school football, according to the National Federation of State High School Associations. 

1953: Maureen "Little Mo" Connolly becomes the first woman to win a Grand Slam, all four of tennis' four major tournaments, at merely 18 years old—five years younger than Don Budge had been when he became the first person to win a Grand Slam in 1938.
1967: At 20, Kathrine Switzer is the first woman to officially complete the Boston Marathon. Since women are barred from competing in the race, she registered under the moniker K.V. Switzer. Marathon director Jock Semple, known as "Mr. Boston Marathon," rushed onto the course, grabbed at Switzer's race bib, and screamed, "Get the hell out of my race," forever immortalized in an iconic black-and-white photo. In April 2017, the year she runs the marathon again at the age of 70, her race number—261—is retired forever by the race's organizers. 

1973: Billie Jean King beats Bobby Riggs in a tennis match dubbed the "Battle of the Sexes." Riggs had previously challenged King to a match, but she declined. But after Riggs defeats Margaret Court, the world's top women's tennis player at the time, in what was deemed the "Mother's Day Massacre," King decides to take on the self-proclaimed male chauvinist who once said that a "woman's place is in the bedroom and the kitchen, in that order" and that he planned "to bomb Billie Jean King in the match and set back the Women's Lib movement about another 20 years." The $100,000 match has the largest audience in tennis history. In retrospect, King said, "I thought it would set us back 50 years if we didn't win that match—it would ruin the women's tour and affect all women's self-esteem." 
1974: After a string of legal challenges, Little League Baseball defers to the "changing social climate" and revises its rules to allow girls to compete. A day later, 11-year-old Bunny Taylor becomes the first girl to throw a no-hitter. (She also hit a triple and home run that same game.)

1978: Congress passes the Amateur Sports Act barring gender discrimination in amateur athletics. Later this year, a federal judge ends a Major League Baseball policy that barred female reporters from entering male locker rooms, after Sports Illustrated reporter Melissa Ludtke sued MLB, claiming that the denied access gave her male colleagues an unfair advantage. "The locker-room incidents are a stark and valuable reminder that the battles that I and others waged for equality in the 1970s didn't bring an end to discrimination," Ludtke later wrote in Time magazine. "They only kept the more overt forms from showing. We've learned that changing the rules doesn't necessarily alter attitudes." 
1986: Nancy Lieberman, already the youngest basketball player to medal in Olympic history, signs with the US Basketball League's Springfield Fame, becoming the first women to play in a men's basketball league. She later becomes the first woman to coach in the NBA's development league in 2009, five years after Ashley McElhiney signed on as the first woman to coach a pro professional men's basketball team in the American Basketball Association.
1993: Julie Krone wins the Belmont Stakes, in spite of trainer Scotty Schulhofer's remarks that female jockeys should not have to compete against men because they would be "at a disadvantage." In retrospect, Schulhofer later tells the Chicago Tribune, "If she develops much more, I don't know what we'll do. The boys will have to quit." Krone retires in 1999 with 3,545 career wins.
2006: Alaska high school sophomore Michaela Hutchinson becomes the first girl to win a state wrestling championship against male competitors in what a local TV station dubbed a "modern battle of the sexes." "I just feel like another person out on the mat. I don't think I'm girl. I'm just another wrestler," Michaela tells a reporter. 
2008: Danica Patrick becomes the first woman to win an IndyCar race. When she races in Daytona 500, five years later, Grand Marshal James Franco commands, "Drivers—and Danica!—start your engines!"—reminding us all how not-funny men can be.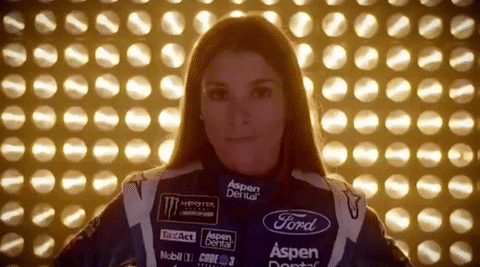 August 2014: Becky Hammon, a well-regarded WNBA player, becomes the first woman to be a salaried coach in the NBA, serving as assistant coach for the San Antonio Spurs.
2014: Mo'Ne Davis wows the baseball world when she becomes the first girl to throw a shutout in the Little League World Series. "To be honest, I never thought I'd be famous for baseball," she tells Sports Illustrated. "I could do both basketball and baseball—but I really want to play basketball." She's currently trying to do just that.
2016: Boxer Sergey Kovalev tells boxing champion Claressa Shields that women should be "home," not boxing. A month earlier, at the age of 21, Shields became the first US boxer to win back-to-back Olympic gold medals. She responds by telling a boxing promoter, "Make sure y'all have a TV in Kovalev's room. Make sure he's able to watch me."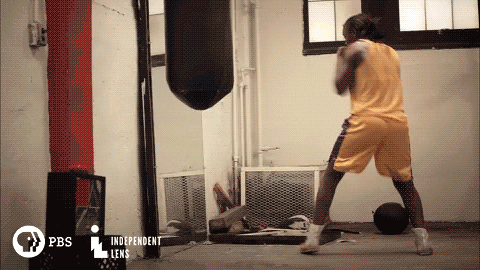 April 2017: Arizona athlete Becca Longo becomes the first female football player to sign a letter of intent to play college football at the Division II level or higher. She's now enrolled at Adams State in Colorado, where she will also play women's basketball.