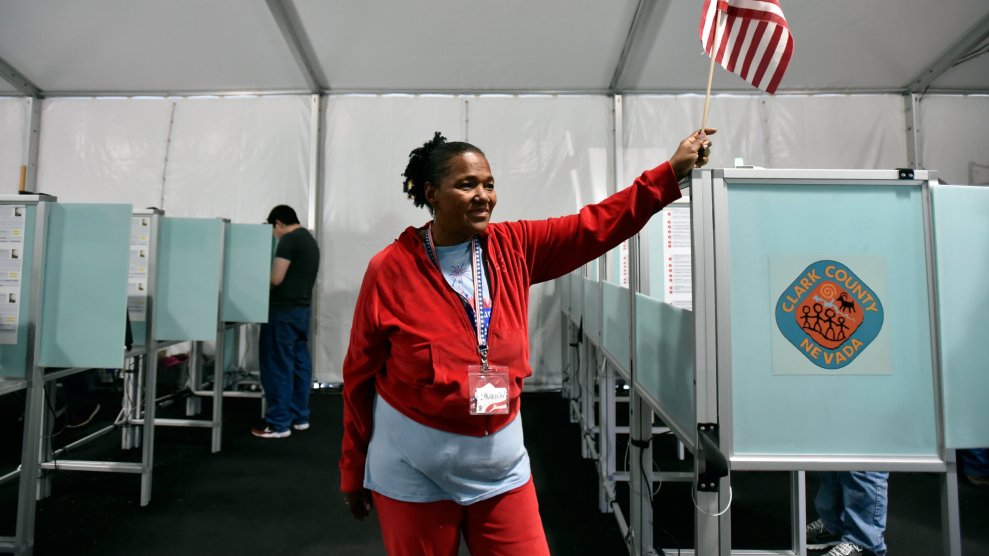 Fight disinformation:
Sign up
for the free
Mother Jones Daily
newsletter and follow the news that matters.
Abhi Agrawal knew he wanted to do more than vote in the midterms on Tuesday. The elections were so important to him that he did everything he could to encourage others to vote as well, from talking to friends to convincing his Uber drivers. "I know I'm just one person," Agrawal told Mother Jones. "But I also know that there are thousands of people like me who are newly motivated."
Win or lose, Agrawal did his best to push along a central tenet of America's democracy: the right to vote. In that spirit, here are four more inspiring stories of people participating in one of our most important political processes.
In Alabama, Perman Hardy has driven voters to the polls for the past 25 years. "I come packing with everything I need, and I tell anybody who rides with me, 'Push the junk over and just get in…I'll get you to the polling place and get you back,'" Hardy said in this video from MoveOn.org. "I do this to make things just a little bit better."
In West Virginia, J.D. Belcher's viral video boosted Richard Ojeda's campaign for Congress, bringing national awareness to the Democratic candidate in an area that had been seen as solidly Republican. Belcher, a former coal miner, did it for other Democrats, too, Topic reported.
In New York, writer Roger Angell said that at 98, he didn't have the energy to make phone calls or knock on doors. But he would vote. Angell recalled casting his first ballot in 1944 while stationed in the Central Pacific. "What I said I would die for I now want to live for," he wrote in The New Yorker.
And in Montgomery County, Maryland, NPR reporter Pam Fessler joined an army of nearly 1 million poll workers. Fessler, who is currently on book leave, has covered voting for 18 years. She wrote that the job has gotten complicated but remains more important than ever. "[Poll workers need] to ensure that votes are properly counted, voters aren't intimidated, no one cheats, and polls are accessible to all who want to cast a ballot," Fessler wrote. "The ultimate goal is to give people more confidence in the results."
Welcome to Recharge, a weekly newsletter full of stories that will energize your inner hellraiser. Sign up at the bottom of the story.
A master stroke. Agnes "Aggie" Gund loved "Masterpiece," the Roy Lichtenstein painting that hung in her living room. But after Gund saw 13th, Ava DuVernay's film on the disproportionate imprisonment and disenfranchisement of African Americans, she sold the painting for $165 million and used the money to fund prison arts programs and criminal justice reform organizations. Gund, the daughter of a Cleveland banking giant and a lifelong philanthropist, may be running out of money, but she's done a lot of good with it. (New York Times)
More than just a restaurant. A falafel house in Knoxville, Tennessee, was officially crowned the "nicest place in America" by Reader's Digest. The owner, Yassin Terou, first came to Knoxville as a refugee in 2011 and is known for welcoming people of all stripes—even those who are prejudiced against him. "I always invite anyone who hates us to the store," said Terou. "When you break bread, you break hate." (Reader's Digest)
Lending a hand. For 30 years, John and Shella Chhan worked side-by-side at their popular Pacific Coast Highway doughnut shop in Orange County. When Sheila suffered an aneurysm, John didn't want charity; he just wanted more time with her in rehab. So regular customers found a way to help John get home early—by buying as many doughnuts as they could, and encouraging others to do so as well. Now, he's sold out by 10 a.m. on some days and can leave work to see Sheila. "Something like this, bringing the community together is just something we really need right now," said one customer, Erika Sanchez.

Thanks, Recharge reader Neil Parekh, for the suggestion. (CBS Los Angeles)
Listen to our journalists explain all the twists and turns of Election Day, and what comes next for America, on this special episode of the Mother Jones Podcast:
Have a Recharge story of your own or an idea to make this column better? Fill out the form below or send me a note to me at recharge@motherjones.com.