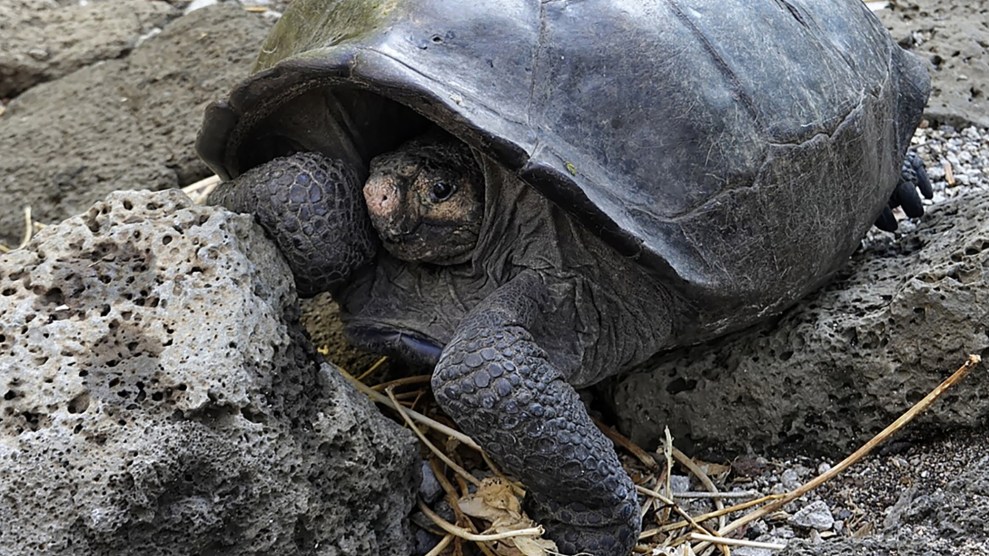 Fight disinformation:
Sign up
for the free
Mother Jones Daily
newsletter and follow the news that matters.
Scientists have discovered a species of giant tortoise in the Galapagos Islands that has not been seen since 1906. The species, Chelonoidis phantasticus, more commonly known as the Fernandina giant tortoise, had been listed by the International Union for Conservation of Nature as critically endangered and possibly extinct.
The female tortoise, believed to be more than 100 years old, was found in a patch of vegetation on a remote part of the island of Fernandina. Tracks indicate there may be even more of these tortoises elsewhere.
The discovery brought hope that in a world of species decline, bee-colony collapses, and insect disappearances, one species thought lost may still remain.
Stuart Pimm, a professor of conservation ecology at Duke University, is optimistic the species can go on if scientists can find other living members.
"They will need more than one [tortoise], but females may store sperm for a long time," Pimm told the Associated Press. "There may be hope."
That may not be the only species-saving news in the past week. Villagers in rural southeastern Taiwan said they recently spotted a Formosan clouded leopard, according to Taiwan News. Scientists are working to verify their claims: The last confirmed sighting of the leopard was in 1983, and the species was declared extinct in 2013.
Recharge is a weekly newsletter full of stories that will energize your inner hellraiser. Sign up at the bottom of the story.
Have a Recharge story of your own or an idea to make this column better? Fill out the form below or send me a note at recharge@motherjones.com.