Fight disinformation:
Sign up
for the free
Mother Jones Daily
newsletter and follow the news that matters.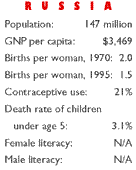 Stalin's purges, World War II, and now a colossal rate of alcoholism have given Russia one of the highest proportions of widows of any nation. The vast majority of Russian women must work full time to survive. They are also expected to do the bulk of the cooking, shopping, and childcare. Yet women earn, on average, only 40 percent as much as men and are three times as likely to be unemployed. Violent crime against women, including rape and spousal abuse, has also increased.
Zhanna Kapralova's husband was murdered in 1993; his killer was never found. The only daughter of a librarian and an engineer, Kapralova had married when she was 22. Now 38, she is the sole support of her two daughters, aged 16 and 8. For most of the year, she is a teacher of German and music. In the summer, Kapralova tends her kitchen garden, where she grows the fruits and vegetables that see her family through the winter.

ZHANNA KAPRALOVA: My parents' expectations for me were quite different from what I have become. My father thought that I would be an engineer; my mother wanted me to be a doctor so I could cure them myself when they are old and ill. But I have become what I myself wanted: I love music and I had to devote my life to teaching. And though my parents' expectations did not come true, they still think that I have a noble profession.
The big events in my life were when I finished musical college, my marriage, my graduation from the Institute of Foreign Languages, and when my children came. I was pregnant six times, and had four abortions. My two kids were planned kids; the rest were out of schedule, that is why they did not survive. I'm sorry for it, but I think God will forgive me. I would have had more children if life were better. My dream is for my children to be happy in their private lives and also to realize their creative possibilities. I would not like to see them be just housewives. We have enough money on which to live, but it depends on what kind of living you mean. If it is a living like mine, which I would rather call "existence," yes, we are not starving. I manage to save some money for our immediate needs, but these are inexpensive, urgent things.
My friends are really important for my life. They support me in sorrow; they join me to share joy. I am honored to have such women friends. When we get together, we talk about children, politics, and the economic situation, of course. We consider that the attitude towards women has changed and that present-day women are more advanced.
Women are not only good professionals, but the major burden of the family caretaking is on their shoulders.
I am frightened by the unstable life here. God save us from any wars, I really pray.
I hope for a light future, to stop being a working horse and become a nice cat, stretched out on the couch.