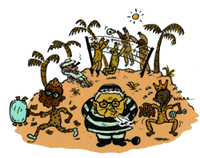 Fight disinformation:
Sign up
for the free
Mother Jones Daily
newsletter and follow the news that matters.
[Read the original "Exile Files" in the May 1996 issue of Mother Jones.]
Former dictators, toppled presidents, deposed strongmen — even when they've been booted out of their homelands, they always seem to land on their feet. Just how large are they living? Are they really sipping margaritas? Why aren't they in jail, and what happened to all that money? Here's an update on the lifestyles of the rich, autocratic, and presently indisposed:
Wet Behind the Ears
He called himself a messiah. They called him the "toad king." Deposed Zairean dictator Mobutu Sese Seko, once so feared that his ministers brought their own dinner to his banquets lest he poison them, has become the classic hot-potato exile since fleeing his homeland, now called the Democratic Republic of the Congo, in May. Sixty-six years old and ailing from prostate cancer, the man who ruled and looted his nation for 32 years is now overstaying his welcome in Morocco, where authorities recently booted 30 members of his entourage. But he just isn't welcome anywhere else, even in the many countries where he owns castles, ranches, and luxury villas; so far he's been rejected by France, Portugal, Switzerland, Belgium, and Egypt. [Mobutu Sese Seko died in exile in Morocco on Sunday night, September 7, 1997.]
Of Mobutu's estimated $8 billion in stolen dough, the Swiss say they've found just a paltry $4 million, which they've frozen along with a $5.5 million mansion. Mobutu's daughter nonchalantly sold his Chateau Fond'Roy castle in Belgium, but officials seized the $2.75 million in proceeds. Maybe someone should ask the U.S. where all the loot went: After the CIA helped install Mobutu in 1965, Washington lavished foreign aid on the despot until 1990, knowing full well he was plundering it for personal gain. In 1996 the people of Zaire were the poorest in the world in per-capita income.
Mobutu's generals and officials, meanwhile, are accused of stealing some $1 billion from Zaire's treasury. Several generals have escaped to cushy exile in South Africa, where they are suspected of plotting a countercoup against the new Congo government.
Communist dictator Pol Pot turned Cambodia into the "killing fields" from 1975 to 1979, causing the deaths of at least 1 million Cambodians by execution, torture, starvation, and hard labor. But what finally ticked off his Khmer Rouge troops was when he gave the order last June to murder his second in command, Son Sen, and a dozen of his family; Pol Pot had been outraged to learn that his underlings were secretly negotiating a peace deal with the government. After the killings, Khmer Rouge leaders captured the mad Maoist, staged a show trial to scream insults in his face for a bit, and favored him with a sentence of a life imprisonment, when their usual style of punishment is execution on the spot.
But Pol Pot is not in exile — Cambodian Prince Norodom Ranariddh is. While visiting France last July the former co-premier was deposed in a bloody coup by his arch rival, co-premier Hun Sen, who has vowed to try him for his "treasonous" peace negotiations with the Khmer Rouge. The two men had shared power uneasily since 1993, when the prince won a U.N.-sponsored election and Hun Sen refused to step down. Before that, they were battlefield enemies, Hun Sen leading the Vietnam-installed government, and Ranariddh's royalists siding with the Khmer Rouge against him. Since his ouster, troops loyal to Ranariddh have fought a last-ditch battle near the Thai border against Hun Sen's forces. Meanwhile Ranarddih has traveled across Asia trying to build international opposition to Hun Sen's government, living large on the royal family's vast wealth.
Despots of the Caribbean
The notoriously slippery Col. Michel-Joseph Francois helped topple Haiti's elected president Jean-Bertrand Aristide in 1991, then terrorized his country as chief of the police and secret police under dictator Gen. Raoul Cedras; some 4,000 Haitians were killed. Francois fled in 1994 to the Dominican Republic, where he lived off a half interest in his brother's car-wash, yet somehow bought a $400,000 house and sent his kids to an exclusive private school. Though convicted in Haiti of assassinating an Aristide supporter, he was never extradited. When the Dominican Republic deported him last year for plotting another coup in Haiti, the wily Francois landed in San Pedro Sula, Honduras, where he runs a modest furniture store and rents a home in another ritzy neighborhood.
That's where U.S. prosecutors nabbed him last March and charged him with smuggling 33 tons of cocaine and heroin into the U.S. from his private airstrip in Haiti, while taking millions in bribes from Colombian drug lords. Francois denied it all and stewed in a Honduran prison until July, when the Honduran Supreme Court nixed U.S. extradition efforts for lack of evidence and sent the killer back to his shop to sell tacky living room sets. If "Sweet Mickey" ever did take the stand, the CIA might blush — he was associated with two CIA-created and -funded groups, Haiti's national intelligence service (SIN) and the death-squad Front for the Advancement and Progress of Haiti (FRAPH). He also received U.S. military training at the Army's notorious School of the Americas at Fort Benning, Ga., and is widely reputed to have been on the U.S. intelligence payroll. "All that I did," said Francois of the drug charges, "I did according to the norms of my country, not according to the norms of the United States." Don't give us too much credit, Mickey.
Club Panama
Advice to Francois and other CIA-tainted despots: Head for a certain Central American haven, aka "Club Panama." Thanks to its liberal asylum policy and banking secrecy laws, the tiny isthmus nation is now home to a stunning rogue's gallery of exiled strongmen the likes of Gen. Raoul Cedras, who now rules supreme over a computer graphics shop in downtown Panama City — just upstairs from the Dairy Queen. Cedras, who seized power in Haiti in 1991, helped execute the usual atrocities — you know, murder, torture, assassination — until ousted by the U.S. in 1994. Now he's kickin' it in P-Town, living in an exclusive neighborhood with wife, kids, nanny, and his old bud Gen. Philippe Biamby, who helped him into power and served as the Haitian army's chief of staff. The two are living large on the $79 million that the U.S. government kindly unfroze for them when they left power in 1994; many Haitians believe they stole the money from state coffers. The U.S. also flew Cedras and Biamby to Panama, gave Cedras a rent-free beach villa in Panama, and agreed to lease three homes he left behind in Haiti for $5,000 to $12,000 a month.
Just across town, Abdala Bucaram, the thrice-exiled ex-presidente of Ecuador, is also enjoying Panama's hospitality. Known as "El Loco" for his erratic behavior, Bucaram at various times cavorted on stage Yeltsin-style with scantily dressed women, invited Lorena Bobbitt — the Ecuadorean who cut off her American husband's penis — to the presidential palace, cut a CD with a Uruguayan rock group, and dressed up as Batman. His corrupt government, radical economic policies, and lavish lifestyle provoked mass street protests against him until Ecuador's Congress deposed him in February for "mental incapacity." Citizens ratified the ouster in a 3-to-1 vote. The Supreme Court accuses him of lifting $88 million from the government during his fleeting six-month presidency, but El Loco denies the charges — and he's argued that if he's too crazy to govern, he's too crazy to stand trial. When he's not busy plotting his comeback, he has been seen killing time in Panama City casinos.
With all that cake, maybe Bucaram can help former Guatemalan President Jorge Serrano with his latest investment: the 7,000-acre Hacienda Country Club near Panama's international airport, complete with polo fields and luxury housing. Then again, Serrano may not need the help since he is probably using some of the $22 million he says he didn't steal from a presidential fund. Serrano fled to asylum in Panama in 1993 after he botched an attempt to dissolve Guatemala's congress and grab dictatorial powers. Panama has not only refused three Guatemalan requests to extradite Serrano, but Panamanian President Ernesto Perez Balladares enraged Guatemalans last month when he appeared publicly in Panama City with Serrano — to lay the first stone at the lavish country club.
Killer in Queens
Another CIA darling, Emmanuel "Toto" Constant, leader of the death-squad Front for the Advancement and Progress of Haiti (FRAPH), is now desperately trying to secure political asylum — in the United States. In 1994 he fled Haiti for Queens, New York, where he lives with his auntie, sells phone cards, goes nightclubbing, and collects McDonalds Happy Meal toys. Though Bill Clinton condemned the "brutal atrocities" that Constant and the Cedras junta committed under "the most violent regime in our hemisphere," the U.S. has steadfastly refused Haiti's requests to extradite Constant, claiming that he would not get a fair trial in Haiti. In May 1995, the State Department declared that Constant's expired tourist visa wasn't cutting it, and threw him in a Maryland jail to be deported, but Toto claimed political asylum, sued the U.S. for $50 million for "illegal detention," and walked out of jail last year with a sweetheart deal. The details remain secret, but the upshot is this: There's a standing order to deport him, but enforcement will be delayed indefinitely. Why the kid gloves? Constant says the CIA signed his paychecks for the three bloody years of the Cedras junta, and Washington plainly prefers those files remain closed: U.S. officials still won't release the FRAPH documents they seized in the 1994 invasion.
Me and Baby Brother
Disgraced and displaced, former Mexican president Carlos Salinas de Gotari is still living in exile in Dublin, Ireland — but there are signs he's jockeying for a comeback. Blamed for everything from the disastrous crash of the Mexican economy in 1994 to a rash of political assassinations, Salinas broke a two-year media silence in February to defend his soiled reputation and that of his big brother Raul Salinas. U.S. prosecutors have linked both brothers to top Mexican drug lords, but investigators have yet to connect Carlos to the pilfered pesos — as much as $300 million — that Raul stashed in a Swiss bank account. Carlos claims he was in the dark about Raul's "investment money." Meanwhile Raul, imprisoned for the murder of a leading Mexican politician, has gone high-profile: This month he broke his media silence to say that his brother's government was attacked in 1994 by a conspiracy of unnamed parties. Raul also claimed that he himself was targeted for assassination — and that he had photos of armed killers taking a bead on him from behind some bushes.
The Man: 1, Manuel: 0
Even those few exiles in prison can find ways, or at least try, to bask in their former glory. Manuel Noriega, the former dictator of Panama, has been chilling in a federal prison in Miami since he was sentenced to 40 years on drug, racketeering and money-laundering charges in 1992. Recently he made a break for cyber-freedom when he agreed to take part in a America Online conference sponsored by JFK Jr.'s George magazine in May — serendipitously timed to plug his book of memoirs, America's Prisoner, published that month by Random House, the publishing giant whose Villard imprint has an exclusive publishing deal with George. Alas, Noriega's conference was canceled due to federal prison policy, which prohibits inmates from using any computer with a modem. But all is not lost for La Pi–a — last fall he began collecting his $1,500-a-month pension from the Panamanian government.
I Shall Return…and Flee
Some exiles don't give up so easily — or gracefully. Take the self-titled "King" Leka I of Albania, who is the son of Albania's first, last, and only king, King Zog — and also a cousin of Richard "Tricky Dick" Nixon. The stubborn Leka thought he had a shot at the throne when Albania held a referendum on the monarchy question last June at his request. Instead he won the Exile Flub of the Year Award: Before the results of the referendum were in, Leka — donning camouflage and an Uzi submachine gun– led a crowd of armed protesters outside the elections building in Tirana in early July. By the time the votes were counted — two to one against a monarchy — one person was dead and several injured in a shootout with police. Leka, wanted for questioning in the death, split back to his run-down farm outside Johannesburg, South Africa.
Ooh That Smell
Even as her famed footwear collection drew tourist crowds in Manila, former Philippine first lady Imelda Marcos demanded a "hero's" burial in the capital for her embalmed hubby Ferdinand last March, seven years after he keeled over while exiled in Hawaii. She made a big stink about it, and so did the deceased dictator — for at least three days the local electric utility cut off the juice to Ferdinand's air-conditioned maseoleum in Imelda's backyard in a dispute over unpaid bills. Imelda, now a congresswoman, was convicted on corruption charges in 1993 but is currently out on bail. President Fidel Ramos denied her burial request; the Philippine government alleges the Marcoses plundered as much as $5 billion while in power. Meanwhile, Ferdinand's former military chief General Fabian Ver, indicted for the 1983 assassination of Marcos rival Beningo Aquino, is dying of liver cancer in exile and can only return home if he stands trial. He is believed to be living in the U.S., East Malaysia, or Indonesia. But don't count this dynasty out just yet — in Manila there's talk of making former Rep. Ferdinand "Bong Bong" Marcos II a senator.