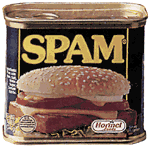 Fight disinformation:
Sign up
for the free
Mother Jones Daily
newsletter and follow the news that matters.
QWhat the hell is Spam anyway?
—Josh Loar, Los Angeles, Calif.
AForgive me, but I didn't think it was enough just to know what Spam is. I wanted to know more. I wanted to know why we have it. So I spoke with Meri Harris in the public relations department at Hormel Foods. She said, "Spam is really in." I got the feeling she says that in her off-hours as well.
Meri sent me a copy of The Hormel Legacy: 100 Years of Quality, which is sort of a whodunit of pig slaughter, without the mystery. In it there's a historical timeline where an entry marking the OPEC oil embargo is followed by one marking the introduction of the Hormel vending products line. I think we all remember that difficult time. Meri said Spam is made of pork shoulder, ham meat, sodium nitrate, sugar, salt, and water. In the '70s, they put out a Spam with cheese chunks. Apparently it never caught on, or it would have been on the timeline right after the resignation of Richard Nixon.
Currently, in the United States 3.6 cans of Spam are consumed every second. Prior to the birth of Spam in 1937, 3.6 people stood in front of their open refrigerators, somewhere in the United States, saying, "I'm hungry for something and I don't know what" every second. So, it was a good and lucky thing for lots of us that in the early '30s Jay Hormel was looking for new products to offset the cost of some strike concessions. He tried a spiced ham product, but it was lost among the competition. In 1936 he tried again. This time they came up with a catchy name. Jay Hormel had a New Year's Eve party where, in order to get a drink, guests had to suggest a name for Hormel's new canned spiced ham product. It came down to a choice between "Spam" and "Please stop this stupid game and give me a drink." Spam won.
QIs it "table tennis" or "Ping-Pong"? If it's not table tennis, when I serve, am I pinging or ponging?
—Chuck Reiter, Rockford, Ill.
AI think they are two different games. I have enjoyed—and gotten pretty good at—a game with a green table, a net, two paddles, and a ball. Then I was challenged to a game by the table tennis pro at Kutsher's Country Club in the Catskills in New York. As it turns out, I've been playing "Ping-Pong" avidly for years. This guy went easy on me, so that the entire game wasn't me chasing the ball and because he was supposed to entertain the guests, not make them lose their will to live. He still kicked my butt. For a while he even took off his sneaker and used it as a paddle, and I still suffered a humiliating rout.
I have Ping-Pong parties a few times a year, and at every party we fight over the serving rules, so I was delighted to seek out the definitive answer to your question. I checked some "table tennis" books. It's not a game that translates well into print, and each book compensated by using truly dorky photographs of guys wearing tight shorts crouched "in the ready," to illustrate a point. No wonder they don't have table tennis players on bubble gum cards.
Although the two games share some of the same rules, "if it lands in the guacamole, it's a do-over" was noticeably missing. Rule No. 13 says, "The choice of ends and the right to serve or receive first in a match shall be decided by toss." When I first read it, I knew right away that I've been choosing the ends and service illegally for years, but I wasn't at all sure what I should be tossing. Rule No. 14 should have cleared up the party question. It states: "In doubles, the first five services shall be delivered by the selected partner of the pair who have the right to do so and shall be received by the appropriate partner of the opposing pair. The second five services shall be delivered by the receiver of the first five services and received by the partner of the first server. The third five services shall be delivered by the partner of the first server and received by the partner of the first receiver. The fourth five services shall be delivered by the partner of the first receiver and received by the first server. The fifth five services shall be delivered as the first five and so on in sequence until the end of the game or the score 20-20, or until the introduction of the expedite system."
I am simply too stupid to understand that. So I called Debbie at USA Table Tennis ("the national governing body for table tennis"). She says you toss a coin, serve five times, and switch—and keep guacamole out of the playing area. Let her at the tax code.
Write Paula, c/o Mother Jones, 731 Market Street, Suite 600, San Francisco, CA 94103; fax her at (415) 665-6696; or send e-mail to Paula@motherjones.com.