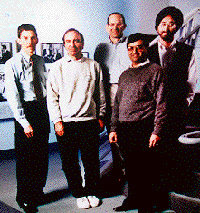 Fight disinformation:
Sign up
for the free
Mother Jones Daily
newsletter and follow the news that matters.
Ravi came to Silicon Valley from Kanpur, India to be a computer engineer, one of more than 55,000 foreigners who came to the U.S. in 1996 on H-1B temporary visas to work in high-technology industries.
Though educated at a fine university and fluent in English and three programming languages, from the moment Ravi set foot in his office, he began having problems. Much of the time, his new colleagues didn't understand what he said. He got nervous when his boss called on him to speak in a meeting. When there was a special project to be assigned, he got passed over; yet when there was overtime to be done, the boss always asked him first to stay late. And on Fridays, when the rest of the employees went out for a beer after work, he was never invited.
From his coworkers' point of view, from day one they had trouble understanding Ravi's English because he had a strong accent. He seemed distant, aloof; yet, maddeningly, he stood too close for comfort when speaking to someone. Above all, he was different, in a corporate culture that while famed for its informality, can be as uniform in its way as the grey men in white shirts at IBM.
It's hard enough taking on a new job in your own homeland, but for the thousands of professionals arriving in Silicon Valley from a foreign country every year (we'll call them RFPs for Recently-arrived Foreign-Born Professionals), it's twice as tough. And as the rate of high-tech immigration climbs, so do the opportunities for cultural confusion—and for making a buck in the billion-dollar intercultural training industry.
High-Tech Influx
Due to the growing need for computer specialists in Silicon Valley, the cap for the number of H1-B visas, temporary foreign-specialist work visas good for up to six years, was raised in 1990 to 65,000 a year. Today the tech industry says that's no longer enough: In 1997 the cap was reached at the end of the fiscal year in September, but this year it was reached on May 11, more than four months before fiscal year's end. And for fiscal year '99, which begins this October, some are predicting the cap will be reached as soon as December 1998. Prodded by the tech industry, the House and Senate have prepared controversial legislation that would nearly double the number of H1-B visas issued each year, to 115,000 in 2001. (President Clinton says he'll veto it unless it provides protections for American jobs.)
The majority of the foreign professionals taking advantage of these high-tech visas are Indians (44 percent), with Chinese (9 percent) and British (5 percent) as runners-up; Filipinos, Canadians, Japanese, Germans, Pakistanis, and the French take most of the remainder. Kanwal Rekhi, president of The Indus Entrepreneurs, estimates that 50,000 Indians are now working at tech firms in Silicon Valley alone.
The accelerating influx has created a sizable industry capitalizing on situations like Ravi's: corporate cultural sensitivity training. Beginning in the 1980s, companies like Intel started their own intercultural programs to introduce foreigners to corporate America; in recent years, third-party cross-cultural training firms have proliferated, and local colleges are packing classrooms with RFPs seeking the secrets of fitting in.
The Challenges
What's it like to leave your homeland and move straight into corporate America? The first thing many foreigners mention is the American attitude of superiority. "Most Americans feel they're better than others and they're really ignorant toward other cultures," says Ming, a Chinese professional who arrived in Silicon Valley ten years ago.
"Americans think big," says Ulf, a German RFP who's been in the U.S. for less than two years. "That means they squash the people they think are little."
But the number one problem RFPs face is communication with the boss. "My boss asks me what I think could be done better about a project," says Chuck, a Chinese professional in America for four years. "I don't say anything, because where I come from, it would be rude to tell your boss what you think is wrong about his work." Most RFPs have mastered English, but they're not used to American expressions or idioms—and often they're too shy to ask the boss to explain. One manager at a Silicon Valley software company told a Russian RFP to "Do the best you can" on a last-minute project; to his alarm, he came in the next morning to find the employee still there, working away. The Russian professional had taken him literally.
Communication between employees is another learning experience. "Americans are so open," says Ulf. "They don't care who knows about their personal lives." On the other hand, Chuck says, "Some things you don't talk about, like how much money you make." In India and other parts of Asia, salary is an open issue, discussed between strangers on a train as well as between coworkers.
Peter Nanopoulos, a professor at the University of California extension in Silicon Valley who teaches a class on such cultural conundrums, observes how the informality of Silicon Valley corporations often throws RFPs for a loop. "Many are not used to their bosses in their home countries going around without a tie, or with a few buttons open. They're not used to calling their superiors by their first name." Asian employees must get used to not standing up when their higher-ups come into the room; in much of Asia that is a required sign of deference.
At Intel, foreign-born professionals constitute about 10 percent of the technical workforce, and they definitely find it strange that "everybody calls the chairman and CEO by their first names, and the chairman's cubicle is the same size as mine," says company spokeswoman Tracy Koon. The lack of traditional business hierarchy is an anomaly peculiar to Silicon Valley, and Asian employees in particular find this informality a very foreign concept, says Sharon Richards, manager of Intel's intercultural training program. "In countries that are more hierarchical, it's more difficult for people to question their superiors," says Richards. "In general, in Asian cultures, there's a higher respect for authority."
Self-promotion is another foreign concept to many RFPs. "Self-tooting your own horn is a very American attribute," says Richards. "In other cultures, people might be more predisposed to talk about team efforts than individual ones." One Indian employee at a cultural awareness workshop at Nortel, a Canadian telecommunications company, observed that "promotions seem to rest on networking and the ability to self-promote. In Asian cultures, the act of self-promotion, initiation of new projects in the workplace, is not highly regarded."
Recently-arrived Asian women have their own challenges, not the least of which is stereotyping. "They think that we will be quiet, and often we are, but then they ignore us," says Ming. A high-level Asian female RFP may still have reservations about speaking directly to, or being familiar with, male employees.
Then there are those non-verbal forms of communication which, on inspection, have strict rules attached to them. The unwritten rule for the amount of personal space to preserve for the person you're addressing is four feet. And there's hygiene. "Body odor is taboo" in America, says Vimu Rajdev, who owns a recruiting company that brings over Indian and European workers, trains them, and helps to place them in tech firms. In France, India, and many other countries, it's a fact of life. Ravi's boss actually took him shopping for deodorant—and dark socks to replace his embarrassingly uncorporate white ones.
Assimilate Me, Please
Take a screamingly wealthy industry managed largely by white-bread Americans, add a couple hundred thousand new hires from foreign cultures, and you've got the makings of a fat little industry bridging the comprehension gap. For the RFP who wants to assimilate to all the American quirks and climb the corporate ladder, the resources for cultural sensitivity training are endless.
Intel and other large corporations have their own in-house training programs for their numerous foreign-born employees (Intel brought in 363 people on H1-B visas last year alone). Intel's Multicultural Education Program, started in 1983, includes a class on "American business culture" that features role-playing of workplace interactions. Intel also has employee support groups for Chinese, Indian, Russian, and other ethnicities, where RFPs can ask older employees about how not to fall through the cross-cultural cracks.
On the other side of the coin, American-born employees at Intel are trained on how to work in a multicultural environment. Managers take the course "Managing in a Multicultural Environment," which brings employees from different cultures into the class as learning aids. Rank-and-file employees are offered similar courses; in working groups with a lot of multicultural interaction, managers may decide to put all their employees through such training.
The big tech companies have their own trainers on staff, but they also hire cross-cultural training firms such as GeoNexus in Palo Alto (Intel, Hewlett-Packard), Charis in Pleasanton (Intel, Sun Microsystems, Hewlett-Packard, Apple), and Meridian Resources Associates in San Francisco (IBM, Microsoft). The larger firms have been around since the early 1980s, but in the last four to five years, says Richards, a number of less-accredited firms have opened up. "There are a lot of people wanting to jump on this bandwagon who don't have a lot of in-depth experience in the field," says Richards.
Few published figures exist, but an executive at one leading firm estimates that nationwide, intercultural training now represents a $1 billion industry.
Some training firms are moving away from the pure assimilation model to a more egalitarian approach, says Lance Descourouez, a principal at GeoNexus. In training at Hewlett-Packard, Geonexus now teaches that foreign professionals should put their difficulties with corporate culture, say, their discomfort speaking out at "brainstorming" meetings, on the table. It is then up to both American and foreign executives to compromise on a platform of communication where both can work easily and equally.
Adult and community schools in Silicon Valley are also cashing in on the high-tech visa boom. The University of California Santa Cruz extension in Santa Clara has an entire "Communication and Intercultural Studies" department offering a "Professional Communication Series" geared to nervous RFPs. One class description, called "Speaking to the Point," reads: "Your boss stops you in the hall and says, "How's the project coming?" You feel your throat close and your sight become foggy. You stare at your coffee cup. In your head, you think: "What does he want to know? I don't know where to start? Oh, no!" The class is "designed for talented foreign-born professionals who wish to excel at common business interactions, like the one above."
Courses run about $400 for 15-30 classroom hours, but this is no ordinary night school: The average salary of students in the division is between $80,000 to $100,000 a year, and most are attending on the company's dime. The parking lot is littered with Lexuses and Mercedes-Benzes, for many RFPs the ultimate expression of the American Dream.
Bookstore shelves in Silicon Valley bulge with countless books describing the rules and quirks of American corporate culture, and advising foreign-born professionals on how to assimilate. A book briefing Latinos on how to succeed in American business lists the "stereotypes about the white majority culture" that Latinos may hold: "They are cold and insensitive. They are impersonal and remote. They value career over family. They are too driven and take themselves too seriously. They do not know how to enjoy their work. They are plain; they have no flavor; there is no sense of color to their lives."
But despite all the advice for hire, the most heavily relied-upon source for cultural training for an RFP is peers and family who have been in the U.S. for awhile. It's as informal as that. If RFPs don't have either in the country, they can join a number of different ethnic organizations and find friends who have been through the same challenges. For Indian RFPs alone, there's the Silicon Valley Indian Professionals Association, The Indus Entrepreneurs, the Network of South Asian Professionals, Indian Business and Professional Women, and others. These organizations don't have classes or seminars specifically on the acculturation process, but they can help to smooth an RFP's ride by providing friendship, support, and job contacts.
That kind of support ultimately may be more valuable than any of the intercultural training RFPs are likely to receive. After all, training that teaches RFPs how to assimilate to the attitudes, accents, and auras of Americans simply puts the burden of adjustment on the foreigner, adhering to America's tradition of being a melting pot, a stew in which all the ingredients sacrifice their individual flavors to the end product. When the end product is profit, in an industry that revolutionizes itself every couple of years, there's not much time to appreciate the individual differences. For talented foreign professionals whose dream was to come to America and mint money as quickly as possible, the assimilation process seems to make perfect sense. But perhaps 20 years from now they'll ask themselves: Was it worth the price?