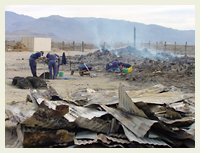 Fight disinformation:
Sign up
for the free
Mother Jones Daily
newsletter and follow the news that matters.
The carnage of Sept. 11 has prompted most American activist groups to back away, at least for now, from militant tactics — but not the Earth Liberation Front and Animal Liberation Front.
While anti-globalization protesters were fretting about how to prevent violence at demonstrations during the recent World Economic Forum in New York, the so-called "ecoterrorists" of the ELF and ALF were proudly claiming credit for an ongoing string of destructive attacks, from setting fires at a federal wild horse facility in California to an arson attack on a New Mexico biotechnology facility.
Answering for "Ecoterrorists"
Elaine Close, spokesperson for the Earth Liberation Front's Press Office, discusses the property-destroying tactics of the Earth Liberation Front and Animal Liberation Front with MotherJones.com readers here.
Controversy over militant tactics is nothing new for environmental activists, but the longstanding debate over property destruction and its validity as a form of non-violent protest has only grown more acute since Sept. 11. Now, supporters of the loosely-allied ELF and ALF are headed for a face-off with Congress and at least one Washington lawmaker is pressing mainstream environmental groups to publicly disavow the militant tactics.
On February 12, the House Committee on Forests and Forest Health will hold hearings on environmental terrorism featuring testimony from law enforcement and environmental officials, victims, and a single activist who has been linked to the ELF/ALF. The committee members will also hear from two of their colleagues, Rep. George Nethercutt (R-WA) and Rep. Darlene Hooley (D-OR), both of whom have drafted bills to stiffen the federal penalties for so-called ecoterrorist acts.
The hearings have been called by Forest Committee chair Rep. Scott McInnis, a Colorado Republican whose district includes Vail, site of the most spectacular ELF action to date: a 1998 arson at a ski resort that caused $12 million in damage. McInnis says he hopes the hearings will shed light on the "abhorrent and unacceptable" behavior of such groups, and boost law enforcement's efforts to nail them.
"Terrorism isn't some sort of noble cause, or a lesser evil that can be done in the name of some greater good," says McInnis aide Blain Rethmeier. "America knows in its heart of hearts that terrorism in any form is unacceptable."
The ELF and ALF, however, remain unrepentant, and supporters of the two groups are calling for nationwide protests and other actions on the day of the hearings. A report published in January by the press office of the North American Animal Liberation Front claims credit for more than 25 instances of eco-sabotage since mid-September, ranging from smashed windows to arson and bomb scares. Overall, the report attributes "137 illegal direct actions in North America in 2001" to a variety of groups affiliated with either ALF or ELF, causing an alleged $17.3 million in damages.
Elaine Close, a Portland activist and partner of Craig Rosebraugh, the activist summoned to the Congressional hearings, is unequivocal. Although Close denies that she or Rosebraugh have any insider knowledge of how ELF/ALF works, her sympathies are clear.
""This is a battle," she says. "The targets are doing something egregious. It's not like [activists] are going to come into your home and attack you for not recycling. There's something evil going on, and these groups are trying to stop it."
Only a handful of ELF or ALF activists have been apprehended — among them two California ALF activists sentenced to prison earlier this month for plotting to firebomb dairy trucks — but Federal Bureau of Investigation agent Steve Berry says the agency views eco-terrorism as a serious problem.
"It's only a matter of time before somebody gets hurt or killed," Berry says. "We consider ELF, ALF and their activities to be in serious violation of federal law."
In an opening salvo against the underground movement late last year, McInnis and other members of Congress sent a letter to major mainstream environmental groups including the Sierra Club, Greenpeace, the League of Conservation Voters, the World Wildlife Fund, and the National Resources Defense Council, calling on them to publicly disavow the tactics of the ELF/ALF.
Many of the groups bristled at McInnis' letter, which some saw as an effort to tar all environmental activists with the same brush. Nonetheless, most environmental organizations made it clear they view the efforts of the ELF and ALF activists as dangerous folly. In his response to McInnis' letter, for instance, Greenpeace executive director John Passacatando wrote: "If we define eco-terrorism as violence, violence to people or to property, we disavow it. The peaceful tactics of Mahatma Gandhi and Martin Luther King Jr. are the models for our work."
John Sellers, director of the Ruckus Society, a national group that trains activists in non-violent civil disobedience, doesn't oppose property destruction on principle. But he does see it as a double-edged sword that can easily be turned against those who employ it.
"The debate has definitely heated up around tactics and what's appropriate," he says. "But there's no room in the strategic toolbox to be scary. We already take so much heat that when we use tactics that can be perceived as violent, it makes it really easy for law enforcement, the corporate media, or whoever to portray us in a light that can really hurt us."
Like Sellers, many activists who believe that property destruction can be a legitimate political tool, when applied carefully and conscientiously also acknowledge it's risky as a general tactic, especially in the current climate.
"We should not put ourselves into the hands of these legislators who want to stifle the progressive movement," says Noel Sturgeon, an environmental activist and professor at Washington State University. "We don't need to play into their hands by doing things that can be painted as terrorism."
But for mainstream groups like the Sierra Club, property destruction is simply beyond the "respected tradition of non-violent disobedience that we do support,"says spokesman Allen Mattison.
"There's a big difference between putting yourself at risk, and putting others at risk – and that's the crux of the question," Mattison says. "Violence alienates Americans who would otherwise support environmental protections, and we just don't think there's any way to build widespread support through the use of violence. By using property destruction to deliver their message, we see these groups as alienating potential allies."
The ELF and ALF claim that no humans have ever been physically harmed in any of their attacks, but many of those affected by the groups' actions have no doubt that property destruction equals violence. On Sept. 20, ALF arsonists firebombed a maintenance building at the Coulston Foundation, a biomedical research lab in Alamogordo, N.M., which uses primates in some of its research, causing $1 million worth of damage. Foundation spokesman Don McKinney says Coulston executives and researchers have also received threatening notes and phone calls.
"I don't see how they can claim to be saving anything," McKinney says. "I have no doubt that these are terrorists. They seem to have no limits, and their objective as far as I can tell is to try and scare and terrorize people."
Similarly, Steve Romania, owner of a Eugene, Ore. car dealership, claims that about $1 million in damage was done to his business when activists burned 36 trucks and sport-utility vehicles last March. He doesn't hesitate to call his masked attackers "terrorists."
"I think there are legitimate environmental concerns that need to be addressed," Romania says. "But to try and sway anybody's opinion this way is ridiculous."