Life in Sun City, Arizona, is not all mah-jongg and pinochle. From the synchronized swimming club, which takes the plunge four times a week, to the Tip Top Dancers—a hit at local parties—to the lawn bowlers who rise at dawn to beat the heat, Sun City attracts active seniors—and more than its share of inactive wildlife.
Somewhere near the end of my recent stay in sun city, Arizona, I saw a cockroach—a ghastly little brown thing flat on its back, all alone, and desperately writhing on the immaculate linoleum of Waldo Smith's garage. The 82-year-old homeowner was standing beside me, watching the spectacle. "I spray for insects," he said, "and that fellow there"—Smith pointed his rubber-tipped cane at the bug—"he got ahold of some of that stuff. It won't be long now he'll be dead."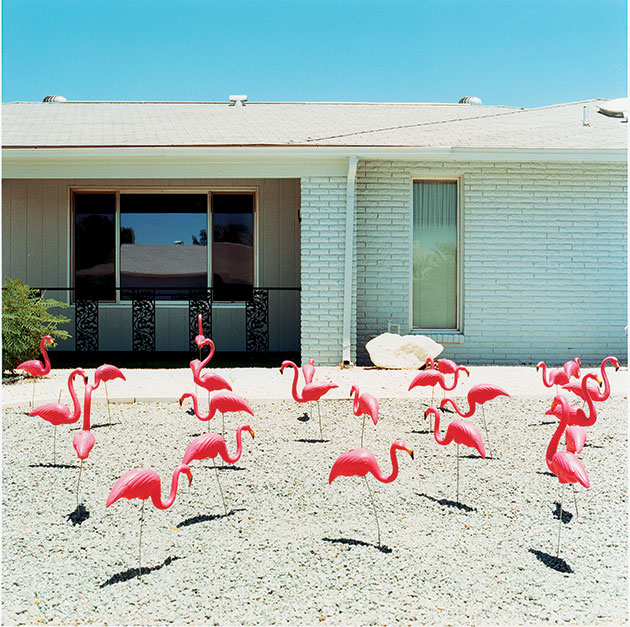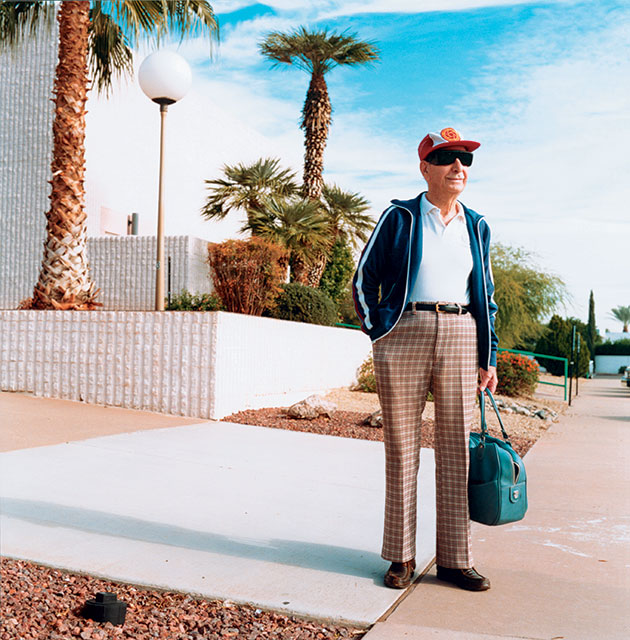 Smith and I went inside, got some cold water, listened to the ice cubes chonk out of the door of the fridge. Then we came back out to the garage and a faint grin glimmered on Waldo Smith's wrinkly face. Sure enough, nature had been vanquished. And in Sun City, population 38,000, such vanquishment is holy.
As these pictures by Austrian photographer Peter Granser will attest, America's oldest adults-only community is the antithesis of a wild place. There are no weeds in the sidewalk cracks or on the manicured expanses of its seven 18-hole golf courses. The trunks of the diminutive sour orange trees are literally painted (white, against the blistering sun) and if you stroll through the cul-de-sacs at eight in the evening, all you will hear is the liquid whir of hundreds of air conditioners. Everyone is inside, gathering strength to do battle against the most chronic and brutal of natural forces, human decay.
In the cool, dewy dawn, they will be out there again—on ancient Schwinn bicycles, bearing quivering little Chihuahuas in their handlebar baskets, or otherwise toiling. There is an 87-year-old here who gets around pretty good on his roller skates, and when I visited a rehearsal of the Tip Top Dancers, assembled Rockette-style above, the whole troupe swerved toward me, tap dancing and smiling so warmly that I was filled with the unnerving sense that 16 tanned septuagenarians were hitting on me at once.
Such sparkle has always been Sun City's trademark. When developer Del Webb built 27,000 houses here in 1960, back when leaving the workforce often meant hanging up the briefcase and waiting to die, he envisioned "An Active New Way of Life," as the ad jingle put it. Ever since, his successors have continued to preach the gospel of vigor, to great economic effect. The Del Webb Corp. now has 15 communities throughout the country, and as many as 10 percent of all Americans over 70 currently live in age-segregated communities.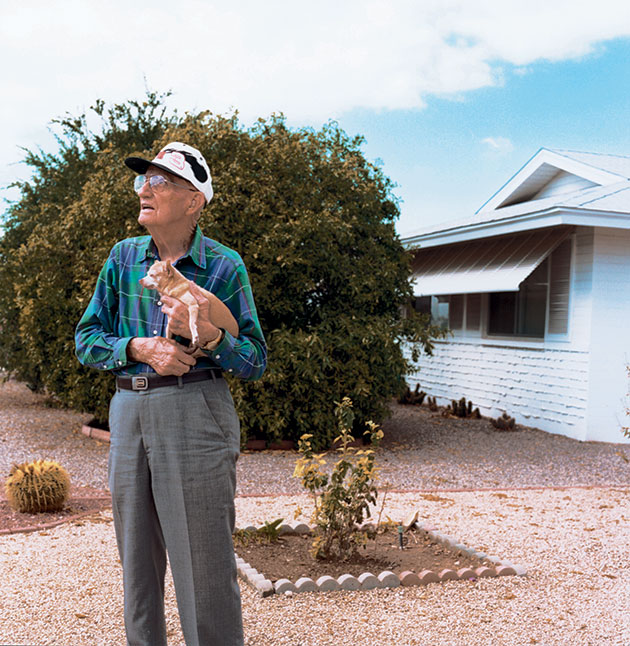 Of course, it doesn't take a genius to recognize that places that bar youngsters (under 55, in Sun City's case) are essentially waiting rooms for the Fairway Beyond. Del Webb has his critics. In a recent book, Prime Time, author Marc Freedman argues that retirees shouldn't take themselves "out of circulation" but should instead remain in mixed-age communities to share their wisdom through volunteering. Others are more virulent. When I showed these photos to a friend, he dismissed Sun City as "nasty neat," as the kind of closed community that might appeal to his Reagan-loving grandfather—a man who once cussed him out for getting cut from the football team.
My friend didn't get it. What Peter Granser has done here is celebrate, with the fresh eye of a foreigner, a distinctly American hope. The people in these photographs are believers. They are from the Midwest, many of them, and they put in their 40 years at the insurance company (hardware store, tire factory) and they got the gold watch and then moved out to the outskirts of Phoenix, determined to enjoy the leisure years they so thoroughly earned. Consider the man with the bag and the perma-press slacks. Maybe he's a widower, or maybe he had to get chemo for that thing with his prostate, but he still bowls every Thursday, damn it.
Or consider Waldo Smith, the roach killer, who, when I met him at 6:30 one morning, was dressed in a fluorescent orange vest and cap and slowly making his way toward his Chevrolet pickup. Smith is a former president of the Sun City Prides, a volunteer group whose 300 members all wear orange vests and caps as they pluck litter from the median strips on the roadways.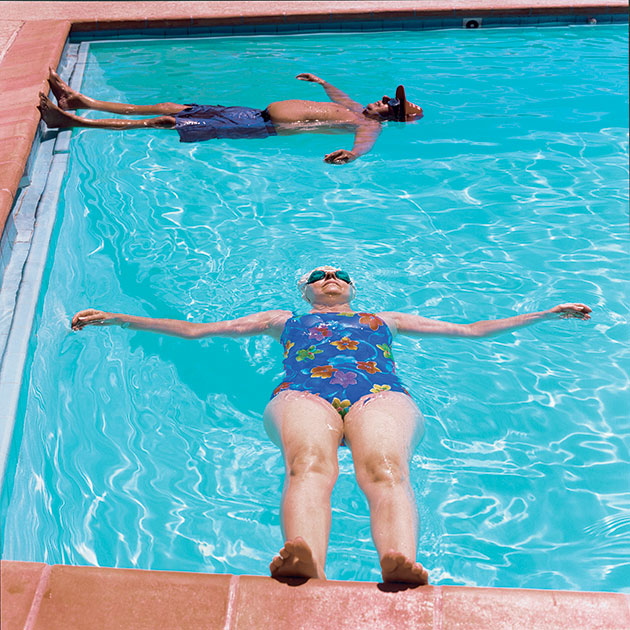 "We have the privilege of doing the work to make Sun City one of the world's cleanest cities," Smith told me, "and I believe that cleanliness, honesty, and integrity all go together." We drove around for several miles, killing much of the morning in pursuit of a particular yard that was, in Smith's view, "a total catastrophe." He wanted to have a word with the homeowner, but we kept getting lost, which made him sadly chagrined. But eventually we ran into another Pride member, Stanley Jones, who was wearing a fluorescent orange pith helmet and clutching a huge orange plastic bag. In the bottom of the bag there were a few featherlike husks. Sun City was now six or eight desiccated palm fronds cleaner—a fact that brought joy to Waldo Smith's heart.