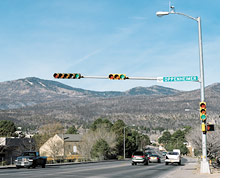 Fight disinformation:
Sign up
for the free
Mother Jones Daily
newsletter and follow the news that matters.
On my third day in Los Alamos, New Mexico, just after noon, as I was strolling along a high red-rock ridge, I heard an explosion: a small distant pop followed by a rumble that echoed and spread through the blue sky and canyons before giving way, finally, to an absolute silence. "A test at Area 15," a woman standing nearby mumbled, unfazed. "They're blowing up some plutonium."
These kinds of things happen at the Los Alamos National Laboratories (LANL), the nation's premier nuclear-weapons research facility and the place where the atom bomb was born. In fact, subcritical batches of plutonium, incapable of going nuclear, are regularly blasted apart in steel spheres at Technical Area 15 by scientists aiming to create the perfect bang for the nation's cache of 25,000 nuclear weapons. The exploded metal flows like water for a few nanoseconds, X-ray cameras flash, and then the scientists pore over the images, muse on the plutonium/tritium ratio, break for coffee, and move on, eventually, to the next test.
So the nuclear machine hums along. The United States is spending an estimated $5.8 billion on nuclear weapons this year — nearly half again its Cold War average (in constant dollars) — and the money is serving, in part, to make nukes humdrum, a given. The nuclear missile once loomed as an emblem of apocalypse; now, post 9/11, it's a tactical weapon. In 2002, President Bush cued LANL to begin developing "Earth Penetrator" mini-nukes that can be routed underground to blow up bunkers, say, or caves. Meanwhile, the Pentagon expanded its list of possible nuclear targets, formerly limited to China and Russia, to include North Korea, Iraq, Iran, Syria, and Libya.
Once the excitement of the explosion died down, I meandered back to my rental car and drove around a bit on LANL's 43-square-mile campus, where, at every bend in the road, a low concrete building surrounded by chain-link fences crops out of the hills. Guards in black boots and camo and khaki patrolled the area with M-16 machine guns. Carefully obeying the traffic laws, I wound along the northern edge of the campus, then down a hill, and into the center of town.
Los Alamos, population 18,000, sits baldly on the mud-brown dry land that surrounds it. There is almost no adobe here, no cozy cafés with Navajo rugs on the walls. The houses are ranch-style, mostly — rectangular, baby blue and Cape Cod white — and church spires are prevalent. There are 35 houses of worship, as opposed to only two bars, and the cuisine, here in New Mexico's wealthiest county, tends toward fast food. As I rolled onto Trinity Drive, I saw a few cars idling in the drive-in at the Sonic Burger, a stock boy herding grocery carts on the blacktop at Smith's, and block after block absent a single pedestrian. The pavement seemed endless, and the whole scene struck me as sad, a bleak legacy of J. Robert Oppenheimer, the rail-thin physicist who brought the world's most famous physics project to Los Alamos in 1943.
Hidden away from the rest of the world, Oppenheimer and the 500 scientists he beckoned to this high desert town created Little Boy and Fat Man, which put an end to 100,000 Japanese and World War II. I remembered seeing the mushroom cloud on Movietone newsreels, and the line from the Bhagavad Gita that Oppenheimer says floated through his mind upon witnessing the first-ever atomic explosion: "I have become death, the destroyer of worlds." I decided to call the LANL public-affairs office, to ask what exactly I'd heard blowing up.
"I can't tell you," said LANL spokesman Kevin Roark. "We have a number of firing sites here, and that explosion could have come from any number of places."
"But what are they exploding?"
"It could be anything, from tiny fractions of a gram to hundreds of pounds of high
explosives."
"Oh. When do they do the big explosions?"
"I don't know," Roark said.
But what did I expect? Los Alamos was founded on secrecy. When Oppenheimer first dreamed of the A-bomb, he envisioned a team of scientists "disappearing into the New Mexico desert for an indeterminate period." Neighbors hearing loud bangs were to be told that the Los Alamos Project was building "a new type of rocket." And who would question this story? The scientists were high priests, wizards who performed incomprehensible tricks with bizarre heavy metals. Their secret agenda, crushing the Axis into submission, was holy and treated as such. Within days of Oppenheimer's first visit to Los Alamos, the U.S. Army arrived on the mesas and began forcing residents — Hispanic ranchers mostly — to evacuate in the name of national security. "They gave us 10 days to leave," one man later wrote Senator Pete Domenici. "They also told us that as soon as the war was over we could have our ranches back."
But the physicists lingered in Los Alamos after World War II, as the specter of Stalinism stoked a new hunger for bombs, and by the time the Cold War ended, the nuclear industry was too entrenched to wither away. "Stockpile stewardship" became LANL's new raison d'être. Today, the lab makes new plutonium pits — grapefruit-size spheres that trigger nuclear reactions — for aging weapons; tears old weapons apart; and explodes virtual bombs, using multimillion-dollar "data visualization supercorridors."
LANL now boasts 8,500 employees, roughly half of whom live in Los Alamos. The staffers also design urban-planning software, anti-terrorism devices, and fuel cells. But nukes remain the main grail. In 1999, the Department of Energy, the agency that regulates all things nuclear, doubled the number of high-explosive tests permitted at LANL to 100 a year. In 2002, when Congress approved the biggest LANL budget ever, $1.7 billion, more than three-quarters was earmarked for the nuclear-weapons program. Some went specifically toward preparedness. The Bush administration wants the lab ready for a possible return to full-scale nuclear tests under the Nevada desert.
The United States ceased such testing in 1992. But in the nuclear thaw that followed, LANL found itself in constant trouble, endangered by its old imperiousness. In 1998, for example, a box containing plutonium leaked, irradiating five workers, one of whom received what the doe considers "a lifetime dose." Joe Graf, a LANL radiation expert, assured the press, "I have seen people with doses [10 times] this level with no health effect." The DOE's ire fell, as always, on the University of California, which has managed Los Alamos since the lab's inception.
And tensions escalated late last year when two investigators hired by the lab, Glenn Walp and Steve Doran, filed a report alleging that, over the past four years, LANL employees had stolen nearly $3 million in government property — a forklift, for instance, and a cryogenic refrigerator and hundreds of computers. In addition, lab credit-card receipts revealed that workers had spent $4.9 million in taxpayers' money on items for personal use, including refrigerators, VCRs, TVs, gas grills, hunting knives, and diamond earrings. In November, 10 days after Walp and Doran's report became public, LANL fired them without explanation.
Lab director John Browne would later resign, awash in bad press clippings, but a subsequent DOE report revealed that LANL could not account for more than 1,600 machine guns and other weapons. DOE Secretary Spencer Abraham is now drawing a hard line. The lab's "systematic management failure," he said, "called into question the University of California's ability to run the Los Alamos National Laboratories."
Los Alamos is at much the same juncture as the nation itself. It's scared, but also mighty and swaggering about with its muscles flexed. It is a weird little town that contains, I think, a cautionary tale.
"If you want to be really good at science," LANL physicist Rick Nebel told me over coffee at Starbucks, "if you're really serious, it's a 60- to 80-hour-a-week job. You don't want distractions. You want quiet." Nebel looked up. It was six on a Friday evening and the counter guy was polishing the coffeemakers. "This is a good place to do science," he said, then took a gulp of his decaf.
Nebel is 49, with a bushy mustache, gray argyle socks, and rumpled black jeans. On the table was a legal pad bearing a blizzard of Greek letters, "unclassified" equations relating to an anti-terrorist tool he was dreaming up — a portable device to detect uranium in, for example, a crate entering a port. Nebel tried to explain. "What this device does," he said, "is make neutrons that hit your target — the crate or whatever — and then maybe it will give off gamma rays or more neutrons . . . "
Very soon, I found myself in a sort of ether, living in the thetas and deltas on Nebel's legal pad, in the way they flowed so logically from one line to the next. Los Alamos exists in a similar ether. There are 1,500 Ph.D.s in the town, and nearly every one that I spoke to betrayed both a thrill for research and a reluctance to identify with the lab's nuclear-weapons work. There wasn't a bloodthirsty warrior in the bunch. People here were simply used to being around nuclear weapons, just as people who live near a bakery are used to the smell of fresh bread.
"You come here and you've got to ask yourself some moral questions," Nebel continued, "like, ' What if somebody used one of these goddamn bombs?' For a while, it gnawed at me. It doesn't anymore. When you are around nuclear weapons, you become a little more comfortable with them; you get to know people who work on them. I have respect for those people, and they're my neighbors." Nebel finished his coffee and we went outside, where the stars shone brightly in the cloudless sky, and then he drove off, to watch his son play French horn in a concert.
Four miles outside downtown lies Technical Area 55. People who live near Area 55 don't talk about it much, but Los Alamos could not really exist without it. This is where LANL manufactures plutonium pits.
I drove by Area 55 with Joni Arends, executive director of Concerned Citizens for Nuclear Safety, one of the several Santa Fe-based anti-nuke groups that Los Alamites associate with tarot readings and other New Age kookiness. Arends wanted to take some photos of a bioweapons lab now under construction, and she did, with a disposable Wal-Mart camera. But before she snapped her photos, we got a bit lost; we had to pull a U-turn in a parking lot near Area 55. We were trespassing, technically speaking, and for maybe five seconds, I sensed a tremendous pressure bearing down on our car. "Oh fuck," Arends whispered under her breath as she whirled around. "Oh fuck, oh fuck, oh fuck." She cut the wheels, and gunned away, out of the lot.
But there was a quiet tension everywhere in Los Alamos, even in the architecture. The most impressive structure on Trinity Drive was the four-story Los Alamos National Bank, with one-way black windows that shimmer in the high desert sun.
I stepped inside one morning, unannounced, and was soon ushered into the office of bank president Steve Wells, a tall, athletic individual with a bristly crew cut. At once, Wells pounded some search terms into his computer, and then hunched toward me, glowering. "I find it appalling," he said, "that people want to come here to Los Alamos and focus on the faults of the lab. There are just as many faults in corporate America, in" — he gestured toward his screen — "journalism. Why should I sit here and lend myself to somebody who is anti-community, anti-LANL, anti-defense?"
Wells leaned closer; I could see his neck muscles rippling under his shirt. "What do you think the public-affairs office at the lab would say if I called them up and said, ' I've got a guy here from Mother Jones'?"
I conceded that they probably wouldn't be too psyched.
Wells laughed — one tight note of mirth — and then he scaled back the hostility. "Don't just assume that I'm conservative on every issue," he said. "I like to be in nature. I like to hike." He pointed to a picture on the wall, of his wife and him trailside in Bandelier National Monument. He also gave me a copy of the bank's annual report. Then he checked his bonhomie and led me to the door. "I live in this county," he said. "I work in this county. I'm not going to bad-mouth this county to a ' liberal' journalist. I'm not going to do it. End of quote."
Down at the office of the Los Alamos Monitor, copy editor DyAnne Short, 51, told me she had grown up in Los Alamos: "My father was a chemical engineer. He would fill the cores of bombs with explosives, and part of his job was to go to the aboveground nuclear tests in Nevada. One time the explosives went off unexpectedly and three or four people died. My father had to go out in the desert and look for the body parts. I remember asking him, ' Did you find Mr. Fairchild?' He said, ' All I found was the sole of a foot.'"
We were standing outside the Monitor's office in the harsh afternoon sun and now Short, a compact woman with a ruddy complexion, took a drag on her cigarette. "But I'm a nuclear person," she continued. "I don't think we should ever let down our guard. I grew up with the Cold War, and I'm going to be distrustful of Russia, whether it's valid or not."
DyAnne Short advised me to speak to a man named Ed Grothus. Grothus, 79, is the most photographed person in Los Alamos, she said. He is the town's only vocal anti-nuclear advocate, a machinist who worked at the lab, making bomb parts, for 20 years, before quitting on anti-war principles in 1969. He's the owner of The First Church of High Technology, a battered A-frame where he hosts "bomb unworship" ceremonies, and the founder of The Black Hole, a junk emporium that sells LANL discards — outdated computers, broken centrifuges, bomb casings, whatever — on a five-acre compound. I met him there one afternoon. He is a hale old fellow, 6'1″ and broad-boned, and right off he laid a friendly palm on my shoulder. "I'm the oldest of eight children," he said. "After the last kid, my mother called me to her hospital bed and said, ' Tell your father to leave me alone.'"
We drove off to have lunch at LANL's main cafeteria, and then — after Grothus hailed a few of his Tuesday-night bridge partners — we sat down by a window and he told me of a bit of street theater he was planning. "I'm going to rent one of those Jeep Cherokees like the U.N. weapons inspectors have over there in Iraq," he said, "and I'm going to tape the letters ' U-N' on the side with electrical tape, see, and then I'm going to drive around Los Alamos looking for weapons of mass destruction. I tell you, I'd do anything to embarrass the lab. My mission is to change the mission of the lab. They need to get out of this nuclear madness; they can do science."
I asked him if he'd ever changed anyone's mind in Los Alamos.
"Oh, no," he said, scoffing. "I don't change their minds. They're convinced. I just try to make them cognizant of what they do. If I weren't here, there'd be nobody speaking out — nobody. I'm the conscience of the town. I've been here 54 years, and every year on the anniversary of my arrival, I drive all around town with a 350-pound air horn on the back of my pickup. It has a low frequency like a foghorn on a major ocean-going liner." Grothus paused. For maybe five seconds, he just sat there, staring out the window, sprinkling salt on the underripe tomato he was eating, whole. "I'm legendary," he said finally, "and when you're legendary, you have to do legendary things. Have I told you yet about my prediction that the world will end in 2013?"
He began to explain but was interrupted by a young man at the next table, a computer scientist who wanted to tell me that the real problem was the lab's disregard for civil liberties. Requesting anonymity, he spoke of Wen Ho Lee, the Los Alamos code writer/alleged spy who made international headlines in 1999 — and got fired and locked in solitary confinement — before he pleaded guilty to one count of mishandling classified data. Many people considered Lee a scapegoat for LANL's own security lapses, and the computer scientist said that, after Lee was freed, "the lab basically went on a witch-hunt. People were not allowed to go to the bathroom without shutting their computers down. They hired lawyers and kept them on retainer, just so they could do their jobs. I don't want to spend my career here because I don't want to have someone looking over my shoulder all the time."
Grothus and I finished our lunch, and then I went back to my hotel room and called Kevin Roark, the LANL publicist, to ask him a question. "And by the way," Roark said, before hanging up, "don't trespass on lab property. You were there at the cafeteria today with Ed Grothus."
"How do you know this?" I said.
"What kind of organization do you think this is?" Roark said. "This is a federal facility. You can't just walk in. I got calls from three people today saying you were there, trespassing."
On top of Mesa del Buey, east of Area 55, 46,000 55-gallon drums of radioactive waste sit beneath white plastic tents. Each drum is filled with relics from the lab's past, dating back to 1957. No inventory exists, but it's fairly certain they contain old lab coats, piles of beryllium dust, discarded paper booties, used respirators, and rubber gloves that will be radioactive for more than 100,000 years. All this was once stored underground, but then in 1992 LANL dug up 16 barrels and found that some had holes in them. The doe made the lab excavate the whole cache and put it aboveground, so that it could be easily inspected. The tents were supposed to be temporary. But they will be there, with the barrels beneath them, until at least 2010.
Toward the end of my stay in Los Alamos, I spoke to Karen Pao, a physicist who works in LANL's X Division, the masterminds behind stockpile stewardship. Pao, a Taiwanese émigré, told me her office is "very casual, very collegial. People bring in cakes for co-workers' birthdays," she said. "At Christmas, my boss had a party. Everyone sang Christmas carols. I played the violin. One of my deputy group leaders went out to his car and got his tuba and played."
But it wasn't until the next day that I finally understood the mindset that makes LANL tick. Skip Andersen, 47, is the training manager for Protection Technology Los Alamos, the private security force that guards the lab. On my first night in town, at a forum on the war in Iraq, he'd described what happens to Iraq's outspoken weapons-plant workers. "They watch their women raped and beheaded," he'd said, "and then they are shot once, at the back of the skull."
Now, on a Saturday morning, I found Andersen in his greenhouse, feeding his goldfish. A heavyset man with graying hair, he was wearing a T-shirt and new blue jeans borne up by wide blue suspenders. "These fish are my stress reliever," he said, sprinkling flakes into the tank.
We went into the house, which was thick with the smell of bacon. Andersen offered me a Vanilla Diet Coke and told me that he was a Mormon, that he grew up on a ranch in Idaho and now has five kids. He said, "My wife and I feel closer to God, up here in the woods." He showed me the books on his bed stand: a collection of essays by William F. Buckley and a biography of Teddy Roosevelt. "I study history," he said, "and the power structure of the Middle East has not changed in 3,000 years, since the days of Nebuchadrezzar and Xerxes. The king is the king, and everybody else is a slave who lives at his pleasure. Our democracy is a threat to these kings' power. That's why September 11 happened. To me, that attack was evil. Evil exists in the world, and there are a lot of places I wouldn't go without a concealed weapon, like downtown Phoenix. Fortunately, though, I live in a place where you don't have to carry a gun all the time — a very beautiful place."
Andersen gave me a driving tour of Los Alamos. In his Pontiac, we motored to the head of his favorite hiking trail, and by the hospital where his wife once had "some female things" taken care of. "I try to take my wife on a date every week," he confided.
Eventually, we returned to the topic of guns. An avid sportsman, Andersen agreed to take me to the Los Alamos Sportsman's Club to teach me how to shoot a pistol. "Focus on the front sight of the gun, put the front sight level with the target," he said. His presence was calm, convivial, steady, but it was an exacting enterprise. A lethal piece of metal goes berserk at the end of your arm, and you cannot flinch. I flinched. All six of my bullets sailed high over the targets.
Andersen shot next, timing himself with a little device on his belt. He connected with the target five times in 8.47 seconds. He missed once. He said, "Even I flinch sometimes." Then I shot again, a little more at peace with the blunt utility of the gun. I nailed the target two times. We depleted two boxes of Remington bullets and then we got back in the car, where it was warm, and Andersen said, "You did very well. If a bad guy had been standing there, shooting at you, he'd be dead now. Let's be realistic," he continued. "Sometimes in life we have to deal with bad guys, people like Saddam Hussein. That's why we need nuclear weapons. A nuclear weapon is just a big gun — that's all it is."
I thought of my own shaking hands, and of the men in the silos, and of Andersen feeding his goldfish. I thought of how all humans are vulnerable, fallible. I asked Andersen what might happen if one day someone at the lab made, you know, a major mistake.
"The scientists at the lab believe in the scientific method," he said. "They follow very strict protocols so as to avoid unintended consequences. Everyone affiliated with the lab is, by nature, a very careful person."
We drove on through the hills of Los Alamos. The gun lay in a leather bag on the backseat of the car, loaded.