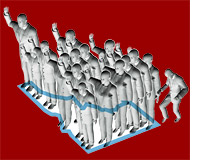 Fight disinformation:
Sign up
for the free
Mother Jones Daily
newsletter and follow the news that matters.
Fed up with big government? The Free State Project may be for you. The nonprofit group wants 20,000 libertarians and other anti-government activists to pack up and relocate to a single state, which would give them enough clout to take control of the state's government. Since a Yale student named Jason Sorens first broached the idea two years ago, some 3,600 "liberty-oriented people" have pledged to join the movement. Once the number reaches 5,000, the group will vote to settle in one of 10 "target" states: Alaska, Idaho, Montana, Wyoming, North or South Dakota, Maine, New Hampshire, Vermont, or Delaware. By voting as a bloc in a sparsely populated state, the Free Staters hope to elect officials who will slash taxes, eliminate state services, relax gun controls, legalize drugs and prostitution, and privatize utilities.
Elizabeth McKinstry, the group's vice president, acknowledges that libertarians are just plain tired of trying to persuade others to support them. "Which makes more sense," she asks, "trying to change 90 percent of the people's minds, or finding your brothers in arms and working with them?" Officials in the targeted states, however, aren't exactly lobbying to win the Free State vote. "We have a neighbor to the east they could consider," suggests Jason Gibbs, press secretary to Governor Jim Douglas of Vermont. Lucky for him, New Hampshire seems to be emerging as a favorite among Free Staters. In June, boosters organized an "Escape to New Hampshire Getaway Week" to entice libertarians to move to the Granite State. The opponents of state government spent a day relaxing at Franconia Notch State Park — where the unspoiled landscape has been carefully preserved by the state of New Hampshire.