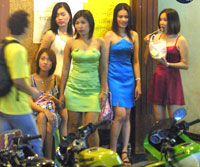 Fight disinformation:
Sign up
for the free
Mother Jones Daily
newsletter and follow the news that matters.
From the outside, the Pink Lady in Chiang Mai, Thailand, had all the markings of a brothel: the bodyguard stationed at the front door, the blackened windows, the motorcycles parked out front late at night. Inside, it looked like a cheap diner, with frayed vinyl booths and tables. Flashing Christmas lights hung from the bar. The stereo played Thai pop music.
Several times in 2001, investigators with an American organization called International Justice Mission (IJM) — a religious group staffed by Christian lawyers — paid undercover visits to the Pink Lady. The group — usually two to three men — would order rounds of Heinekens and talk with as many girls as possible, recording the conversations with a hidden camera. Eventually they compiled a 25-page report that included photographs, addresses, and excerpts from Thailand's penal code — which outlaws brothels — and presented it to the country's Department of Public Welfare. A week later, police descended on two brothels and two nearby houses and rounded up 43 women and girls.
To IJM, it was a successful "rescue" mission, one of dozens that it and other organizations have undertaken in Thailand, India, Cambodia, and other countries. On IJM's website and in its fundraising brochures, these rescues are advertised as effective ways to help girls and women who have been trafficked across borders and forced into prostitution. But despite IJM's lofty goal — to gather evidence that will lead to prosecutions of brothel owners and free their victims — the raids don't often net the big players or lead to significant jail time for traffickers.
And then there's the sticky problem of whether some of the women even want to be rescued at all. One organization in India, known as STOP (Stop Trafficking, Oppression, and Prostitution), has been criticized for "saving" women against their will. And an NGO worker complained last year in the Kathmandu Post that a group of Nepalese women had to bribe rescuers to let them stay in their brothels. "I've never seen an issue where there is less interest in hearing from those who are most affected by it," notes Phil Marshall, manager of the United Nations' Project on Human Trafficking in Southeast Asia's Mekong region.
In the days following the Pink Lady raid, the rescued women and girls were locked into two rooms of an orphanage by Public Welfare authorities, and many of them hardly seemed relieved. While some told of having been promised waitressing jobs and then being forced into the brothel, others had chosen to work there, and several complained that they had not yet been ready to leave. "We need to make money for our families," one woman cried. "How can you do this to us?"
During the one hour each day when they were allowed outside the building, four girls soon slipped out the front gate and disappeared. A few nights later, 11 of them strung together sheets, shimmied down the second-floor window of the orphanage, and climbed over a concrete and wire fence. Nine more ran away weeks later. During one of the escape attempts, a woman fell from a second-story window and was hospitalized with back injuries.
Some of the women felt there was no longer a life for them outside prostitution — that brothel life had ruined them. Others saw the brothel as their only hope to earn money. Some of the escapees were clearly trying to return to Burma, a daunting and dangerous journey, and more than a few, social workers believe, were heading back to the brothels. Within one month following the raid, a total of 24 girls and women had run away from being saved.
You won't find these complications featured in IJM's literature, or in the group's media appearances. Nor were they discussed in congressional testimony during debates over the Trafficking Victims Protection Act, passed in 2000 and widely considered the key element in the U.S. government's new war on global sex trafficking. In addition to providing funding for anti-trafficking initiatives, the legislation gives Congress power to impose sanctions on countries that don't aggressively tackle the problem. According to human-rights groups, as many as 250,000 women and children are caught up in Southeast Asian sex traffic every year. As countries such as Thailand, India, and Nepal try to convince the United States that they are addressing trafficking, brothel raids are likely to increase.
IJM won't say how many women they've helped rescue or what happened to them afterward. Sharon Cohn, IJM's director of anti-trafficking operations, says her organization targets only women who are smuggled across borders or coerced. IJM director Gary Haugen says he's never met a prostitute who's been upset about being rescued. "All the conversations I've had have been with victims who expressed how grateful they were to be released from a place of horrific abuse."
But that doesn't mean others aren't caught in the raids — or that all trafficked women necessarily want to be rescued. Burmese migrants, for example, rely on traffickers to flee to Thailand, and into the sex trade, because they have few opportunities to support their families at home, where they'd live in fear of gang rape and forced labor. One 19-year-old Burmese sex worker told me she could have found work in Thailand as a domestic, but she'd heard stories of girls who weren't paid or were beaten by their employers. (In one recent case, a Burmese domestic worker in Thailand died after her employer set her on fire and left her without food, water, or medical care for three days.) "Some women, particularly those with families to support, see brothels as their best option," says Marshall. "And given their other choices, I think this is understandable."
During a recent anti-trafficking conference in Hawaii, experts and human-rights advocates called for a list of "best practices" for raids and rescues — including more attention to who does and doesn't want to be taken from brothels. IJM officials say they have been working to coordinate their investigative work with other organizations and the Thai government, to make sure women receive "aftercare" following the raids. But clearly, the spectacular busts won't stop anytime soon — and neither will the flow of women and girls into brothels. "If it were your 12-year-old daughter in the brothel, you'd want the raid," says Marshall. "But you also have to acknowledge that it's someone else's daughter that might end up in the brothel because your daughter got out. Raids don't necessarily address the roots of the problem and can actually make things worse if they are not done right."
Several months ago, Cambodian officials working with IJM — and with Dateline NBC cameras rolling — raided a brothel in Svay Pak, a notorious shantytown outside Phnom Penh. Thirty-seven girls and young women were taken from the brothel and placed in a shelter. One was only five years old; several girls were under 10. But after the TV cameras were turned off and IJM had left the country, six women, thought to be about 18 or 19 years old, climbed over the fence at the shelter and ran away. Local aid workers believe that the girls, who were illegal migrants with few places to go, returned to a brothel. And a new group of children is expected to arrive in Svay Pak's brothels before long.