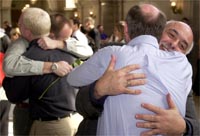 Fight disinformation:
Sign up
for the free
Mother Jones Daily
newsletter and follow the news that matters.
Sometimes a city just has to step up.
Sometimes your hometown just has to drag itself off the floor, shake off the dust and rust of its former glories, and stomp its foot and plant its flag and shout its presence as the nation's most oddball, spiritually variegated, intellectually fiery, funked-out, messy, semi-radical bubble of cultural anarchy. With really great coffee shops.
This is San Francisco, at this moment.
The City by the Bay has been momentarily revitalized, reinvented, our freshly minted young mayor unexpectedly thrusting us into the international limelight and slapping our collective face with the leather glove of change and calm, deliberate, uncharted ideological disobedience. That and lots of giddy happy homosexual couples in love, smooching on the steps of city hall.
This is San Francisco. We have been wildly, dizzily emboldened by the notion that, no matter what the final outcome of our explosive gay marriage initiative, no matter what comes of BushCo's sneering promise to alter the U.S. Constitution to codify homophobia and protect the sanctity of, well, hordes of terrified antigay right-wing moralists who genuinely believe gay marriage will lead straight to bestiality and wanton incest, these past few weeks will go down as one of those defining moments, a hot, seminal point in American history.
Here in San Francisco, we know this moment hearkens back to the civil rights movement, to women's suffrage and the Berkeley Vietnam protests — though with fewer chanting effigy-burning marches in the streets and violent beatings by angry cops, and more tearful ring ceremonies and warm-hearted grins and flower bouquets delivered to random gay couples waiting in line. Bouquets sent by complete strangers from across the country, including ostensible hotbeds of rabid anti-gay sentiment like North Carolina, Minnesota, and Georgia. And Alabama. And Texas. Imagine.
This is San Francisco, right now. But as I am reminded on a daily basis, we do not, despite all those flowers and despite an incredible outpouring of support and all the positive rumblings from all corners of the globe — and despite, furthermore, the thousands of gay couples flocking here from at least 20 U.S. states and numerous foreign countries — we do not in any way reflect the panicky timbre of the rest of the country. Not in the slightest, pal.
San Francisco is, I am told in commanding tone, wildly out of touch. Misguided. Depraved. Lawless. Sinning like no one has sinned before — and that includes thousands of grope-happy Catholic priests and Janet Jackson and Jerry Falwell and that guy who wants to marry his horse.
If my recent rafts of proto-conservative hate mail are any indication, San Francisco is none of the things we who live here understand it to be. Rather, our fair City is a destitute and morally reprehensible cultural wasteland, thoroughly ignorant of what "really" matters, like supporting bogus wars, or wallowing in manufactured fear, or caring deeply about which SUV can best crush a large elk while hauling thirty Amana refrigerators, simultaneously. It is a disposable, disease-ravaged badlands full of godless perverts and scary subterranean catacomb bathhouses and dreadlocked vegans, of open-thighed sexual debauchery and used-up liberalism and way too many amazing organic-produce markets and yoga studios and wine shops and fetishwear outlets.
Such has been the conservative verdict on this City for four decades. And it is a form of sad, bilious ignorance that has, amazingly, only been reinforced by the amorously joyous images gracing the country's newspapers and TV screens right now, snapshot after snapshot of the thousands of tender, loving gay marriage ceremonies taking place here.
And what a horrific slideshow it is. All those grinning gay couples. All those happy couples. Tearful couples. Couples in love, celebrating love, committing to love. Couples adopting babies and raising families and building a life together, replete with backyard barbecues and stemware and shopping trips to Ikea and endless bickering over who left their underwear on the couch. You know, just like "real" Americans — only, apparently, evil.
What's more, I'm told, San Francisco is creating huge rifts even within our own massive, fractured, penniless state. Our beloved lug-nut Governator Arnold went on national television and actually mumbled, out loud, that the gay marriage ceremonies here must be stopped immediately, lest they lead to violent civil unrest and riots and gunfire and complete social breakdown and open-mouthed kissing in the streets.
And we can only stare at him, jaws agape, blinking hard, glancing back at the calm, life-affirming, truly beautiful decorum surrounding City Hall right now, one of the most pure and sincere and completely nonviolent celebrations of love in recent history, and shake our collective head as we wonder what asteroid he flew in on.
But in the end, it doesn't really matter. Nothing, after all, can change the mind of the bitterly intolerant and the sexually ignorant. No heartwarming series of photos, no shocking lack of locust swarms or dearth of riots, no countless proofs that an enthusiastically, warmly supported national gay marriage initiative would actually help reunite and reignite our divisive, war-drunk, exhausted, 50-percent-divorce-rate nation.
But here's the good news. If out city's radical step toward broadening society's definitions of acceptable love has reminded us of anything, it's that we do not, in fact, have to try and change anyone's mind. We do not have to force our views or scream our cause or in any way hammer the world with some sort of nonexistent agenda. All we must do, all we have done these past few weeks, is to be ourselves. To be the San Francisco we are meant to be, that we have always been, at heart. That is, a city that stands up for a revolutionary yet morally obvious idea, that is proud and resolute and love-drunk and committed.
Simply put, San Francisco is doing what we have always done and what we do best and what we have, until this moment, somehow forgotten how goddamn good we sometimes are at doing.
We are, in short, popping our delicious, sacred San Francisco bubble all over the nation. And despite the bigots and BushCo and the crooked fingerpoints of conservative revulsion, millions of Americans are smiling right back. And verily, we could not be more proud.
After all, sometimes a city just has to step up.