Fight disinformation:
Sign up
for the free
Mother Jones Daily
newsletter and follow the news that matters.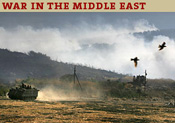 HUMAN RIGHTS WATCH CHARGES WAR CRIMES
Human Rights Watch is accusing both Israel and Hezbollah of war crimes. "The Israeli attack early Sunday 'is the latest product of an indiscriminate bombing campaign that the Israel Defense Forces (IDF) have waged in Lebanon over the past 18 days, leaving an estimated 750 people dead, the vast majority of them civilians,'" the New York-based HRW said in a statement datelined "Beirut Sunday," as reported by AFP.
"Today's strike on Qana, killing at least 60 civilians, more than half of them children, suggests that the Israeli military is treating southern Lebanon as a free-fire zone," said Kenneth Roth, HRW executive director.
"The appalling loss of civilian life in Qana underscores the need for the U.N. secretary general to establish an international commission of inquiry to investigate serious violations of international humanitarian law in the context of the current conflict," Roth said. Israel's consistent record of not distinguishing between combatants and civilians amounts to a war crime, he said.
HRW cited an Israeli military statement issued Sunday that said responsibility for the Qana attack "rests with the Hezbollah" because it has used the area to launch "hundreds of missiles" into Israel, and asserted it had warned residents of Qana several days in advance to leave the village.
"Just because the Israeli military warned the civilians of Qana to leave does not give it carte blanche to blindly attack," Roth said. "It still must make every possible effort to target only genuine combatants."
HRW said that even if Israeli military claims of Hezbollah rocket fire from the Qana area were correct, Israel remained under a strict obligation to direct attacks only at military objectives, and to take all feasible precautions to avoid the incidental loss of civilian life.
The watchdog organization said its researchers have been in Lebanon since the onset of the current hostilities on July 12 and have documented dozens of cases in which Israeli forces have carried out indiscriminate attacks against civilians.
BUSH'S HOPE
In his Saturday radio address, President Bush spoke of his hopes for peace in the Middle East and that while the fighting is "painful and tragic," it also presents an opportunity for change.
"This approach will demonstrate the international community's determination to support the government of Lebanon, and defeat the threat from Hezbollah and its foreign sponsors," Bush said.
"This moment of conflict in the Middle East is painful and tragic, yet it is also a moment of opportunity for broader change in the region," said Bush.
"Transforming countries that have suffered decades of tyranny and violence is difficult, and it will take time to achieve. But the consequences will be profound – for our country and the world."
On Sunday, before the White House T-ball game got underway, Bush again remembered the children. "You know, as we listen to our national anthem, it reminds us how blessed we are to live in a land where our boys and girls can grow up in a peaceful world. And on today, our hopes for peace for boys and girls everywhere extends across the world, especially in the Middle East. Today's actions in the Middle East remind us that the United States and friends and allies must work for a sustainable peace, particularly for the sake of children.
BUSH: UN PEOPLE " BUNCH OF DRUNKS"
Maurie McNarn, an Australian general who led that country's forces in Iraq, told the Australian he vetoed mass bombing in Iraq during the 2003 invasion because it would unnecessarily killed civilians. On one occasion he nixed a US plan to drop huge non-precision bombs on Baghdad, causing one angry US Air Force general to call the Australian a "pencil dick."
McNarn says that George W. Bush himself vetoed involving the United Nations in Iraq in summer of 2003: '"The UN can't manage a damn thing,' Bush told Aussie Foreign Minister Alexander Downer, recalling his visit to Kosovo, where the President found the UN personnel to be 'a bunch of drunks.'"
SAY WHAT?
"There's a Hezbollah training camp in Paraguay, there is a group in North Carolina, we caught a cell crossing the border."
—Newt Gingrich, erstwhile GOP presidential candidate, currently running #3 in the polls, in a discussion of World War III conservative bloggers last week.