Fight disinformation:
Sign up
for the free
Mother Jones Daily
newsletter and follow the news that matters.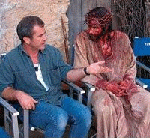 It would be easy to ridicule Mel ("sugar tits") Gibson's flailing attempts to salvage his rep — which currently stands at Judas Iscariot/Pontius Pilate levels. So let's. Today, Mel dons his crown of thorns to issue this very, very pathetic statement:
"There is no excuse, nor should there be any tolerance, for anyone who thinks or expresses any kind of anti-Semitic remark. I want to apologise specifically to everyone in the Jewish community for the vitriolic and harmful words that I said to a law enforcement officer the night I was arrested.
"I am in the process of understanding where those vicious words came from during that drunken display, and I am asking the Jewish community, whom I have personally offended, to help me on my journey through recovery…
I know there will be many in that community who will want nothing to do with me, and that would be understandable. But I pray that that door is not forever closed."
Leaders of the community, meanwhile, are rightly content to withhold absolution until Gibson has self-flagellated a good while longer.
Several Jewish leaders said he must first complete his recovery program and perform acts of goodwill, such as visiting Nazi death camps.
"We will know when the time is, but the time is certainly not when his press agents think it is," said Rabbi Marvin Hier of the Los Angeles-based Simon Wiesenthal Center.