Fight disinformation:
Sign up
for the free
Mother Jones Daily
newsletter and follow the news that matters.
What do Patrick Fitzgerald and Mike Nifong share in common? Not much, beyond the fact that both are prosecutors who have pursued politically fraught cases. But don't tell that to Investor's Business Daily, which published an editorial today calling for "all the rogue prosecutors" to be reigned in. The paper's prime examples of prosecutorial zealotry are Nifong, who recused himself last week from the Duke sexual assault case, and Fitzgerald, whose perjury and obstruction of justice case against Lewis "Scooter" Libby began in D.C. district court on Tuesday. "Like the Duke lacrosse players, Scooter Libby faces jail for alleged involvement in a crime that was never committed, pursued by a vindictive prosecutor," the editorial reasons. "And also like the Duke case, it's a national disgrace."
In lumping Fitzgerald with Nifong, whose case against the Duke lacrosse players appears at best deeply flawed and potentially politically motivated, Investor's Business Daily is only the latest to deploy this disingenuous bait and switch. Making a similar argument in an op-ed last summer, columnist Jack Kelly cast the Plame and Duke cases as part of the same cautionary tale. "This should remind us the greater threat to our civil liberties comes not from the measures the Bush administration has taken to protect us from terrorists, but from prosecutors who abuse their power for political purposes." More recently the columnist posed this question to his readers: "Is to 'fitzgerald' a synonym for to 'nifong?'"
Perhaps it is, if you base your facts on the Plame leak case on the same, well worn set of conservative talking points used over and over to portray Libby as a victim of liberal activism.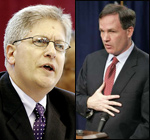 As the argument goes, since the charges against Libby derive from Fitzgerald's investigation of a question he was ultimately unable to settle – whether the disclosure of Valerie Plame's identity as a covert CIA operative constituted a breach of the Intelligence Identities Protection Act – they should never have been filed in the first place. As Investor's Business Daily put it, "Like District Attorney Michael Nifong in the Duke case, Fitzgerald knew early that he had no real crime and no real criminal. But he had to come up with something. So he charged with lying someone who in his job got hundreds of phone calls every day and talked to dozens of reporters because his memory of earlier conversations differed with those reporters' notes." (It's worth noting that Libby's defense attorneys are likely to make a similar argument.) For those who adhere to this view, the revelation last fall that former deputy secretary of state Richard Armitage, known as a critic of the Iraq war, was Robert Novak's initial source for his column outing Plame, was icing on the cake, providing further evidence that the leak of her covert status was not the act of political retribution administration critics claimed it to be. Case closed.
Of course, if government officials were to believe there are no penalties for lying to a grand jury or impeding a federal investigation, they would have little impetus to do anything but obfuscate. (In terms of Libby, the courts certainly seem to regard his alleged crimes as serious enough. If convicted on all five counts, he could be fined up to $1.25 million and sentenced to 30 years in prison.) As for Armitage, while he reportedly revealed Plame's identity inadvertently, that doesn't preclude the possibility that a separate, malicious effort was underway within the Office of the Vice President to discredit Plame's husband, Joseph Wilson, for debunking the administration's claims about Iraq's efforts to obtain yellowcake uranium. The Libby trial, however, will not center on the motivations behind the leak, but on whether Libby lied about his role in it.
As far as the Fitzgerald-Nifong comparisons go, that's just the latest salvo in a partisan mud-slinging campaign that has been part of the Plame case since the beginning. But none of that matters at this point. The only question now is whether Fitzgerald has a case against Libby — and that's in the hands of a jury to decide.