Facts matter:
Sign up
for the free
Mother Jones Daily
newsletter.
Support
our nonprofit reporting.
Subscribe
to our print magazine.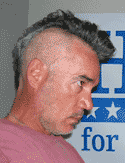 One of the GOP hard-hitting political campaign managers in California is a punk musician and one-time druggie who disappears for days at a time running from the police. Said chairman of the state Republican party: "Some of the more conservative (politicos) are taken aback by the tattoos and leather jacket, but that goes away as soon as they realize how good he is at what he does."
If only social conservatives could grant the rest of us the same largesse.