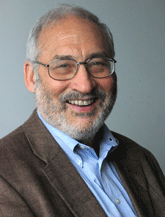 Fight disinformation:
Sign up
for the free
Mother Jones Daily
newsletter and follow the news that matters.
Joseph Stiglitz has never shied away from using his platform as a Nobel Prize winner in Economics to point out policy follies in high places. In 2002, after he had left a post as the World Bank's chief economist, he published the bestseller Globalization and Its Discontents, in which he took the International Monetary Fund and the Treasury Department to task for their overzealous approach to privatization in Russia and their one-size-fits-all response to the East Asian financial crisis. Now an economics professor and director of the Initiative for Policy Dialogue at Columbia University, Stiglitz remains an outspoken critic of subsidies and other trade practices that hurt less developed countries.
Last year, Stiglitz received renewed attention for a paper [PDF], co-written with Harvard professor of public finance Linda Bilmes that projected that the total economic costs of the Iraq War would exceed a trillion dollars. The hundreds of billions Congress has already approved for the war, they argued, tells only half the story. It doesn't account for, among other things, increases in defense spending, the long-term costs for veterans' health care and disabilities, the lost earning potential of the Americans killed and wounded, and increases in the price of oil.
Once considered provocatively high, Stiglitz's estimates now appear conservative in light of escalating sectarian violence and the American troop surge in Iraq. The president's latest budget proposal, while calling for deep cuts to Medicare and other domestic programs, dramatically ramps up funding for fighting in Iraq and Afghanistan. It also adds another $44 billion to the Pentagon's budget, which has already expanded nearly 50 percent since Bush took office. On the same day the administration sent its latest budget proposal to Congress, Mother Jones spoke with the iconoclastic economist about myopic Iraq War accounting, the need for a military draft, and the task of putting a price tag on human life.
Mother Jones: Today Bush requested close to a quarter of a trillion dollars for efforts in Iraq and Afghanistan over this year and next. As high as these numbers are, is the administration still cooking the books?
Joseph Stiglitz: It does appear that they are being more honest than before when they were putting everything into supplemental budgets, dribbling it on, so no one ever saw all the costs put together. But one of the important points that we raise in our paper is that there are costs that are going to be long-standing and deferred, like the costs of the healthcare and disability payments for those who are injured in the war. These are going to go on for 40 years or more.
MJ: What are the hidden costs we are paying today?
JS: The numbers being released today underestimate the full cost of the surge and other ongoing activities in Iraq and Afghanistan. General defense expenditures have increased enormously since the beginning of the Bush administration, with most of that money, in one way or another, related to Iraq and Afghanistan.
MJ: You predicted that the total cost of the Iraq war would top a trillion dollars. Can you put a number like that into perspective?
JS: That was last year. I think it is clear from what has happened since then that a trillion dollars was a vast underestimate. We are talking at least between one and two trillion dollars now. To put that into perspective, President Bush went to the American people at the beginning of his second term, saying that we have a major crisis with our Social Security system. For somewhere between a half and quarter of the cost of the war in Iraq you could have fixed all the problems associated with Social Security for the next 75 years and still have had a lot left over. Put in another way: We are now spending something like $10 billion a month—$120 billion dollars a year—on Iraq. The amount the entire world gives in foreign aid, on an annual basis, is about half that.
MJ: In 2003, many within the administration said that the war would pay for itself. Do you think the administrations' low-ball estimates and cost-cutting measures, such as not sending enough troops, were simply penny wise, pound foolish?
JS: Clearly. The most dramatic example of this was not providing adequate body armor, which resulted in more people with severe injuries, which we will have to pay for for years to come, without even thinking what the cost is to those individuals. It is unforgivable what they did, but the deeper question is, why did they do it? I think the answer was not so much penny-wise, pound-foolish as it was part of a program intended to deceive the American people. At the very least it had the intention that the American people would not know or feel the full cost of what they were doing. [The administration] was afraid that if the public saw the costs, they might have an objection. If you can't have a war for free, they said it would lower the price of oil to make it look like a win-win situation.
MJ: The price at the pump seems to suggest otherwise.
JS: The only beneficiaries of this war have been Halliburton and the defense contractors on one hand and Exxon and the oil companies on the other.
MJ: Speaking of Exxon, it just posted the largest annual profits ever posted by an American company. Can you explain the economics behind why these companies, particularly Exxon, are making so much money?
JS: It is very easy to understand. Remember that this is a company that paid its CEO half a billion dollars on retirement. It is the same company that has been funding the so-called think tanks to attack the whole idea of global warming. It is very simple: They own a lot of oil reserves. The war interrupted the normal development of oil fields. The cheapest source of oil is in the Middle East. At the time we went to war in 2003, markets foresaw that there would be an expansion in demand but also expected that there would be an increase in supply mainly from the Middle East. Because of the instability, that supply has not been forthcoming. Demand increased in a predictable way, supply didn't, so price goes up. The price of oil has gone up, and those record prices led to record profits.
MJ: An important part of your study was attaching a dollar amount to injuries and fatalities. How exactly do economists put a price tag on a human life?
JS: With a great deal of discomfort. But you have to do it when making any decision. There are a couple of procedures [economists] use to value life, involving estimates of what an individual would have earned during his lifetime or how much an individual would have been willing to pay in order to reduce the probability of death. We don't differentiate life by life, individual by individual. We used a standard number that the government uses all the time in its regulatory assessments. We did not estimate the value of the lives of the 600,000 Iraqi people who have died as a result of the conflict.
MJ: Why not?
JS: Because it would raise the question of whether you should or should not value an Iraqi life differently from an American life. That raises fundamental ethical issues, and we didn't want a debate on those issues to detract from the fundamental issue of what America is paying for the war that it brought.
MJ: Estimates of the total costs seem more troubling when you consider who is being asked to bear the largest burden of this war. Did that motivate you to write the paper?
JS: I didn't think that the American people knew or had been told what this war was costing. They had been lied to about why we went to war, the benefits, the weapons of mass destruction, and I thought there had been just as much misrepresentation on the cost side. Part of the strategy is to make sure the American people don't face the cost by deferring it through deficit financing. If we are going to have an effective democracy, people have to know what they are getting into and what it's costing.
MJ: I have heard economic arguments, on efficiency grounds, against the draft. But it sounds like you are in favor of one.
JS: President Bush has persuaded me that we need the draft. Our political system isn't able to adequately take into account the costs of war. War should be a very important decision that one takes with a great deal of care and reluctance because it is matter of life and death. But unfortunately, what we have seen is that this kind of careful calculus was not undertaken. I think the absence of draft is part of the reason.
MJ: Are there are dangers if we start to think of what we spent in Iraq as a sunk cost?
JS: Actually, I think there is enormous benefit to think in that language. People say that we can't allow those who died to die in vain. That kind of language does not recognize the importance of sunk costs. The answer is if we do continue fighting more people will have died in vain—a lesson we should have learned from Vietnam.
MJ: Has anyone criticized your study?
JS: It is clear that our numbers were conservative. The numbers of injured people were vastly underestimated. The criticism that one has heard from the White House has been, "We don't go to war on the basis of calculations." The other criticism, from very conservative people, was that we didn't include the benefits. Which is true; we didn't. But I think most people would probably question whether there were any benefits. If the benefits that were promised were lower oil prices, those weren't realized. If the promise was more stability or a march to democracy in the Middle East, those were not delivered. As difficult as it would be to measure the benefits—and we never claimed that we were going to do that—the benefits that were promised simply were not there.