Facts matter:
Sign up
for the free
Mother Jones Daily
newsletter.
Support
our nonprofit reporting.
Subscribe
to our print magazine.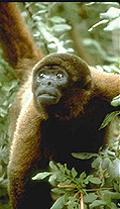 This dilemma cuts to the core of environmentalism today. Ecuador is asking for international financial compensation to leave alone a major oilfield in the heart of the Amazon. Ecuador's president says he will wait up to one year for a response before drilling. At stake are not only plant and animal species, but also the homeland of tribes living in voluntary isolation. Environmental groups are in disagreement. To pay or not to pay? Keep reading on The Blue Marble.