Fight disinformation:
Sign up
for the free
Mother Jones Daily
newsletter and follow the news that matters.
While we're on the subject of what Bush eats and drinks, I'm curious what people think about this photo: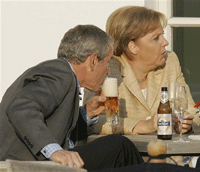 That's Bush enjoying a frosty mug of low-alcohol beer (a Buckler, to be precise) between sessions at the G8 summit. It's not the first time the teetotaler-in-chief has been caught on film downing a near beer (even though he apparently used to try to hide his habit from the press.) But I wonder why a recovering alcoholic would choose to drink a low-alcohol beer (Buckler is 0.5% alcohol). My sense is that it has less to do with the smooth, refreshing taste than simply wanting to be convivial. You can imagine Bush feeling like a wuss while his world-leader buddies enjoy a stiff drink (though tough guy Vladmir Putin reputedly abstains). But there's still the question of whether he should be drinking fake beer. There's an AA saying that "Nonalcoholic beer is for nonalcoholics." So is this a sign of Bush's recklessness—or his self-discipline? Or should we get a life and just let the guy enjoy the ice cold beverage of his choosing?