Fight disinformation:
Sign up
for the free
Mother Jones Daily
newsletter and follow the news that matters.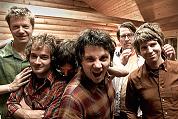 Chicago alt-rock elder statesmen Wilco have licensed tracks from their new album Sky Blue Sky to Volkswagen to accompany TV commercials featuring, for instance, the amusing antics of a tow truck driver who really likes the cute little VW GTI. Wilco apparently felt insecure enough about this decision to release a multi-paragraph statement defending themselves on their website. "We feel okay about VWs," the statement reads, in what I assume Volkswagen considers the indie-rock equivalent of a ringing endorsement. But Wilco didn't come to this decision lightly:
This is a subject we've discussed internally many times over the years regarding movies, TV shows and even the odd advertisement. With the commercial radio airplay route getting more difficult for many bands (including Wilco); we see this as another way to get the music out there. As with most of the above (with the debatable exception of radio) the band gets paid for this.
Okay, I don't mean to make fun of Wilco; they're a very good band and I want them to make money so they can buy nice things and go out for sushi and stuff. I'm also not sure why this is news: good and bad music gets slapped onto commercials all the time, and anybody who thinks that a certain genre (jangly post-Americana?) is somehow "above" capitalist considerations is being a bit naive. However, Wilco's statement reveals a certain level of discomfort with the situation, and I think their instincts are right: the recent outcry over the (apparently unapproved) Dr. Marten's print ads featuring dead celebs shows that there's at least a gradient separating acceptable from unacceptable selling out, and fans know it when they see it. It's been postulated that Moby's post-Play disappearance was partially due to overexposure after licensing every one of the album's 18 tracks, and does anybody else find "Lust For Life" accompanying footage of cruise ships a bit jarring? But back to car ads: "Days Go By" sure sounded great accompanying that nighttime drive with the weird dancing lady, and quirky, melancholy electronica is one of many types of music without a lot of options for American exposure these days. Wilco are right to investigate other avenues to get their music to the people.
Rather than issue a blanket judgement over certain types of music and certain types of commercials, I suppose the only thing to do is judge it all individually: Does the song survive editing down to 30 seconds? Is the product at least not egregiously awful? And do I want to see it again? In this instance, I'm going to say maybe, probably, and no way. Just thinking about getting my car towed makes me anxious and upset, and if VW owners are somehow exempt from "No Parking" signs, that doesn't make me chuckle, it makes me very, very angry at them. The song, "The Thanks I Get," seems like it's forcing itself to be wry and jovial, when it really wants to beat a guitar over somebody's head. "Is this the thanks that I get / For loving you," go the lyrics, as the tow truck driver admires the VW's interior, obviously thinking to himself, "I have a horrible, depressing life as a tow truck driver, which has been slightly improved by sitting in this car I can't even afford." Approval from those less fortunate than us is something the privileged always enjoy, and the underlying message here seems to be that you can slum around in a "hip" transitional neighborhood safely, listening to your jangly post-Americana, and park in the red zone without a care in the world, since the grizzled locals know you're "down." Sorry, Wilco: for the song, a B-; for the commercial, a D+.