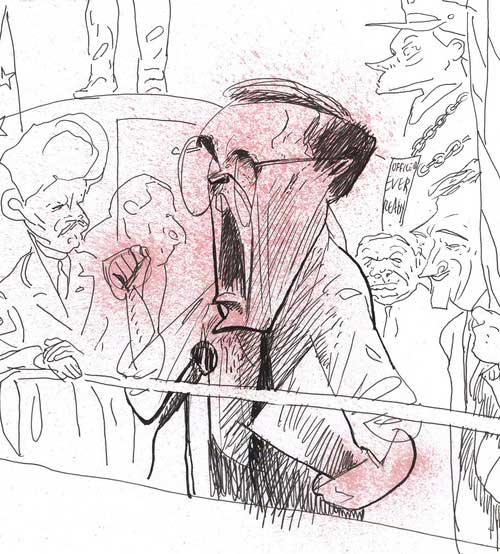 Fight disinformation:
Sign up
for the free
Mother Jones Daily
newsletter and follow the news that matters.
Rudy Giuliani
Thanks to Saturday's Times story on Giuliani's "race relations" for this trip down memory lane.
In September 1992, he spoke to a rally of police officers protesting Mayor David Dinkins' proposal for a civilian board to review police misconduct.
It was a rowdy, often threatening, crowd. Hundreds of white off-duty officers drank heavily, and a few waved signs like "Dump the Washroom Attendant," a reference to Mr. Dinkins. A block away from City Hall, Mr. Giuliani gave a fiery address, twice calling Mr. Dinkins' proposal "bullshit." The crowd cheered. Mr. Giuliani was jubilant.
Mr. Dinkins has not forgotten that sea of angry cops. "Rudy was out there inciting white cops to riot," Mr. Dinkins said in a recent interview.
Mr. Giuliani said he never saw racist signs. "One of the reasons those police officers might have lost control is that we have a mayor who invites riots," he said at the time. The Giuliani campaign later conducted a "vulnerability study" to identify its candidate's weaknesses in 1993. This study, obtained by Wayne Barrett, author of "Rudy!"—an investigative biography—offers an unsparing critique: "Giuliani's shrieking performance at the cop rally may be his greatest political liability this year. Giuliani has yet to admonish those who attacked the mayor with racist code words on signs and banners. Why not?"