Fight disinformation:
Sign up
for the free
Mother Jones Daily
newsletter and follow the news that matters.
This morning's question comes courtesy of my friend Dave Olsen:
Which president has a statue erected to him in the classical municipal style (full figure, bronze) declaring him to be our "least memorable president"?
And where is that statue?
Remember, no Googling, just guessing.
Most Recent Update:
"Retraction, Retraction!" that was the phone message I got from last night, but not before Jonathan had updated the post with the "answer" below, which we now know to be entirely subjective.
Here's what happened: Dave emails me the picture, no comment provided. I reply, "Can't make it out, what does it say below Chester Alan Arthur?" He emails back "least memorable president." I ask: "Where is it." And he replies: "Madison Square Park."
Did my friend Dave intentionally mislead me? No, this comes from a long line of trivia/philosophical questions passed around an extended group of friends, ranging from those that divide into bitterly divided camps—Which kind of bacon is better, floppy or crispy? (IMO: crispy).—to those to which there's an answer to which almost everyone can agree upon—such as: What's the worst album title of all time (Reo Speedwagon's "You Can Tune a Piano But You Can't Tune a Fish").
So "most obscure/least known" president was one such question some time back, the mostly agreed upon answer was Chester Alan Arthur (though all the presidents the commentors named were also bandied about). The next day, Dave spots the statue, takes a cell phone pic, and forgets about it until yesterday morning.
So a bad misunderstanding, and mea culpa for not triple checking with Dave. And special apologies to President Arthur, for obscure though he might be, it sounds like he acquitted himself pretty well in office (see below).
Jonathan's Original Update:
The answer is Chester A. Arthur, as commentor Mark guessed. Before moving to the White House as James Garfield's vice president, Arthur was a deputy to New York City political boss Roscoe Conkling. Arthur was an active participant in the world of graft, spoils, and the like, both while in New York and while the vice president, a fact that so angered the president that he at times refused Arthur entry to the White House. Garfield was shot by a supporter of Conkling's — leading to speculation that Arthur had engineered the situation to assume the presidency, a claim that is now generally thought to be false. Upon taking over for Garfield, Arthur, a native of the tiny town of Fairfield, VT, become a champion for civil service reform and largely acquitted himself in the eyes of history.
Said one historian, "No man ever entered the Presidency so profoundly and widely distrusted, and no one ever retired… more generally respected." But clearly someone dislikes him. Here's a picture of that statue we mentioned, which is located in New York City: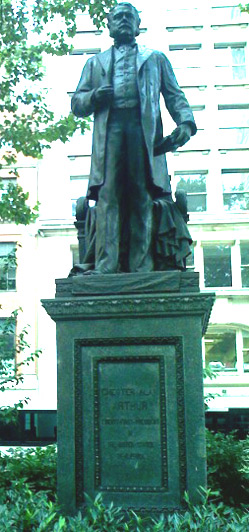 Bonus trivia: Arthur served as president from 1881-1885, during which time he never had a VP.