Fight disinformation:
Sign up
for the free
Mother Jones Daily
newsletter and follow the news that matters.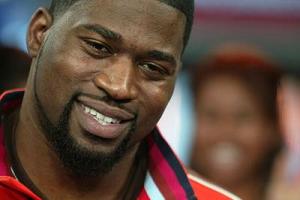 As I previously covered here on the Riff, Al Sharpton recently organized protests against foul and violent language in hip-hop, demanding the withdrawal of government-run pension funds from record labels who don't comply. Now artists are speaking out against Sharpton. Web site SOHH.com reports that both critically-acclaimed MC Talib Kweli and hit producer and rapper David Banner (above) have criticized Sharpton, each in their own way. Kweli was firm but thoughtful, saying "I'm an artist and I'm gonna say what I want to say," but also giving respect to, well, Oprah:
I do think that people like Al Sharpton and Oprah and Russell Simmons are our vanguards and our elders and that we should respect them… They have been here representing for us since before even hip-hop was here. What they say is important and it's relevant but I think we need our own leadership so that we can respectfully disagree and say 'I hear you uncle Russell, I hear you Al Sharpton' and be respectful about it. But we can't cow tow (sic!!!!) to them either.
I'm going to hope it was SOHH and not Kweli who made that unfortunate bovine slip-up there. Anyway, on to Banner: his brilliant, minimalist 2005 hit "Play" may be the filthiest song ever recorded, one of a few hip-hop tracks ("My Neck, My Back," anyone?) whose "radio edits" basically required complete re-writes. He was naturally more colorful in his response:
The next time you see Al Sharpton, tell him I said @#*$ him and he can suck my @#*$… I might change the name of my album from The Greatest Story Never Told to @#*$ Al Sharpton. I hate Al Sharpton. This is the kind of @#!* that I'm talking about. They're killing kids in New Jersey and all across the country and all a @#*$% got to talk about is rap lyrics? … He's [Sharpton] a permed-out pimp. Him and Jesse Jackson are out here charging people to do rallies with them … @#*$%s talk a good game about we need to clean up the hood and the lyrics and all that. But I'm out here doing it.
By "doing it," Banner may be referring to his sponsorship of a neighborhood children's program's annual Six Flags trip (pointed out by This Recording) or being honored by the National Black Caucus of the Mississippi state legislature after his work for victims of Hurricane Katrina. But, one wonders if perhaps pulling back on the expletives might have been a good idea just this once.
By the way, to all you commenters who think any reference to sexuality in hip-hop music is "sexist," go give "My Neck, My Back" a listen.