Fight disinformation:
Sign up
for the free
Mother Jones Daily
newsletter and follow the news that matters.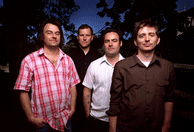 Gary Moskowitz, Online Editorial Fellow: I know I'm supposed to think all indie rock from Canada is cool (Arcade Fire, Broken Social Scene), but The Weakerthans' newest CD, Reunion Tour (Epitaph's Anti-, 2007), is weak—no pun intended. The songs are soft and gentle and polite, and not that memorable. In fact the music puts me to sleep.
Anna Weggel, Editorial Intern: Listen, Debbie Downer. You obviously didn't get past the fourth track. I dare you to listen to "Virtue The Cat Explains Her Departure" without looking upward with quivering lips and slowly reliving the happiest moment of your life. Tell me, when was the last time you listened to a song sung from the viewpoint of a loveable, housebroken kitty?
GM: Loveable, housebroken kitties are cute and all, but these songs just aren't that fun. The fact that the band would even consider naming a song "Virtue The Cat Explains Her Departure" is, to me, further proof that this music is best for sleepy time, not party time. That said, "Elegy for Gump Worsely" (once again, with the terrible song titles) has some cool banjo parts. "Night Windows" is one of those cutesy-pie indie songs that has pretty melodies, Johnny Marr-inspired guitar licks, and a pulsing, repetitive kick-drum. I'm cool with some of that.
AW: One of the most infectious little ditties I find is "Sun in an Empty Room," with its clear, repeated chorus that might make for a good prospective Kidz Bop tune someday (and we know once you've hit Kidz Bop, you've made it big). "Night Windows," which originally made me take notice of the band, is getting some play on The Current, my hometown indie public radio station. The Weakerthans is Ben Kweller meets Snow Patrol meets Ben Lee meets the Polyphonic Spree, minus the child chorus and, you know, the weirdness. And might I remind you that sleepy time tunes have just as much a place in the cool-kid music world as party time jams. Everybody likes a good nap, man.