Fight disinformation:
Sign up
for the free
Mother Jones Daily
newsletter and follow the news that matters.
Because of the holiday weekend and a jaunt to DJ down in LA, I thought I'd take a week off from the Top Ten Stuff 'n' Things. But don't fret, Riff readers, I've still got lots to say about new music, I'll just post about it randomly.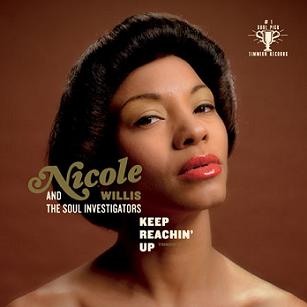 My first exposure to Nicole Willis and the Soul Investigators was via their single, "If This Ain't Love." At first it's easy to lump the track into the current neo-soul trend with Amy Winehouse and her backing-band-sharing compadre Sharon Jones. With Willis' silky-smooth voice and the jazzy backing track (not to mention the retro album cover), "Love" seems like a straightforward throwback at first listen; but closer attention shows there's more going on here.
"If This Ain't Love"

The track's minor-seventh piano chords and unexpected melodic twists are unabashedly modern, and the flute solo at the end verges on psychedelia. This is retro, but set entirely in the present.
Willis was born in Brooklyn but spent her formative musical years in London, working with The The and Leftfield along with more traditional soul musicians like the Repercussions. Her husband, Finnish musician Jimi Tenor, produced her solo debut in 2000, mixing traditional jazz styles with electronics, as is his wont. The Soul Investigators are themselves a Finnish collective, around nine members strong (it looks like from their photo) and oddly, it's with them that her voice really finds a home.
The album, Keep Reachin' Up, actually came out an embarrassingly long time ago: 2005, in fact, but it had only limited release on a Finnish label. Thankfully, it's finally available on iTunes. Check out "Soul Investigators Theme," an instrumental track that features the piano front and center again.
"Soul Investigators Theme" (via Die Monster)
The groove is insistent and hypnotic, the kind of thing you could set on repeat all night. Or try "Feeling Free," a Marvin Gaye-reminiscent number with an insistent beat, precisely executed by these crazy Finns. The Soul Investigators work in the grand tradition of The Four Tops and The Supremes, but can't help imbue their music with a cool, airy spirit.