Fight disinformation:
Sign up
for the free
Mother Jones Daily
newsletter and follow the news that matters.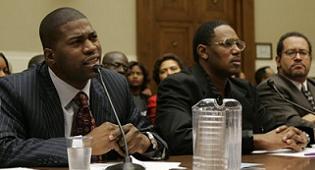 While the hip-hop community is understandably perturbed about the recent Congressional hearings on offensive lyrics, a few rappers are desperately trying to point the finger at an even greater moral outrage: the gays. Idolator points out that it's not only the admittedly loopy Ja Rule who's making these comments; mega-star Chamillionaire gave a rambling statement to BET's blog in which he compares bad words in hip-hop to, um, other "messed up" things:
The B word, the N word, the F word, it's all a moral thing inside of each person. If you look at TV, everything is messed up about TV. Gay people kissing each other on shows. The us is in general. Movies, they'll have guns everywhere, nobody pays attention to that.
Wait, gays kiss each other on shows? I thought there wasn't enough gay people on shows to even do that any more? Or maybe he means Broadway shows.
Ja Rule just gave an interview to Spinner where he tried to step back from his comments a little bit, but thankfully just today David Banner (above left) has taken the homophobia (and sexism) baton and run with it in an interview with Billboard:
Banner has butted heads with those trying to ban words like "bitch" and "hoe" from rap lyrics, including the Rev. Al Sharpton and Master P. "Aren't there bitches out there?," he says. "Don't they exist? Those types of women exist, and if they didn't it'd be different. When someone yells in a room full of women the word 'dyke,' my mother isn't insulted because she isn't one." … "Rap is an art, and I can say whatever the hell I want to," he continues.
Well, true, and I guess, true, but that also apparently doesn't prevent you from making a complete ass out of yourself. Anyway, it's nice to see society's pecking order reinforce itself: white government dudes pick on black rapper dudes pick on queer dudes. But wait, if us queers are upset, who do we get to pick on? The Irish? Okay… Damn you, uh, Bono! I'm sick of you kissing people on shows!