Facts matter:
Sign up
for the free
Mother Jones Daily
newsletter.
Support
our nonprofit reporting.
Subscribe
to our print magazine.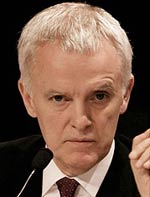 The Democrats' dream of a 60-vote majority in the Senate just got a lot harder to realize. Bob Kerrey, former senator from Nebraska, announced this morning that he will not come out retirement to run for the senate spot Chuck Hagel is vacating.
Without Kerrey in the race, Democrats have little hope of gaining the seat. Election tracker Charlie Cook recently told Time, "If Kerrey does run it's probably 50-50 for the Democrats. If he doesn't run probably it's 10% for the Democrats."