Facts matter:
Sign up
for the free
Mother Jones Daily
newsletter.
Support
our nonprofit reporting.
Subscribe
to our print magazine.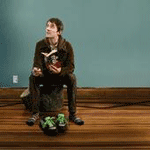 Visions of teen flicks with happy endings dance in my head when I listen to Le Concorde's EP, Suite. The lyrics are sweet and romantic, and the songs have titles like "I Want You Back" and "Lullaby for Dollface." This is music for someone who just broke up with their boyfriend or girlfriend, you know, at the junior high prom.
In fact, the music is perfectly suited for a soundtrack to a romantic comedy. I can just see the montage now, of a new, young, and happy couple going on their first string of dates together, while Le Concord's "Break You Like a Promise" is playing in the background. "Lullaby for Dollface" could easily have been featured in Zach Braff's uber sentimental Garden State soundtrack in place of that wispy Iron and Wine song, "Such Great Heights."
Le Concorde's music earned the band enough credibility to headline a 2005 CMJ (College Music Journal) showcase performance. Their website fills you in on lots of personal details (Honestly, it was more than I needed to know) about founding member Stephen Becker's journey (earning a PhD, getting a divorce) toward making "Suite." Becker describes the music as "a love—approaching obsession—with the finest details of the sonic sculpture."