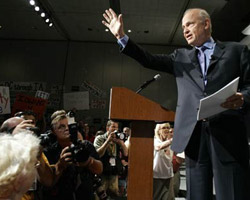 Fight disinformation:
Sign up
for the free
Mother Jones Daily
newsletter and follow the news that matters.
Fred Thompson told Iowa Republicans this past weekend that they should vote for him not only because of his conservative credentials but because of his ability to attract independents.
"If you look at the numbers," said the former Tennessee senator, "in terms of the Republican Party, we're losing some. In terms of the Independents out there, many of them are moving to Democrats." Campaigning in the town of Burlington on the banks of the Mississippi River, Thompson warned that without the right GOP nominee, "Hillary Clinton, Nancy Pelosi, and Harry Reid will be running this country."
And choosing the right nominee requires doing some electoral math. "I will humbly suggest to you that we need a candidate for president who is a conservative who can get some independent votes," the candidate said, speaking at a local watering hole called Big Muddy's in front of 29 campaign signs and half a ski boat hanging on the wall. (Mounted nearby: the rear end of a whitetail deer.) The reason why Thompson can get those votes, he said, is credibility. Thompson repeatedly emphasized credibility, sometimes simply uttering the word out of context. "Credibility!" he said. "It's a big word."
Like a good lawyer, Thompson builds his case on multiple arguments. But each has holes.
Exhibit A is his Social Security plan. Thompson claims to be the only candidate—Democrat or Republican—who has put out a plan to address this difficult political issue.
Problem is, he's not. Barack Obama and John Edwards have said publicly that they support lifting the $97,500 ceiling on payroll taxes in order to make the program solvent. Hillary Clinton has discussed the situation but has stopped short of giving specifics. All of the Democrats discuss Social Security as part of very comprehensive plans to ensure the financial and health security of America's seniors. Thompson is more accurate on the Republican side: Mitt Romney, John McCain, and Rudy Giuliani all fail to mention the topic on the issues pages of their websites. However, this is because the Republican solution to Social Security is personal savings accounts, which George Bush pushed in 2005 to disastrous results. Thompson's plan relies on such accounts, though he calls them "Voluntary Personal Retirement 'Add On' Accounts." It is unclear whether mentioning his rehash of a failed policy proposal at every campaign stop will draw voters to his campaign.
Exhibit B is a series of lonely votes Thompson made while in the Senate. "Once in a while I cast a vote all by myself. Couple 99-to-1 votes, when I was the 1," he says. These were votes against bills that were "kind of motherhood and apple pie," admits Thompson. But he stood strong on the principle of federalism, insisting that the federal government in these cases didn't have jurisdiction or would fumble something better left to the states. "I voted against every Democrat and every Republican in the joint!" crowed Thompson in Burlington.
Unfortunately, these aren't votes Thompson should advertise. Thompson was the only senator to vote against a 2000 Senate resolution "encouraging local schools to insist on zero-tolerance policies towards violence and illegal drug use." In 1997, he was lone vote against a bill that extended liability protection to "good Samaritans" (volunteers for non-profits who could otherwise be subject to unintentional injury or wrongful-death suits). Four years later he was the only vote against an amendment to the No Child Left Behind bill that offered the same protection to school teachers. These last two votes are reminders of Thompson's history as a trial lawyer, in which he worked for white-collar criminals and drug defendants.
In fact, Thompson has a long history of protecting the rights of lawyers. According to the Washington Post, "Thompson routinely voted against legislation aimed at shrinking the size of fees that attorneys could collect and rejected limits on medical malpractice lawsuits." He has raised $700,000 for his presidential race from lawyers; they have given more money to his campaign than any other industry.
Exhibit C in Thompson's case for credibility is honesty. "Does a man mean what he says?" said Thompson in Burlington. "Does where he stands depend on where he's standing, or what office he's gunning for? Or is he for real?" True, Thompson doesn't have a reputation as a flip-flopper. But this pitch of honesty is based not on what he has done, but on what he sounds like and appears like. His speeches are filled with folksy sayings and good-natured jokes, and his dominant mode is aw-shucks Southern charm.
Honesty is where Thompson convinces the most attendees. After recent campaign events in eastern Iowa, Iowans didn't say anything about Thompson's appeal to independents, his Social Security plan, or his 99-to-1 votes. They did mention his honesty, however. And, though Thompson himself doesn't emphasize this on the stump, they repeatedly referred to his positions on gay marriage and abortion. Despite his past work for an abortion-rights group, Thompson recently won the endorsement of National Right to Life.
A supporter named Lori Wheatly said that what appeals to her about Thompson is "his hometown values." She couldn't get behind the front-runners, Rudy Giuliani and Mitt Romney, because "As far as abortion, [Giuliani] believes it's a woman's right. Also, gay marriages, that he wants to put into practice." For the record, Giuliani once supported civil unions but has seen an election season conversion on the issue. He never favored gay marriage, but he did embrace the gay community while mayor of New York and briefly lived with two gay roommates when going through a very public divorce with his wife. Wheatly added that Romney's religion concerned her.
William Hedgepeth stood outside the Thompson event at Big Muddy's wearing a USA baseball cap with Thompson stickers stuck on the side. When I asked Hedgepth why he supported Thompson, he claimed he had graduated from the same high school as the presidential candidate. "He's honest in what he says. He just stands up to whatever it is. You may not agree, but he tells you what he thinks."
The Big Muddy's event was followed by an event in Moose Lodge 1003 in Mount Pleasant, Iowa. This time, Thompson spoke in front of 39 campaign signs, all bearing his slogan of "Security, Unity, Prosperity." Afterwards, a supporter named Ben Moore said what was appealing about Thompson was "basic, core values. God, family, in that order." Moore said Thompson was "head and shoulders above" Giuliani and Romney when it came to being pro-life and pro-family.
An attendee who was seeking to learn more about Thompson, Carol Messer, had a unique combination of priorities: "I think some of our family values are getting run into the ground. More family and less government!" She was considering Thompson, Giuliani, and, like many at Thompson's events, Huckabee.
Electability and Thompson's ability to appeal to independents were not on the attendees' radars.
Currently, it doesn't seem to matter what exhibits Thompson is offering. In national polling, according to Pollster.com, Giuliani leads the race with 31 percent support. Thompson used to be in second place with roughly 20 percent, but now has dropped into a tie with McCain at 15 percent.
The numbers are more damning in early state polling, where voters actually get to see Thompson and his competition. Last month, a Rasmussen poll put Thompson's support in Iowa at 19 percent. His support has since been cut in half. According to Pollster.com, which aggregates polls, Thompson is currently running fourth in Iowa, behind Romney, Huckabee, and Giuliani. The numbers are even worse in New Hampshire, where Thompson places a stunning sixth, behind even libertarian Ron Paul.
His drop in the polls may be occurring as socially conservative voters become more aware of Thompson's positions on social issues. He does not support a constitutional amendment to ban gay marriage, nor he does not support a constitutional amendment to ban abortions (though such an amendment has been a part of the Republican Party platform since 1980). He opposed congressional intervention in the Terri Schiavo case.
Perhaps the National Right to Life endorsement will re-endear him to the base. He better hope so. His argument for credibility isn't going over well with the jury.