Fight disinformation:
Sign up
for the free
Mother Jones Daily
newsletter and follow the news that matters.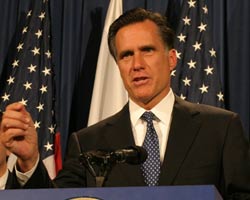 Mitt Romney had an almost impossible task before him today in College Station, Texas: he had to emphasize America's proud tradition of religious freedom while winning voters in what has essentially become a Christian party.
"A person should not be elected because of his faith, nor should he be rejected because of his faith," said Romney, echoing John F. Kennedy's 1960 speech on his Catholic faith. "Let me assure you that no authorities of my church, or of any other church for that matter, will ever exert influence on presidential decisions. Their authority is theirs, within the province of church affairs, and it ends where the affairs of the nation begin."
That was essentially the message Kennedy delivered when he went before an organization of Baptist ministers and said that he would rather resign than let the Vatican dictate the decisions of the American government. "I believe in a president whose views on religion are his own private affair," Kennedy said then. "I want a chief executive whose public acts are responsible to all and obligated to none."
But Kennedy and Romney gave their speeches in drastically different environments. Kennedy was trying to reassure Democratic voters, who were and are less fervently religious than Republican voters and who are more comfortable with, as Kennedy urged, an "absolute" separation of Church and State. Moreover, there were 35 to 40 million Catholics in America at the time. Most every Protestant knew one. Many had a family member married to one.
Today, Romney is running in a party in which 37 percent of members identify as white evangelicals, 23 percent identify as white mainline Protestants, and 19 percent identify as non-Hispanic Catholic. Twenty-one percent are "other" or "don't know." In other words, 79 percent or more of the party is Christian. And Mormons number just five to six million, roughly two percent of the country.
It is because of the Republican Party's religiosity that Romney had to acknowledge that questions about his religion were legitimate, and that religion has a role in public life. "The notion of the separation of church and state has been taken by some well beyond its original meaning," said Romney. "They seek to remove from the public domain any acknowledgment of God. Religion is seen as merely a private affair with no place in public life. It is as if they are intent on establishing a new religion in America—the religion of secularism. They are wrong."
For the portion of the GOP that actually believes liberals are waging a War on Christmas, Romney said that God should remain on "our currency, in our pledge, in the teaching of our history."
Romney didn't go into the details of the Mormon faith—other than to say "I believe that Jesus Christ is the Son of God and the Savior of mankind"—claiming that laying out such specifics for the judgment of the nation would "enable the very religious test the founders prohibited in the Constitution."
In fact, Romney only said the word Mormon once in the entire speech. That may have been strategic. According to the Pew Forum on Religion and Public Life, white evangelical Protestants, the largest portion of the Republican Party, are the American religious group most reluctant to vote for a Mormon. Those who attend church once a week are even more hesitant: 41 percent say they would be less likely to vote for a candidate just because he is a Mormon. Only 21 percent of Catholics say the same, by contrast.
But Americans of all stripes have an uncomfortable relationship with Mormons. Just 53 percent of Americans as a whole expresses a favorable view of them. And only 52 percent buy Romney' argument that Mormonism is a Christian religion.
Romney, though, had a perfect distraction for his doubters, the religious group Americans distrust more than Mormons: Muslims. "Infinitely worse [than the loss of faith in society] is the other extreme, the creed of conversion by conquest: violent Jihad, murder as martyrdom, killing Christians, Jews, and Muslims with equal indifference. These radical Islamists do their preaching not by reason or example, but in the coercion of minds and the shedding of blood. We face no greater danger today than theocratic tyranny."
No matter how much Republican voters may distrust members of Romney's faith, they hate someone else more.