Fight disinformation:
Sign up
for the free
Mother Jones Daily
newsletter and follow the news that matters.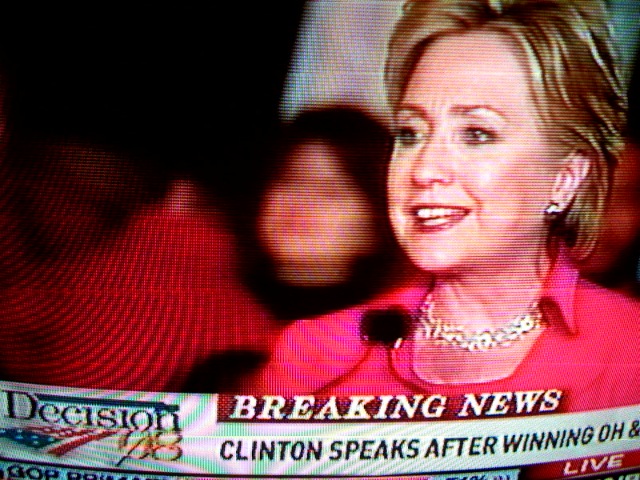 Now it's on to the Democratic death-march in Pennsylvania.
By winning decisively in Ohio and Rhode Island and narrowly in Texas, Senator Hillary Clinton managed to keep her presidential aspirations alive and guaranteed that the bitterly-fought Democratic contest will slog on for weeks, at least until April 22, when Pennsylvania (with its 188 delegates) votes. With these victories, Clinton put an end to Barack Obama's streak–though he still maintains a significant, if statistically slight, lead in the delegates chosen in primaries and caucuses. (Due to the rules governing Texas' odd joint primary-caucus, it seemed possible on Tuesday night, even probable, that Obama would pocket a majority of the delegates there, despite placing second in he popular vote.) More important, Clinton earned the right to claim that her case against Obama, which she and her aides sharpened in recent days, has been seconded by Democratic voters, including two important blocs for the party: blue-collar Dems in Ohio, a decisive state in general elections, and Latino Democrats in Texas. Obama netted his only primary win of the night in Vermont.
At long last, Clinton and her strategists seemed to have gained traction with their attacks on the candidate of hope. As Firewall Tuesday approached, the Clinton campaign did not introduce any new themes. But it did tinker with the mix and accused Obama of falling short on integrity, credibility, and experience. This new mash-up was a success. Catching a break because the corruption trial of Obama's onetime friend and contributor Tony Rezko began this week, Clinton aides repeatedly clamed there were "unanswered questions" about Obama's relationship with Rezko. Obama's aides countered that there were no unanswered questions about this much-investigated episode. (Obama, accused of no wrongdoing in the Rezko matter, has acknowledged it was dumb for him to have entered into a real estate deal with Rezko, especially since the politically-wired developer was under investigation at the time.) Prodded by the Clintonites, reporters started grilling Obama anew about Rezko. And being asked about the dirty dealings of a former pal is never helpful to a candidate selling change and reform. Simultaneously, Obama's camp came under heavy fire–from the Clinton campaign–for falsely denying that a campaign adviser had met with Canadian officials and discussed Obama's position on NAFTA. (The aide denied press reports that he had told the Canadians that Obama's criticism of NAFTA was merely political posturing.) It looked as if Obama the Inspirer was not playing straight.
While casting Obama as just another shifty, sleaze-tainted pol, Clinton and her lieutenants pumped up the volume on their well-worn charge that he's not ready for prime time–that is, when the phone rings in the White House in the middle of the night because there's a crisis somewhere. The Obama camp quickly cooked up a clever retort–Clinton failed her red-phone moment by voting for George W. Bush's Iraq war measure–yet Clinton's heavy-handed commercial, if it did not persuade any individual voter in Texas or Ohio, did define the discourse (and media coverage) in the days before these primaries. Experience, not hope, was the main subject of the debate. Advantage: Clinton.
On top of all this, Clinton succeeded where she had recently faltered: convincing working-class Democrats that she's their woman. In the contests after Super Tuesday, Obama penetrated into Clinton's base and coaxed away such voters, as he racked up eleven wins in a row. In Ohio on Tuesday, Obama fared well among Democrats who attended college (53 to 46 percent), but Clinton clobbered him among Democrats who did not (62 to 37 percent). She also walloped him in union households (54 to 45 percent). With the economy rated as the top concern of Democratic voters in Ohio, Texas, and Rhode Island (it tied with the Iraq war in Vermont), Clinton scored with her steady–if not always inspiring–insistence that she's a heavy-lifter when it comes to kitchen-table issues. She also renewed her bonds with other core voters: women and the elderly.
In Texas, the Democratic electorate was more split. Clinton won 64 to 34 percent among Democrats over 65 years of age. Obama led narrowly in the under-64 group, 51 to 48 percent. In other words, the old folks kept Clinton competitive. So, too, did Latinos, who went for Clinton 63 to 35 percent. White Democrats in the Lone Star State favored Clinton by an 11-point margin. Voters with incomes over $50,000 supported Obama, 52 to 48 percent. Those earning less went with Clinton, 51 to 49 percent.
Clinton's advocates will now argue it's back to the pre-sweep days–when she won in New Hampshire, Nevada, and several Super Tuesday states by assembling a coalition of classic Democrats–and the race is on. But the math doesn't change. As Obama's campaign aides have been maintaining for weeks, Clinton's triumphs in Ohio, Rhode Island, and Texas will not net her a significant pickup in delegates. "We have nearly the same delegate lead we had this morning," Obama told supporters at a rally in San Antonio, as the Texas results came in.
The Obama and Clinton spinners will bicker over the significance of the March 4 contests. It's a paradigm shift, the Clintonites began asserting on Tuesday night before all the votes were counted, and momentum is ours. The Obama campaign countered, It doesn't much change what counts: the delegate tally. But the results in Ohio and Texas do show that what Clinton did right before these elections was effective. Among Democratic voters in Texas, 29 percent told exit pollsters they had decided whom to vote for in the week prior to the election. This group chose Clinton 56 to 42 percent. Those who decided earlier went with Obama, 51 to 48 percent. In Ohio, those who decided in the last three days broke for Clinton 61 to 38 percent. Were the late-deciders responding to the Clinton campaign's jabs at Obama? No doubt, that's the lesson that will be drawn inside Clinton HQ: this stuff works.
The Clintonites now have what they must regard as a formula for victory–or, at least, near-victory. Winning the coming primaries may not gain them all the pledged delegates they need to catch Obama. But perhaps they can draw close and then figure out how to work the superdelegates issue (and the matter of Florida's and Michigan's nonexistent delegates). That means six weeks of perfecting their slam-Obama campaign before the Pennsylvania primary. In the meantime, Wyoming will hold a caucus on March 4 and Mississippi will conduct a primary on March 11.
This will be a long, tough grind for Clinton and Obama–and their party. Participating in a fiercely competitive and extended Democratic race has helped Obama improve his skills as a debater and campaigner–Clinton, a veteran politician, had less room for improvement–but Democratic party officials will inevitably worry that a six-week-long (or longer) cage match will do damage to whomever prevails and goes on to face Senator John McCain in the general election. Yet there may be no way to prevent such a slugfest. Obama has a lead in pledged delegates. He won't be turning tail–not even if he loses Pennsylvania. And Clinton's triple win on Tuesday allows her to tell anyone who asks her to abandon the race to kiss off.
"As Ohio goes, so goes the nation," Clinton proclaimed during a brief victory celebration in Columbus, Ohio. And so will go the Clinton campaign–full-throttle. Her March 4 wins will encourage Clinton–or her surrogates–to blast away at Obama. And though Obama earlier in the campaign demonstrated an ability to absorb attacks and stick to his own game plan, he may–after Ohio and Texas–feel pressure to respond in kind. Certainly, he cannot be a punching bag for six weeks. So there will be blood, and Pennsylvania will be the battlefield.