Fight disinformation:
Sign up
for the free
Mother Jones Daily
newsletter and follow the news that matters.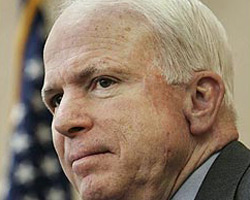 Don't just do something, stand there! And wait for somebody else to suggest a course of action.
That appears to be John McCain's approach to the housing credit crisis. On Tuesday, he delivered what his campaign billed as a major address on the housing crisis. What made it notable was that it contained nothing notable.
McCain started off stating the obvious: there was a housing bubble: "speculators move into markets, and these players begin to suspend the normal rules of risk and assume that prices can only move up — but never down….The normal market forces of people buying and selling their homes were overwhelmed by rampant speculation. Our system of market checks and balances did not correct this until the bubble burst." Lenders went wild and some Americans bought homes they could not afford. And, he added, "the housing bubble was made worse by a series of complex, interconnected financial bets that were not transparent or fully understood….Because managers did not fully understand the complex financial instruments and because there was insufficient transparency when they did try to learn, the initial losses spawned a crisis of confidence in the markets."
Anyone who watches a cable business show–even only during the commercial breaks on American Idol–knows this. The question is, what would a President McCain do about it. Short answer: not much.
"I will not play election year politics with the housing crisis," he declared, adding, "I have always been committed to the principle that it is not the duty of government to bail out and reward those who act irresponsibly, whether they are big banks or small borrowers." That's a fine sentiment. Tough love. Let the markets take care of things. But does he have any idea how to make the system work better? How to make sure that people victimized by predatory lenders have a shot at solvency? How to ensure that whole neighborhoods don't collapse?
Not really. Instead McCain only offered guidelines for what might be acceptable; he did not offer any specific initiatives:
In our effort to help deserving homeowners, no assistance should be given to speculators. Any assistance for borrowers should be focused solely on homeowners, not people who bought houses for speculative purposes, to rent or as second homes. Any assistance must be temporary and must not reward people who were irresponsible at the expense of those who weren't. I will consider any and all proposals based on their cost and benefits.
He called for greater transparency and a high standard of ethics in the mortgage business and noted that home buyers ought to provide "responsible" down payments. "I am prepared to examine new proposals and evaluate them based on these principals," McCain said. In other words, let someone else come up with a good idea.
McCain did call for a "meeting of the nation's accounting professionals," and he urged the top mortgage lenders "to do everything possible to keep families in their homes and businesses growing." But his general approach was clear: hands off. He's not offering much to voters who are hurting financially or nervous about the housing crisis.
If this is a preview of McCain's fall campaign, Democrats ought to be heartened. Assuming that economic insecurity will be an issue in the general election, will voters be hankering for a laissez-faire champion who says that the markets will sort it all out and who is willing to do no more than to beseech big financial firms to do right by the little guy and gal? McCain's speech signaled he might be even less of an economic activist than George W. Bush. If so, that could set up a fall contest reminiscent of the Bill Clinton-George Bush match of 1992–whether or not a Clinton is involved.