Fight disinformation:
Sign up
for the free
Mother Jones Daily
newsletter and follow the news that matters.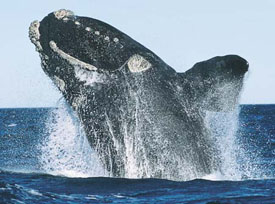 Hot on the heels of a GAO report detailing the Bush administration's assault on the EPA, this little tidbit pops up.
Cheney's office has been delaying attempts to issue speed limits near the habitat of the critically endangered North Atlantic right whale for FOUR YEARS. There are only about 300 right whales alive today, and ship collisions are their leading cause of death. As Henry Waxman wrote in his letter to the Office of Information and Regulatory Affairs, "the death of even a single whale, particularly a breeding female, may contribute to the extinction of the species."
Despite clear evidence linking higher boat speeds with increased whale mortality, Cheney's office has gone so far as to conduct their own analyses of data (using untested methods, NOAA scientists noted) to delay a ruling on the speed limits. The office contended that NOAA had "no evidence (i.e. hard data) that lowering the speeds of 'large ships' will actually make a difference." NOAA has quickly rebutted these objections, noting that they've conducted statistical analysis of ship strike records and have published peer-reviewed literature on the subject. They also conduct calf counts.
Why Cheney's office is going to such extremes to delay this ruling is up for debate. On one hand, there are shipping companies that want to make a few extra bucks speeding through a critical habitat. On the other hand, there's a unique species that might be wiped off the face of the earth forever. Hmmm, which to choose.