Fight disinformation:
Sign up
for the free
Mother Jones Daily
newsletter and follow the news that matters.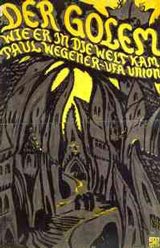 The San Francisco International Film Festival this weekend presented a screening of The Golem with live original music by Frank Black, and it reminded me of two things: Frank Black is a dynamic, talented rock musician, and The Golem is a wickedly odd piece of cinema.
The Golem is a 1920 German silent film based on a legend about a clay figure brought to life by Jews living in the late 16th Century Prague ghetto. Yup, CLAY. Similar to Frankenstein, the figure is larger and more powerful than the average human. But instead of a square, flat head, the Golem sports a Dutch boy helmet/haircut (mud-cut?!). He initially protects, and then turns on, everyone in the ghetto and then dies. I had watched scenes of The Golem years ago in a film class, but had forgotten how strange this film really is. The film seems to celebrate the triumph of Jews over adversity, but also caricatures them all as worrisome old men with long, shaggy beards and silly, elf-like hats. The most fascinating part of the film is Hans Poelzig's set design. His stylized ghetto feels like a dark, dingy version of Dr. Seuss drawings.
Frank Black, whose shrill, nasal vocals never completely wow-ed me when he was fronting the Pixies in the 90s, led the pit band like a true storyteller. Songs ebbed and flowed with the movie's weird plot, and lyrics seemed to convey key elements of sadness, fear, joy, and love in the story. Black has said that he wrote all the music in a day, and is considering releasing his Golem music as a Black Francis (his pseudonym) record. Black's music helped ground the film and made it more enjoyable, although not enough to keep one of my friends from leaving early and others in our group from dozing off.
Considering that Black's music was written for a movie about a monster, it felt incredibly safe and tasteful. A more relentless, risky, and scary approach would have really made the night—and the Golem—sing.