Fight disinformation:
Sign up
for the free
Mother Jones Daily
newsletter and follow the news that matters.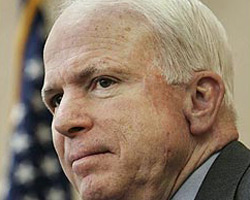 John McCain will fire you for lobbying for Burma, but he'll still take your money.
Republican operatives Doug Davenport and Doug Goodyear were both quietly released from their duties with the McCain campaign this week when it was revealed that their Washington lobbying firm, DCI Group, had been paid $348,000 to represent Burma's repressive military junta in 2002. McCain's critics noted that top McCain aide Charlie Black has lobbied for authoritarian regimes as nasty or worse than Burma's, raising the question of whether McCain will cut ties with tainted figures only when it is politically expedient for him to do so.
There are other facts in the situation that may prove controversial. The two lobbyists for Burma were also donors to McCain. Doug Goodyear, DCI Group's chief executive and the man McCain had selected to run the GOP national convention, and his wife Carla donated $4,600 to McCain's presidential campaign and $2,500 to McCain's Straight Talk America PAC. Carla Goodyear also donated $1,000 to McCain's 2004 Senate reelection bid. Doug Davenport, the head of DCI Group's lobbying arm and a former regional campaign manager for McCain, and his wife Kelley contributed $6,900 to McCain's presidential campaign and $3,500 to his PAC.
Other DCI Group employees have donated $2,000 to McCain. All told, DCI Group employees and their spouses have sent $20,500 to McCain. McCain fired the two DCI Group executives from his campaign, but will he return their contributions? We called McCain's press office to ask and have not yet received a response. Can it be that McCain is willing to separate himself from lobbyists working for Burma but will cling to their cash?