Fight disinformation:
Sign up
for the free
Mother Jones Daily
newsletter and follow the news that matters.
Last Tuesday, a new U.S. General, David McKiernan, took command of Afghanistan's NATO-led International Security Assistance Force (ISAF) saying, "Insurgents, foreign fighters, criminals and others who stand in the way… will be dealt with." McKiernan will command around 50,000 troops, up from 36,000 a year ago, in his attempts to quell the increase in violence and stabilize a weakening Karzai government.
Much of this increased violence is occurring in the ISAF's U.S.-led Regional Command East—RC(E). If you aren't familiar with the layout of the ISAF, you might take a read of NYU professor Barnett Rubin. As Rubin explains, the ISAF consists of five different Regional Commands: East (led by the U.S.), West (Italy), South (Canada), North (Germany), and Capital (Italy). Bordering Pakistan, RC(E) is about the size of South Carolina and contains 14 of Afghanistan's 34 provinces and 25% of the country's population.
You can view a map here.
In gauging U.S. success in the East, Rubin points to this chart comparing the number of weekly violent incidents in the RC(E) to a year ago.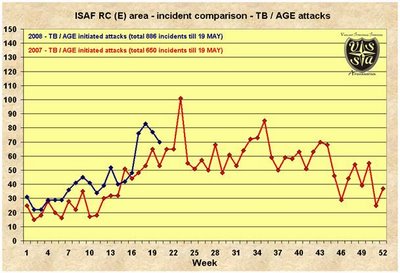 Sadly, years later, Afghanistan is still nothing to brag about.