Fight disinformation:
Sign up
for the free
Mother Jones Daily
newsletter and follow the news that matters.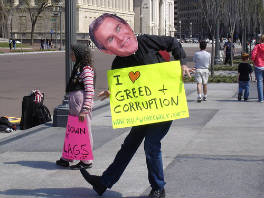 By this point, war profiteering in Iraq has become legend. The conflict has generated well over a hundred billion dollars in contracts for private business—many, like KBR's contract with the Army, awarded without competitive bidding and featuring a "cost-plus" arrangement, essentially entitling companies to name their own price for services rendered (or not rendered, as the case may be.) As contracts have swelled in size, so, too, has the size of contract-related fraud, waste, and abuse. Last year, the Defense Contract Audit Agency identified $4.9 billion wasted on overcharging or fraud, and an additional $5.1 billion spent without any documentation. Just imagine what the IRS would say.
In response to such reports, the Army sponsored a blue-ribbon commission to study the problem and propose possible fixes, which it did in a report (.pdf) issued last November. Among the recommendations was the assignment of five generals to oversee the contracting process and guard against the sort of waste and abuse that had plagued Army operations up to that point. The Army took the suggestion to heart and included $1.2 million in a budget request to fund the new positions—an amount so modest compared to the scale of the larger problem that the measure would surely be approved, right? Wrong. The Office of Management and Budget slammed the brakes on the proposal.
From USA Today:
The Army's march to overhaul its tarnished contracting system has been slowed by an unlikely foe: the White House.
The Office of Management and Budget, President Bush's administrative arm, has shot down a service plan to add five active-duty generals who would oversee purchasing and monitor contractor performance.
The boost in brass was a key recommendation from a blue-ribbon panel that last fall criticized the Army for contracting failures that undermined the war effort in Iraq and Afghanistan, wasted U.S. tax dollars, and sparked dozens of procurement fraud investigations…
The increase would generate a modest $1.2 million per year in personnel costs. But the Army already has more than 300 full-time generals, enough, it's been told, to handle any new demands…
On May 12, the Army learned its proposal had been rejected. The [OMB] report does not say why.
The Army has appealed the decision. An OMB spokesman refused comment to a reporter, explaining that the agency is "internally deliberating."

Photo used under a Creative Commons license from merfam.