Fight disinformation:
Sign up
for the free
Mother Jones Daily
newsletter and follow the news that matters.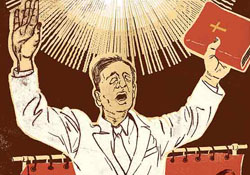 In our current issue Debra Dickerson writes approvingly of Christine Wicker's new book, The Fall of the Evangelical Nation, which makes the case that evangelical Christians are not as multitudinous as they—or the media and the religious right—have made themselves out to be. In her number crunching, Wicker found that the Southern Baptists have been making some generous estimates of their flock: They've claimed to be 16 million strong, but she estimates the real number of devoted churchgoers is 4 million or fewer. Now, USA Today reports, there are new indications that the church is losing demographic ground:
"We have peaked," Southern Baptist statistician Ed Stetzer wrote in an online commentary on the latest statistics from 2007. "…For now, Southern Baptists are a denomination in decline."

What worries Southern Baptist leaders even more than the membership numbers is a steady decline in the conversion ritual that gave their denomination its name — baptisms.

Annual rates of baptisms have steadily declined not only in recent years, but also during the past 35 years. In 2007, Southern Baptist churches reported 345,941 baptisms. That's down 12% from 2002 and 22% from 1972.
The church is worried enough that it's launched a website, wearesouthernbaptists.org, to rebuild its brand.