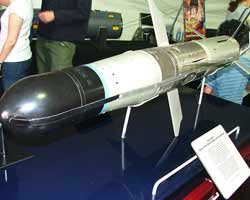 Fight disinformation:
Sign up
for the free
Mother Jones Daily
newsletter and follow the news that matters.
On June 12, 2005, acting on a request from US authorities, officials from Mexico's Federal Investigation Agency arrested Arif Ali Durrani as he was leaving the restaurant he ran in a shopping mall in the Mexican border town of Playas de Rosarito, near the San Diego-Tijuana border. Ordered deported back to his native Pakistan, Durrani, then 55, soon found himself on a plane whose intermediate stop was Los Angeles. There at Los Angeles International Airport on June 15, 2005, officials with the US Immigration and Customs Enforcement bureau intercepted his plane, arrested Durrani, and took him into custody. The warrant accused him of two counts of violating the Arms Export Control Act for selling fighter-jet parts to Iran.
It wasn't Durrani's first encounter with officials from the US government—or brush with US law. Back in 1987 in Connecticut, Durrani was convicted on three counts of selling HAWK anti-aircraft-missile parts to Iran, and sentenced to 10 years in prison. In his defense, Durrani claimed that he had sold the arms to Iran with the express authorization of President Reagan's National Security Council aide Colonel Oliver North, who was helping oversee the secret Reagan-era US weapons sales to Iran that were part of what became known as the Iran-contra affair. After serving a year in federal prison, Durrani agreed to be deported in 1988, turning up first in Paris. Eventually he settled in Mexico, running a restaurant in Rosarito Beach's Pueblo Viejo mall while, according to US customs enforcement and court documents, resuming sophisticated efforts over the border in California to recruit conspirators to help supply Iran with sensitive US military-aircraft technology.
Durrani was no small-time dealer. Upon his arrest, US officials described Durrani as one of the "most significant arms trafficking targets in recent years." In April 2007, the State Department named Durrani and associated companies he worked with in Mexico and Singapore among 14 individuals and entities "that have engaged in activities that warrant the imposition of measures pursuant to…the Iran and Syria Nonproliferation Act, which provides for penalties…for the transfer to or acquisition from Iran." Among the other sanctionees were such indisputably Iranian-military-connected organizations as Hezbollah, the Lebanese militant group, the Iranian Defense Industries Organization, as well as the Syrian Air Force and the Syrian Navy.
In March 2006, a jury convened by the US District Court in San Diego found Durrani guilty "for multiple violations of the Arms Export Control Act," and in June 2006, a federal judge, Larry Burns, sentenced (pdf) Durrani to serve twelve and a half years in federal custody.
Among those who testified against Durrani at the trial was a former US Navy intelligence officer, George Charles Budenz II, who said Durrani had recruited him in 2004 to sell sensitive US military equipment to third countries knowing its final destination was really Iran. "Budenz admitted that he exported these military aircraft components at the direction of Arif Ali Durrani, even though Budenz knew that Durrani had been previously convicted of violating the Arms Export Control Act and that Durrani was ineligible to obtain Department of State licenses for the export of defense articles." Durrani's attorney Mohammed "Moe" Nadim has said he has filed an appeal on behalf of Durrani, and that his client was "set up."
Perhaps as interesting as Durrani's extracurricular Mexican activities and his persistent presence in US arms sales to Iran from the Reagan to the George W. Bush administrations is this paradox. Just as the Bush administration has led a concerted effort to cobble together an international alliance to isolate Iran, statistics from the US government document a rather startling fact: a rise in the instances of export-controlled, sensitive US technology, in particular fighter-jet and military-aircraft parts, making their way to Iran.
The latest statistics on illegal US arms sales to Iran detected and compiled by investigators at the US bureau of Immigration and Customs Enforcement (ICE), now part of the Department of Homeland Security, raise many questions.
On the one hand, they tell a colorful if familiar story of wily arms dealers in the gray- and black-market world from the likes of Pakistan, Iran, Israel, and China, with beachheads in places including California, Mexico, South Africa, and Dubai. In this world, dealers recruit former US military and intelligence officials to help them export restricted US military technology—ostensibly to neutral third countries—knowing full well the final destination is actually sanctioned countries for such exports, such as Iran.
A second chief element of the story concerns the US government's recent actions to get a handle on the problem. In June 2007, the Justice Department announced that it had created a new position, a special US attorney dedicated to trying just such US illegal export cases. "The Justice Department has appointed Steven W. Pelak, an 18-year veteran federal prosecutor, to serve as the Justice Department's first-ever National Export Control Coordinator," the department announced. "As the Attorney General stated in his speech on nuclear terrorism earlier this month, the threat posed by illegal exports of controlled U.S. technology is substantial. According to an August 2006 report by the Office of the National Counterintelligence Executive, entities from a record 108 nations were involved in collection efforts against sensitive U.S. technologies in fiscal year 2005. While foreign nations and terrorist organizations rarely seek complete weapons systems from the United States, they routinely focus on acquiring components that they can use as building blocks to develop their own systems. Many have targeted our government, private industries, and universities as sources of this material."
But current and former US government officials, including from the Treasury Department, Commerce Department, and CIA, and attorneys who specialize in export control and trade law, say there are numerous reasons the US is a vulnerable target for such illegal sales. Among them: The Treasury Department office in charge of US sanctions, the Office of Foreign Asset Control, doesn't have much in the way of an investigative staff. Second, soaring oil prices have fattened Iran's coffers, even as the US has led sanctions efforts to squeeze the Iranian regime. Third, the US is the biggest arms seller in the world, and among the many countries US corporations freely do business with are some that do have trade ties with Iran. Chief among the nations that have been identified as of concern for their "re-export" of US military technology to Iran is the United Arab Emirates and its bustling Persian Gulf port city of Dubai. "The UAE and Singapore have of course been the two biggest transshipment hubs of both legal and illegal goods," a trade law specialist, Douglas Jacobson, said. "Dubai has a big free-trade zone, and many clients have their Middle East warehousing operations there. It's very well located, for the Middle East, Africa, India, and a very good location up the Gulf there as well. Naturally there have been a lot of legitimate companies—and illegitimate companies—that have served as front companies and trading companies by Iranian companies trying to procure US technology. The problem is of course that with Dubai and the rest of the Emirates, it's perfectly legal to do business there." Perfectly legal, that is, for both the US and Iran. And it's up to US companies themselves for the most part to perform due diligence to make sure what they export to a company in country B is not likely to be sold to a company in country C.
Last August, after months of US pressure, the UAE adopted a new national security export law, designed to curtail UAE companies' sale of sensitive US technology to Iran. But numerous experts and attorneys interviewed say the law is having little effect, and is mostly cosmetic. See for instance this February 2008 AFP report, "Iran business with UAE continues despite export law." "Thousands of Iranian firms are still doing business in the country's top trading partner, the United Arab Emirates," it says, "despite a US drive to choke Tehran's economy over its controversial nuclear program."
But the wink and nod is not only coming from the Dubai bazaar, US export-control specialists say. "The rhetoric from Commerce…is all about national security," says one former US Commerce official. "US bureaucrats don't want to find their names in press for not enforcing when a US soldier is killed [in Iraq] by US technology that was exported to Iran through UAE. So, the rhetoric is very tough for UAE enforcement. On the other hand, we desperately want the oil dollars…So, mixed messages galore. "
In December, the Government Accountability Office issued a fairly devastating report (pdf) saying that US sanctions on Iran going back to 1987 (after Iran-contra) had been at best ineffective:
"Iran's global trade ties and leading role in energy production make it difficult for the United States to isolate Iran and pressure it to reduce proliferation and support for terrorism. For example, Iran's overall trade with the world has grown since the U.S. imposed sanctions, although this trade has fluctuated. Imports rose sharply following the Iran-Iraq war in 1988 and then declined until 1995; most export growth followed the rise in oil prices beginning in 2002. This trade included imports of weapons and nuclear technology."
The implication of a wider future diagnosis that US and multilateral sanctions against Iran are ineffective is potentially grave. After all, at this point, containing and isolating Iran over its nuclear program is the heart of US and allies' policy toward Iran. It's worth remembering that it was Bush administration officials' growing sense that sanctions against Saddam Hussein's Iraq were leaky and ineffective, and that containment was no longer working, that decisively contributed to their determination to seek a large-scale military solution to the threat they perceived from Saddam Hussein.
Do current US government statistics on sensitive US military technology flowing to Iran indicate just the usual government dysfunction, or a new covert diplomatic push to strike a grand bargain between elements in Washington and Iran? "I don't see the indications of that happening," says Patrick Clawson, a longtime Iran policy expert close to the administration who serves as deputy director of research at the Washington Institute for Near East Policy. Clawson has looked closely and skeptically at the prospect for a "grand bargain" with Iran, which might include various security guarantees and civilian and sensitive technology transfers. "A lot of Mid East breakthroughs are preceded by spy-to-spy engagement and feeling out, because spy agencies have the mandate to talk to nasty people. There's no indication that that has happened." For now, the statistics tell a story that is striking for being so at odds with the official policy.