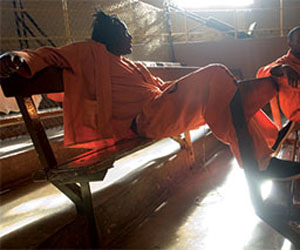 Fight disinformation:
Sign up
for the free
Mother Jones Daily
newsletter and follow the news that matters.
When Jeannette Brown first got out of prison in Shawnee County, Kansas, in April 2000, she had nowhere to go. Her mother offered her a place to stay, but Brown could tell that "in her heart she didn't want me there—she didn't trust me." With felony convictions for battery and gun possession, and little in the way of education or skills, Brown couldn't find a job to support her five kids—and had she found one, she still wouldn't have had a driver's license or a car to get there. Brown met regularly with a parole officer, but it was a hostile relationship from the start—the officer was drug testing her too often, she says. "One day I was sick and called to tell her I couldn't make my meeting. She said, 'You better get in here, or I will give you a violation.' So I showed up, but ended up losing my bowels all over the bathroom. I told her, 'You better clean up this mess.'"
Eventually Brown moved in with her boyfriend, who, like some of her past boyfriends, beat her up. Brown started drinking. Within four years, she was back in prison for violating her parole, as well as drug possession, squatting in an abandoned building, and assault. "I was a two-time loser," she says.
And therein lies one of the biggest problems in corrections: When people like Brown get out of prison, they can't seem to stay out. In 2006, two-thirds of the offenders entering Kansas prisons were guilty of parole violations—90 percent of them technicalities, like missing meetings with counselors. A third of all parole violations were because of substance abuse, yet fewer than half of the offenders were getting substance abuse treatment in prison. Only 18 percent had completed job training. Meanwhile, the state's corrections spending increased fourfold between 1985 and 2005; by 2016, the state forecasts, it will rise to $500 million. And the consequences fell disproportionately on the poorest parts of the state: According to the New York-based Justice Mapping Center, the state spent $11.4 million in 2004 incarcerating people from just one part of Wichita—the same area that had to absorb many of those offenders when they were released.
"We figured we better learn to swim, or we would all sink," says Roger Werholtz, Kansas' secretary of corrections. "Intervention was bred out of necessity."
Like many people in his profession, Werholtz was familiar with the "nothing works" theory, built on a seminal 1974 study by sociologist Robert Martinson. "With few and isolated exceptions, the rehabilitative efforts that have been reported so far have had no appreciable effect on recidivism," Martinson dismally concluded. Werholtz, however, clung to the hope offered by an often-overlooked caveat in the report: It was, after all, possible that nothing worked simply because the programs so far attempted had been poorly designed.
Block Talk
Some prison slang:
bo-bos: prison-issued tennis shoes
bone yard: trailers used for conjugal visits
brake fluid: psychiatric meds such as liquid Thorazine
Buck Rogers time: a sentence with parole unimaginably far in the future
chalk: prison moonshine
chin check: to punch an inmate in the jaw to see if he'll fight back
clavo: (Spanish for "nail") dangerous contraband
diaper sniper: child molester
diesel therapy: a lengthy bus trip, used as a punishment
ding wing: mental health ward
erasers: chunks of processed chicken
high class: hepatitis C
iron pile: weightlifting equipment
jack book: any magazine with pictures of women
the monster: hiv
ninja turtles: guards dressed in riot gear
robocop: guard who writes up every infraction, no matter how small
six-five: warning that a guard is approaching
stainless-steel ride: lethal injection
13 1/2: 12 jurors, 1 judge, and 1/2 a chance; seen in prison tattoos —Jen Phillips
Like doctors and salesmen, corrections officials regularly pack convention centers to hear about the latest in prison and parole research. The latest buzz at these conferences has been about "reentry" and "reinvestment" initiatives, which target limited resources at helping the highest-risk offenders, with job training, treatment, and counseling launched inside prison and continued on the outside. That's the reentry part; on the reinvestment end, money saved by keeping offenders out of prison is channeled into the communities to which they return, which in turn helps stabilize parolees and reduce crime. The idea, basically, is to stop the revolving prison door.
Kansas, with its still-manageable prison size and its relatively low cost of living, seemed a prime candidate for such an experiment. Armed with evidence about the benefits from similar initiatives in North Carolina and Michigan—as well as the potential for private funding—the Department of Corrections gained bipartisan support for the idea in 2004. Prisoners were given incentives to enroll in job training and treatment. There were classes in "life skills" such as money management, parenting, and decision making. A year prior to release, efforts to land each prisoner a job, an apartment, and a connection to the right programs on the outside went into high gear.
Parole officers were skeptical. Since the 1970s, the state had tried dozens of different rehabilitation programs, largely without success. Why would this time be any different? "You see the same people over and over," says Mary Obregon, a parole officer world-weary after seven years in the system. "You see their kids and their children's children. It is a lifestyle problem for people. I said, 'Show me that it works, and then I will believe in it.'"
Social service agencies were reluctant to take on what they saw as the problems of the Department of Corrections—until they were shown that often, they were all serving the same individuals. Companies were encouraged to look to prisoner education as a source of skilled labor: Kansas convinced a snowplow manufacturer to relocate to the state by training prisoners to be welders. And when the state's Department of Wildlife and Parks heard that reentry prisoners were doing carpentry for a housing nonprofit, it recruited them to build lakeside cabins. The felons were then hired to fix up abandoned houses in Topeka. By 2006, there were 401 fewer people in prison in Kansas for violating parole than expected, saving $13.8 million in operating costs. The state used $7 million of that for community programs such as job training and drug treatment.
Today, Obregon is a convert to the reentry method. "It isn't a cookie-cutter program," she says. "We get to understand that person and where they are coming from. But the biggest difference is you give people a running start." Now a "reentry case manager," she spends her days talking to potential landlords and employers, substance abuse counselors, parole officers, police, and community leaders on behalf of her 50 prisoners and parolees—including Jeannette Brown.
Brown enrolled in the reentry program in 2005. She took classes ranging from anger management to child care, received counseling on domestic abuse, and was assessed for alcoholism. She landed a work-release job at a bakery run by a guard's son. Obregon showed Brown photos of possible rentals from landlords whom a reentry housing specialist had convinced to accept felons.
When Brown sat down with her "release team" consisting of substance abuse and corrections counselors, police and parole officers, the reentry program director, mental health, housing, and job specialists, a business developer, a volunteer mentor, and Obregon, she brought a notebook filled with her goals: regaining custody of her children, keeping a job, getting her driver's license, no more abusive relationships. When she finally walked out of prison in June 2007, she was greeted at the gates by four reentry staffers, who took her to her new apartment. A couple of parole officers helped her unpack. Obregon took her to a food bank, arranged a doctor's appointment, and helped her get an ID.
It's not been a smooth road for Brown since then: Nine months after her release, she was hospitalized for surgery. Her 17-year-old son was in a car crash. Her manager at the bakery committed suicide. She turned in a coworker for using drugs. Her car broke down.
But with each hurdle, she turned to Obregon for support. The reentry folks paid for medication and car repairs and helped with her Section 8 application. Her community mentor visited her in the hospital. Now, when she sees the local cop around, they chat. Instead of dreading her parole meetings, Brown stops by Obregon's office after work to say hello. "Parole officers used to try to put me back in prison; now I feel like they are trying to keep me out," she explains.
These days, Brown is training to be a supervisor at the bakery. She has gotten her children back and has moved into a three-bedroom apartment. Her mom now trusts her—and even lets her use her credit card. She has sworn off booze and men so she can "work on myself," and has signed up as a volunteer to convince prisoners that reentry works. "If you see someone who has walked that line," she says, "it helps you realize things can change."
PREVIOUS: Convicting California