Fight disinformation:
Sign up
for the free
Mother Jones Daily
newsletter and follow the news that matters.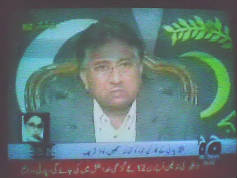 Today, at a press conference in Islamabad, the leaders of Pakistan's ruling parties announced the decision to pursue impeachment proceedings against President Pervez Musharraf, the Pakistani general and US terror-war ally who seized power over the country in a 1999 coup. Asif Ali Zadari of the Pakistan People's Party and Narwaz Sharif of the PML-N, the leaders of an uneasy ruling coalition that defeated Musharraf's allies in February's national election, reached agreement on the impeachment after three days of talks. "We have good news for democracy," Zardari declared. "The coalition believes it is imperative to move for impeachment against General Musharraf." It will be the first impeachment process in Pakistani political history.
After his party's loss in the February election, Musharraf gave up his military commission, but retained the power to dissolve parliament—a step he could now take to head off his impeachment. He has not yet issued a public statement on today's events. And despite widely circulated reports that he had decided to remain in Pakistan to manage the political crisis, Musharraf's staff announced today that he will attend the opening ceremony of Beijing Olympics on Friday evening.
Despite his powers to do so, the embattled president might not choose to dissolve parliament, at least not yet. The move would be spectacularly unpopular at home, and more importantly, might be premature given the substantial hurdles the impeachment bid now faces. To remove Musharraf, impeachment proponents would need a 50 percent majority in the Senate or National Assembly. Musharraf would then have three days to respond, followed by a joint session of the Senate and National Assembly to formally consider the charges against him. A final decision to remove the president would require a two-thirds majority of the joint session. According to the BBC, "some opposition parties do not support impeachment and nor do some members of the [Pakistan People's Party] itself—so there is scepticism that such a majority could be reached."
Photo used under a Creative Commons license from Muhammad Adnan Asim.