Fight disinformation:
Sign up
for the free
Mother Jones Daily
newsletter and follow the news that matters.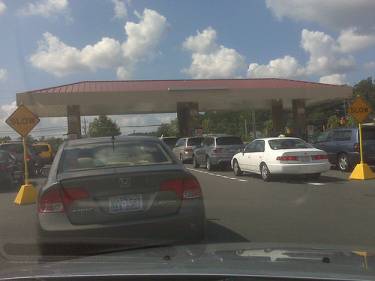 The city of Asheville, North Carolina and surrounding towns are so short on gas that residents must wait over an hour to fill their tanks, reports the Asheville Citizen-Times.
Many gas stations have closed altogether. Those which remain open have police stationed at the pumps to prevent fights from breaking out—one driver threatened another with a baseball bat. Asheville officials have canceled all nighttime events, and the county is asking that nonessential employees work from home or switch to a four-day week.
The gas crunch began after Hurricanes Gustav and Ike swept through the Gulf Coast, shutting down the oil refineries that supply western North Carolina. Because of its relatively remote location high in the Blue Ridge mountains, county officials estimate that shortages in the Asheville area will continue at least through the end of the month.
Storm recovery efforts, for obvious reasons, usually focus on the places that suffer the worst damage. But as this year's floods and hurricanes have shown us, infrastructure damage in one part of the country can have serious effects on the others. While Asheville's situation is extraordinary, it's likely to become more common as the frequency of severe storms increases.
So whose responsibility is it to deal with this problem? Several people told the Citizen-Times that they think the federal government should step in get the city moving again, perhaps by tapping the Strategic Petroleum Reserve. In the long term, a coherent federal disaster protocol might help us to set our priorities (though I'm not holding my breath). Any Asheville readers out there? Let us know how things are going in the comments.
UPDATE: My sister Abby lives in Black Mountain and sent these pictures from this afternoon. She writes, "The line started on US-70 and proceeded around three blocks until we finally landed at the gas station. More than half of the cars in the lines weren't even on, and there was a cop at the end and beginning of every block."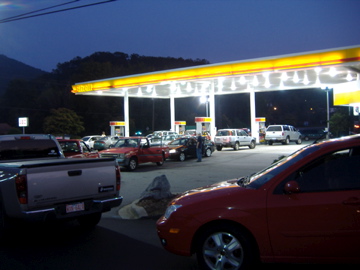 Top photo used under a Creative Commons license from Sheryl Breuker.