Let our journalists help you make sense of the noise: Subscribe to the
Mother Jones Daily
newsletter and get a recap of news that matters.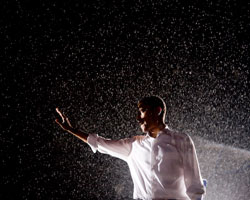 We called it a little after 9pm, but the networks took almost another two hours. But just after 11pm, as polls closed on the West Coast, the networks called the 2008 presidential race for Barack Obama. John McCain is expected to concede shortly, and Mother Jones' Washington bureau chief David Corn will be reporting in shortly from Barack Obama's victory celebration in Chicago. Stick around. History has been made tonight.
Photo by flickr user Barack Obama used under a Creative Commons license.